Curved computer monitors offer a unique immersive experience, especially for gamers. We looked at 10 of the top models in 2022 so you can find the best curved monitor for you. Our experts looked at:
Pricing

Size and resolution

Type of display technology

Refresh rate

Color quality

Gaming features
And much more!
Check out our quick table to get the raw info or read on to find out more about the best curved monitors in our longer reviews and guides.
Read More
Samsung CRG9 Ultrawide Monitor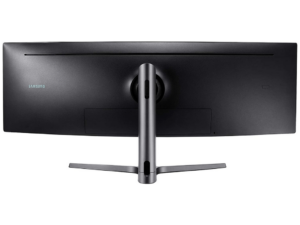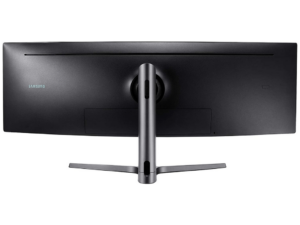 Samsung CRG9 Ultrawide Monitor
Dual-monitor function
Yes
The CRG9 from Samsung is a powerful curved monitor for gaming that has a 49-inch ultra-wide display size. That means you get an even wider field of view for more immersion while playing. It's simply one of the best large curved monitor options.
Nonetheless, Samsung has 27-inch curved monitors and other brands out there as well, if you need something smaller.
You can get the dreaded black bar effect when watching regular 16:9 display aspect ratio video content. You can, however, view ultra-wide 21:9 cinema-style content without massive letterboxing. This is great since the likes of Netflix are releasing movies and even TV shows in this aspect ratio because it's more 'cinematic'.
That debate aside, in terms of gaming, ultra-wide is the pinnacle, especially in beautiful open-world games. It lets you see more of the scenery at once and sucks you straight into the atmosphere. At 49-inches and up close on our desktop, we were blown away by this simple mechanic.
What makes things better is it's a high-resolution monitor. You get QHD or better known as 2K. Because it's ultra-wide you essentially get two 2K screens in one. The display resolution is 5120 x 1440, not 2560 x 1440.
You get a crystal-clear picture. Ok, it's not a 4K curved display but that's more relevant for movies. For gaming, 2K allows you to get great overall quality without having to sacrifice other graphical settings and over-run your graphics card.
The CRG9 also comes with a 120Hz refresh rate which means on-screen content is fast and smooth. This is what you want for fast-paced games or first-person shooters that need everything is as fine-tuned as possible. While 144Hz and even 240Hz are available, the real-world difference is negligible. In most cases. 120Hz gets the job done. We had a blast playing Call of Duty and zooming around the map on Red Dead Redemption 2. There were no issues with the refresh rate.
It should be noted that Samsung's CRG9 is aimed at AMD Radeon graphics cards. Fortunately, FreeSync 2 is compatible with Nvidia cards via Windows, so there's no real need to worry if you don't have a Radeon. You'll still get the FreeSync effect, which means no screen tearing or misaligned elements. It essentially brings the refresh rate in line with the game's current framerate, so you don't notice any changes on screen.
The monitor also has HDR1000, which means true HDR, not just the lowest possible setting to slap the label on the side of the box. This allows games and HDR-supported video to show finer details in extremely dark or light environments. In other words, you will always be able to see clearly and with detail, while still being in the sunshine or near pitch-black. There are better color accuracy and shades of color and blacks within both scenarios. Not all games support this and some implement it badly, but when they get it right it looks superb!
Therefore, we didn't have to do much in terms of settings or color (sRGB is 125%), so it had great color depth. Out of the box, the monitor works great and typically auto-tunes to whatever content you're playing. Just remember to turn HDR on if you're using Windows and Nvidia before starting HDR-supported games. You might also have to calibrate the curved display in-game in this regard.
At the back, you get 1 HDMI, 2 Display Ports, 4 USB ports (2 x 3.0 and 2 x 2.0), and the stand raises, tilts, and swivels. It's also wall-mountable.
Overall, this Samsung 49 inch curved monitor is a perfect curved monitor gaming enthusiasts can enjoy. It won't fit everyone's budget, however - it's $1,099.99 MSRP.
The Predator is coming for you! These Acer curved gaming monitors have been updated from the X34 to X35. They've perfected every aspect of the design and features for ultimate gaming and movie immersion.
First off, it's very wide at 3440 x 1440, but is able to maintain a 21:9 aspect ratio at that resolution. That strikes a balance between viewing awesome cinematic video content with no black bars whatsoever while maintaining an excellent wide gaming experience at 35 inches. This to be the best mix for those that do multiple tasks, not just gaming.
Of course, at its heart, the X35 is still a curved gaming monitor. It comes with an impressive 200Hz refresh rate, meaning the absolute fastest and smoothest response. It also utilizes Nvidia's new 2ms overdrive response rate, which basically means no matter how fast a game is moving, annoying motion blur is almost non-existent.
When it comes to the curvature itself, they went the whole nine yards, offering a 1800R curved screen, which is about as curved as you can get. It's, therefore, best to sit close to your desktop to appreciate the effect.
Acer tailors its monitors to Nvidia graphics cards so when it comes to syncing, you'll get the latest Nvidia G-Sync. That means if a game has a variable frame rate (slowing down and speeding up depending on demand), you won't experience any screen tearing or other annoying artifacts. We can confirm it runs smooth as butter if you have a decent GPU.
It also has a High Dynamic Range (HDR) with up to 1000 nits of brightness. This results in a clear, bright, and detailed screen, with a wide amount of light and dark shades. So, while gaming, a dark area will neither wash out nor go pitch black. When a game implements HDR correctly it will look beautiful. Doom Eternal looks stunning!
The X35 also uses Quantum Dot Technology, so dot pitch is definitely not an issue. You get 90% of the DCI-P3 color gamut. While we can never call this bad, as a class (and price) leading product, it could still be better as others achieve this at a cheaper price.
Maneuverability is good, with raising, tilting, and swiveling all built into the stand. You also get LED backlighting, with 4 strips that can be controlled via Acer's Light Sense software. Our only real qualm is it has a noisy fan.
Port-wise, you get 3 USB ports, an HDMI, and DisplayPort - both cables are in the box. At $2,499, it's not cheap, but we cannot understate how good it looks.
The best of the large computer monitors, the U4919DW from Dell is a curved ultrawide monitor with a 2K resolution of 5120 x1440. This is essentially the same as having two regular 27-inch 2K monitors side by side. It displays in 32:9 aspect ratio. This will result in black bars, even when watching, for example, 21:9 cinematic content on Netflix. We found it quite annoying. One option is to change the settings to display a video on just one side and blackout the other, but it's far from perfect.
We also found it a good curved monitor for work because of the number of programs and tabs you can keep open in full view. Of course, you'll also need the space, so it won't be ideal for every office. If you need a browser, a real-time analytics window, some other program, and a video on the side, however, it's perfect.
Color accuracy is spot on, providing 99% of the sRGB spectrum, and is why its tagline is 'ultra sharp'. This makes it realistic when watching movies and vibrant when playing games. The downside is since it's not aimed specifically at gamers, it doesn't have the best refresh rate. You get between 60 and 86Hz, which is acceptable but will result in blurriness if moving fast or spinning around. Its response time is 5ms, which is also okay but not great. This is not for first-person shooters.
Despite having good color and sharpness there's also no High Dynamic Range (HDR). So, don't expect movies to look spectacular.
It's hard to know who the Dell U4919DW is aimed at since it's so big and wide, but without many features. It's certainly the best curved monitor for work. Just don't go in expecting an amazing gaming monitor. It's essentially just a big regular monitor that's curved. It will also set you back $1,289.99.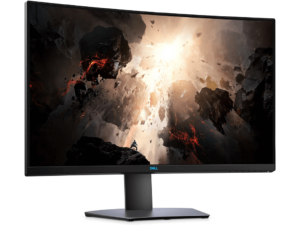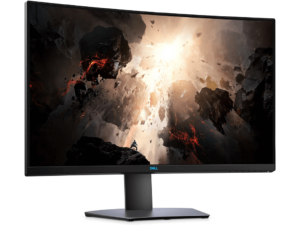 Color coverage
90% DCI-P3
One of the top cheap curved monitor options available for gamers, it ticks most of the boxes at just $379.99.
The 32-inch screen is a regular 2K display at 2560 x 1440 resolution, so it's not ultra-wide. You will be able to play and watch a broad range of content at the 16:9 aspect ratio. This is still the most used ratio in online video streaming and regular TV shows. No black bars or letterboxing here. You also get a pixel density of 91.79 PPI.
When it comes to gaming you get an excellent refresh rate for the price. If you use the DisplayPort you'll receive 165Hz, while HDMI will support a slightly lower rate at 144Hz. Either way, you get good smooth gameplay with little blur or stuttering. In total, you get two HDMI and one DisplayPort, along with three USB 3.0 ports. There's also an audio line out, and a headphone jack. External speakers sound way better than the tinny vent at the top of the screen. You get one of each cable in the box.
To prevent your curved PC monitor from screen tearing and to ensure a smooth experience regardless of changes in-game frame rate, Dell has implemented Adaptive Sync. This is AMD's FreeSync 2 version that was not made specifically for Nvidia cards. But having tested it out, we can say it works perfectly fine with modern games using it.
The one downside and something we're willing to overlook for the price is poor HDR support. It's there and looks amazing when watching test videos on YouTube and some films. It is only certified to 400, however, which means it only really just makes it to the mark. Most games we played with HDR on looked worse than having it turned off, while video content fared better. So, it's best to turn it off when gaming or invest in something with better HDR if you have the budget.
The other oddity is that games tend to forget that it's a 2K monitor and on every load-up, you have to reconfigure the resolution in-game.
Setting up is basically plug-and-play. There's a gaming mode to choose from the monitor's settings. For HDR to work you need to enable it within Windows for PC gaming. Everything else either works out of the box or is easy to figure out via the monitor's menu. There's a lot of pointless modes though - stick with the standard option for movies and gaming.
The stand lets you raise and lower the screen for the best eye level, and you can tilt and turn for your optimum angle. The monitor is a VA panel with good contrast and color depth. You'll get 90% DCI-P3 color coverage with 1.07 billion shades overall.
We were particularly impressed by the viewing angle support. You can sit away at a position and still see the content fine, without glare or other interference.
Despite poor HDR, at $379.99 MSRP, this is one of our picks for best value for money when it comes to standard curved monitors for gaming and watching video. It's also one of the best 32-inch monitors.
Price
The cheapest on this list
The CQ27G2 is a very affordable 'super curved' gaming monitor from AOC that you can pick up for just $259.99. It is a UK- based product, however, so beware of hefty shipping fees to the states that can put it over $300.
By super curved they mean 1500R, and on a smaller 27 inches, you definitely notice it more than larger and ultra-wide varieties. That does, however, mean you'll need to be up close and personal to get the benefit.
The CQ27G2 curved computer monitor has a standard 16:9, 2K resolution of 2560 x 1440, making it great for gaming and video. You'll also benefit from great colors. As a smaller display, it is able to cover 120% of the sRGB color gamut, which means a bright and accurate experience. As a VA panel it also has clear viewing angles, so don't worry if you're not dead-on or need to sit away from it for a while. You'll still see the picture fine.
While there is no HDR support, gaming is fun, vibrant, and responsive. You get a 144Hz refresh rate for smooth, non-stuttering gameplay when frame rates fluctuate. Plus, it supports AMDs FreeSync which works with Radeon and Nvidia cards to prevent screen tearing. In short, you can play fast-paced shooters without blurriness. It also boasts a 1ms response time, which is as good as it gets.
To set things up you get two HDMI ports, a display port, and even an old school VGA. Meanwhile, the box itself includes HDMI and DisplayPort cables. There's also an audio line-out.
Setting up is simple enough. You get a regular desktop stand with raise, tilt, and turn. Plus, it's VESA compatible with wall mounts if you need more space on your desk.
Overall, this is a good budget monitor that's worth it if you can find it at a reasonable price. Others, however, like the Dell S3220DGF do it slightly better. Nonetheless, if 27" is what you want, it's among the best 27-inch monitor in its class.
Not aimed directly at gamers but enough features to make the model-worthy, this 4K curved monitor from Dell is only $424.99. This is much lower than a lot of the competition in this class.
The S3221QS is a 32-inch high-quality VA panel with a 4K resolution of 3840 x 2160. It's not an ultrawide curved monitor, so you can play all content in the more entrenched 16:9 aspect ratio and the picture looks good no matter the angle.
Gaming gets the gift of AMD FreeSync technology to prevent stuttering and screen tearing, though gamers are ultimately let down by the low refresh rate of just 60Hz. That means it's not ideal for any kind of fast-paced game, with a lot of movement – particularly first-person shooters. It won't deliver the fastest experience and you'll get a lot of motion blurriness even though it's a curved monitor in 4K.
Still, for slower-paced games and for watching video content, nothing beats 4K quality - you'll get accurate and vibrant color replication. This covers 99% of the sRGB color spectrum and 90% DCI-P3 brings more shades and color depth.
That being said, HDR performance is poor, barely reaching certification at just 300 nits. This is okay for most movies and does generally improve the way they look on a 32" curved monitor. It looks terrible in games, however, and isn't worth turning on. Not when 4K looks so good on its own.
In the box, you get an HDMI cable and USB 3,0 cable, while the monitor itself supports 3 USB ports, 2 HDMI ports, a Display Port, and Audio Line Out.
Where the 23221QS stands out from most monitors is it has some pretty good in-built speakers. These are 5W stereo from MaxxAudio, which sounds great if you're sitting on your desktop. We'd still recommend external speakers, however, for a better audio experience if you're sitting further away.
Not quite a gaming monitor and not the greatest curved 4K monitor either, the Dell S3221QS still offers good value for money. It's a great all-purpose 4K solution on a budget. It's best suited for the office or as a secondary monitor somewhere in the home.
LG has gone ultrawide for this curved screen monitor and it's a good choice for gamers. Although, at $1,600 before shipping, it's not the cheapest. At 34 inches, it's big enough for full immersion, it has a 2K, 3440 x 1440 resolution for high-quality graphics. It also has a good native refresh rate of 144Hz for the intensive gamers out there. This can also be overclocked to 160Hz, making it suitable for fast shooters. It's aimed more at Nvidia users and has the latest G-Sync technology to prevent screen tearing. Plus, as a Nano IPS panel, it has a brilliant 1ms response rate.
However, its High Dynamic Range (HDR) leaves little to be desired, and without the best aspect ratio for watching movies, all it really does is cause annoyances. So, it's best left turned off. The trouble is, it's reflected in the price, so we wouldn't call it a good value for money.
Don't get us wrong, we had a pleasure playing multiple games in 2K on a high-quality ultrawide curved monitor. But we can do that already on larger monitors from the likes of Samsung for cheaper, with HDR at 1,000 nits. LG has managed just 400 with this 34GN850-B model.
Nonetheless, it has strong and accurate colors, covering 98% of the sRGB color gamut. It's also compatible with FreeSync so you aren't locked into Nvidia cards.
It also looks really cool. It's virtually borderless, has red detailing, and is functional too. It's height and tilt adjustable and has VESA compatible mounts to get it on a wall.
In terms of ports, it has two HDMI, on Display Port, two USB 3.0s, and a headphone jack for its in-built audio. Like most monitors, you'll probably want to go with external speakers for better quality.
In the end, there's no denying that this is a great wide curved monitor. It's just a bit overpriced for our liking.
Performance-wise, the Asus ROG Swift PG35VQ is the best curved monitor in the 2K class. It has all the gaming curved monitor features you need and takes them all to the max.
To start off this is an ultra-wide 35-inches that has the 3440 x 1440 resolution and 21:9 aspect ratio. This means it can play cinematic content perfectly without having to black bar anything. It's also got a pixel density of 109 PPI, which means more detail despite quite a large display.
Secondly, when it comes to refresh rate it has one of the highest we've experienced to date. Mainly 200Hz. All we can say is it's as fast and responsive as any monitor we've reviewed and that's good enough for us. If you play fast and intensive first-person shooters, you're going to be at optimum performance.
Then there's the latest G-Sync technology - you'll never experience that annoying stutter or flicker to the screen when the framerate doesn't quite match up. Everything just runs super smooth.
It's also one of the few monitors that really does implement high dynamic range (HDR) properly. Here you get 1,000 nits, so every detail in extreme light and dark areas is clear, while the overall picture just pops and looks more realistically shaded. Some games still don't do HDR justice, but those that do look breathtaking.
This is further benefited by full-array local dimming (FALD) backlighting, with 512 independent curved LED screen zones. There's also a 500k contrast ratio and Quantum-dot technology. This offers the cinema-standard DCI-P3 color gamut. In other words, the color range is broad (1.07 billion to be precise) and accurate, making it good for gaming and watching movies. It's also rich and vibrant when games call for it.
It even has ASUS Aura Sync lighting on the back that synchronizes with in-game audio or, with Aura Sync-enabled, PC components like mice and keyboards.
The PG35VG has all the usual height, tilt, and swivel adjustments, as well as being able to be wall-mounted.
The only downside is not everyone can afford the $2,499 price tag. But, in this case, you don't get much higher end. So, if you can afford it, go for it!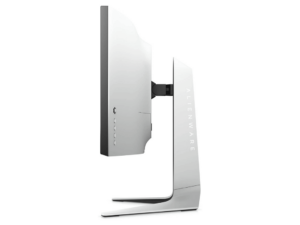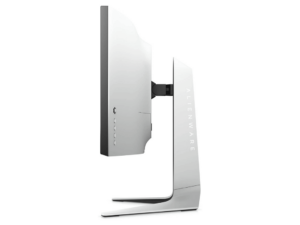 Aspect ratio
21:9 ultrawide
Known for their flashy but functional gaming products, Alienware's AW3420DW model follows a similar pattern. The 2K 34 inch curved monitor has an ultra-wide 21:9 aspect ratio. This delivers a native resolution of 3440x1440. It supports Nvidia G-Sync and has programmable RGB lighting. You get these features and many more for $1,519.99 MSRP.
Once out of the box you'll first be struck by the monitor's design. Alienware likes to stand out and the monitor does so with a white back and stand. It's relatively thin, with a minimal bezel, and all the control buttons are at the back. The latter can become an annoyance if you can't easily see behind your monitor but it looks good aesthetically.
The screen's curvature is less prominent than most, at 1900R. It was difficult for us to tell whether this was objectively better or worse than other degrees of curvature. So, don't get hung up on this particular specification. It's definitely an immersive large curved monitor.
Before you can access the monitor's numerous ports, you need to pop off the back panel. This will reveal:
power

3.5mm audio jack for speakers or headphones

HDMI

DisplayPort

three USB ports.
Alienware lets you do all the usual adjustments to get the curved screen in an ideal position. You can raise and lower, turn from side to side, and tilt back and forth.
Of course, it would be remiss not to mention the RGB lighting that so many Alienware products are equipped with. Fortunately, this is not overdone to a level of distraction. You get three zones of light, including the bottom bezel, the back of the stand, and the small Alienware logo at the back of the monitor. This can be controlled via software and has specific support for over 145 games. This means the lighting will be directly relevant to the mood and colors of the game itself, which is a cool immersive feature. You can, in theory, achieve a similar result yourself if you know your chosen game well.
There's no HDR here, which we don't think is a big deal - games themselves are still getting to grips with how to implement it effectively. What you do get is a good 120Hz refresh rate. This works well 99% of the time but you can notice some choppiness while in particularly fast and wild motion.
Fortunately, there's no obvious screen tearing thanks to Nvidia's G-Sync. For an IPS panel, it also has a relatively low input latency of 2.5ms – all making it good for gaming.
If there is one complaint to make is that the screen is slightly dim, but this is more than made up for accurate color. It covers 100% of the sRGB gamut and 93% of the DCI-P3 gamut.
Overall, the Alienware AW3420DW looks the part and performs well. It's not, however, the best in this class and you can get more brightness and a higher refresh rate if you pay for it.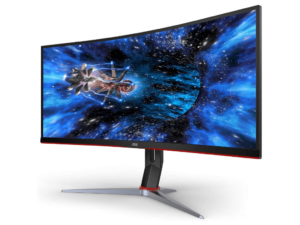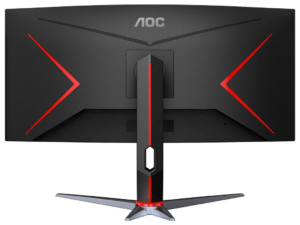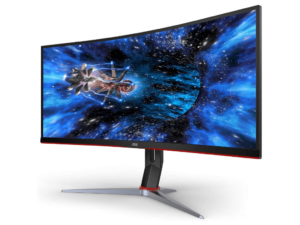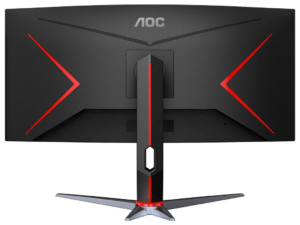 If you're looking for a relatively cheap ultrawide curved monitor that performs well, the AOC CU34G2X should be high on your list. For just $449.99 MSRP, you get a 34-inch screen with a 'super-curved' 1500R frameless VA panel. It delivers an excellent 144Hz refresh rate and just 1ms input lag, beating some monitors twice and three times the price.
AOC doesn't go overboard with the gamer aesthetic either. It is, in effect, just a standard-looking monitor with a red stripe at the bottom and on the stand. It also displays in 21:9 aspect ratio, supporting cinematic content without black bars, with a 2K resolution of 3440x1440. There's no RGB lighting or other fanciness. It just gets the job done.
It has all the ports you're likely to need, including an impressive six USBs, two DisplayPorts, and two HDMIs. Plus, it can be raised and lowered for optimum eye level, as well as tilted and turned.
When it comes to the 1500R curve, it may seem a little overwhelming to begin with, but as soon as you fire up a game the immersive effect takes hold. It's only when watching movies at a distance, rather than sitting at your desk that things can look a little bit odd.
But for gamers it's perfect. With its very high refresh rate and low latency, everything runs fast and smooth, even during intense shooters that involve a lot of quick turns and motion. This is aided by AMD FreeSync support, which is effectively the same as Nvidia's G-Sync. We experienced zero screens tearing across multiple games.
Out of the box the colors, brightness, and contrast looked good if slightly under-saturated. We didn't need to get bogged down in the menus to find the mythical sweet spot that plagues many curved computer monitors. It manages 99% of the sRGB and 91% of the DCI-P3 color gamut.
It also has HDR support, or more accurately HDR10. This is one way of describing the baseline High Dynamic Range. This is where the CU34G2X doesn't perform so well. Games that implement HDR well will not look much better with this setting turned on. Some will look objectively worse because the monitor's HDR is just not broad enough, resulting in a washed-out picture.
If you have the patience, then it's a case of trial and error depending on the game you're playing. If you don't, leave it off and just forget about it. At $450 the monitor looks and performs great without worrying about HDR.
And, that's the ultimate takeaway. For this price, you don't get better overall performance. If your budget doesn't go any higher, this is the monitor for you.
What Is a Curved Monitor?
Simply put, a curved monitor is a regular monitor that has a curvature to the screen design instead of being completely flat. The display itself is flat in the sense that it is not like an old bubble CRT monitor or TV screen, but it bends around by a few degrees.
The goal is to improve immersion because it covers more of your line of sight by enclosing around you. In that sense, they are more effective when watching or gaming up close and with larger monitors. They are also increasingly popular for work environments because you aren't distracted by things in your peripheral vision.
Curved screen monitors generally have the same features and functions as regular monitors, be that HDMI/Display Ports, etc. They tend to be more aimed at gamers though, who value immersion and the feeling of being as close to the action as possible. A gaming monitor curved for immersion will also have extra features like a high refresh rate and adaptive syncing technology.
The only real downside is that if they are too small to accommodate the curve, their benefits are reduced. Likewise, without the right screen technology, it's easier to catch glare from external light sources. Most modern curved monitors have fixed this.
Curved computer screens can go for an ultra-widescreen design, which means they display content as 21:9 like a cinema screen. Some even push things further with a 32:9 aspect ratio. This is sometimes called super ultra-widescreen. Meanwhile, others offer simple curved 16:9 screens, which is an ordinary widescreen aspect ratio with a curve.
The actual amount of curve can vary and is typically measured as the radius of curvature (R): 1500R, 1800R, 3000R, or 4000R. The lower the number the bigger the degree of curvature, though bigger curves suit wider and overall bigger screens.
Curved Monitor vs Flat Monitor
So, what's the curved vs flat monitor war about? While it mostly comes down to personal preference, there are some clear benefits to a curved monitor. The first one being immersion. Curved vs flat monitor gaming is a slam dunk.
Immersion
If you're sitting close to a regular flat screen you still have other things to the left and right that take up your peripheral vision. A curved monitor bends around blocking out some of this and therefore drawing you into what's happening on the screen. For gamers or movie watchers this adds a lot to the experience.
Some hardcore gamers even go for ultra-wide or dual-curved monitors for a larger field of view and even more immersion.
Less Distortion
Flat monitors can create a distortion of images and text, especially around the edges of the screen. Because curved monitors bring the edges closer to you, they reduce this distortion. A study from Harvard found that curved monitors also reduce blurred vision.
Efficiency
Because of their shape curved monitors are also more efficient. Both the mouse and your eyes track quicker than on a flat screen. You can read faster and find points on the screen faster.
Cutting-Edge
Itself being a modern technology, curved monitors also tend to feature other newer tech and features compared to their flat counterparts. Especially for gaming.
What Should I Know Before Buying a Curved Monitor?
Before splashing your cash on an expensive and large curved monitor, there are several things you must know.
Price
Computer monitor curved prices vary, but a curved option is always going to be more expensive than an equivalent flat monitor. Depending on the size, resolution, and other features, you can expect to spend between $259.99 and $2,499.
Price-wise options vary, but this is the overall range, based on the best products we've reviewed.
Purpose
What will you be using your curved monitor for? If the answer is gaming, there are a wide range of extra features and specifications that you'll need to look for. The cost will also be higher. If you'll just be using it for browsing the web, working, and/or watching video content, you can get away with fewer features and get a cheaper option.
Panel type
Different types of screen panel technology have different pros and cons. A curved LED computer monitor (usually referring to QLED), has quantum dot technology, where small lights emit in front of the regular backlight to produce more vibrant and brighter colors. These are generally more expensive and considered higher quality.
Meanwhile, VA (also a type of LED) presents the best viewing angles, meaning you can sit to the side of the screen and not have the picture affected by light conditions.
Resolution
Resolution is how many pixels your screen can display horizontally and vertically and is the key measurement for the base quality of the picture. The higher the resolution the more pixels and therefore the more detail. Regular HD is at least 1920 horizontally and 1080 vertically, and 2K jumps to 2,048x1440.
We didn't review any 1080p curved monitor options because these are rarer and less relevant as things move to 2K and 4k.
Where things can get a little confusing is when a screen goes from a regular widescreen shape to ultra-widescreen. Regular HD on an ultra-widescreen becomes 2560×1080, while 2K becomes 3440×1440 or even 5120x1440 for 'super ultra-widescreen'. 4K is anything 3840x2160 pixels or higher.
The key thing you need to decide is between HD, 2K, and 4K – the highest resolution monitor commonly used. If you want the best gaming experience, you'll want at least 2K in 2022.
Curved Monitors and Aspect Ratio
While aspect ratio plays a role in resolution it is really just a reference to the shape of the image displayed. Regular widescreen is 16:9 and all games support this, whether HD, 2Kor 4K. Ultra-Wide monitors are obviously shaped widеr extending the height comparatively. This results in an aspect ratio of either 21:9 or even 32:9.
Most but not all modern games support ultra-wide aspect ratios and the further back your library the less likely they will. This is something to consider. This is even more true for 32:9. If it's not supported your game will have black bars to compensate, will be played in a windowed mode, or worse - be displayed on one side of the monitor.
The best thing about ultra-wide gaming is you get a broader field of view. I.e. you can see more of what's going on around you in-game.
If you also want to watch DVDs, Blu-rays, online streaming content, etc., this may also impact your choice. 16:9 is the most common aspect ratio for traditional widescreen TV shows and will fill the entire screen. Movies are more likely to extend to 21:9, so if you've ever been annoyed by black bars above and below your regular widescreen monitor, an ultra-wide is a good choice. The likes of Netflix are now increasingly releasing normal shows and documentaries in 21:9. You'll get that cinematic experience without black bars.
32:9 is not ideal for watching most video content, except for the odd movie release that is filmed and released that way.
When it comes to Desktop workspace, the aspect ratio can be utilized to its maximum in 32:9 without issue.
Size and Curvature
Monitor size for both regular and curved options is measured in inches from a top corner to the opposite bottom corner of the viewing panel. The best curved monitors are at least 27 inches and the bigger the better. Anything less and things start to look odd when curved because rather than being wrapped around you and immersive, you easily see both edges.
The degree of curvature also varies and typically includes 1500R, 1800R, 3000R, or 4000R. The smaller the number the more curved the screen.
Refresh Rate
Without getting too technical, the refresh rate of a monitor is the rate at which it refreshes the image on the screen. I.e. a really low refresh rate would result in slow and choppy games or video that stutters as things move around the screen.
On the other hand, a high refresh rate results in a fast and smooth experience, which is what all gamers want. 120Hz is about as low as you can go in modern gaming for an acceptable experience. The best curved monitors can reach up to 240Hz.
If you're not gaming, then you can get as low as 60Hz without having any noticeable issues.
G-Sync and FreeSync
As well as the refresh rate of the screen, games themselves also have a framerate. This can be fixed or variable, but problems can occur if the frame rate does not synchronize well with the monitor's refresh rate. This results in a screen tearing effect, which can be described as a momentary line or stutter.
The problem is solved by either having Nvidia's G-Sync or AMD's FreeSync as an in-built feature of the monitor. Despite this tech being made by companies that produce rival graphics cards, both are compatible on a basic level. I.e. FreeSync works with Nvidia graphics cards and vice versa.
If you are a gamer, you will definitely want G-Sync or FreeSync. Screen tearing is less common when watching videos but can still happen. It's virtually irrelevant for other desktop applications.
HDR
High Dynamic Range (HDR) increases the range of visible color and detail when viewing video or games that are in very bright or very dark environments. Likewise, because bright parts of the image can become brighter and dark parts can become darker, overall depth is added to the image. This has been described as more vibrant, detailed, or as adding more pop. But effectively, it's just better quality. This applies to regular and curved screens alike.
The trouble is, the game itself has to support HDR. Secondly, it needs to have implemented HDR in a nice-looking way. If the game doesn't have HDR and you force it, it'll have no effect or ruin the image. If the game has poorly implemented HDR, it will probably look better with it turned off.
Furthermore, on the monitor's end, there are different levels of HDR. Bog-standard HDR is either just called HDR or HDR10, and simply means it is supported. If the monitor makes no other statements regarding the specification, it is probably the lowest quality.
HDR is measured in nits, starting at 400 and reaching 1400. The higher the number the better with most people agreeing 400 is not bright enough and can often produce a worse-looking picture than having HDR turned off.
So, if you want HDR for gaming or watching films, aim for 600 nits at the least and if you can afford it, pay as high as you can find. If your monitor happens to have HDR but it's 400 or not even mentioned, it's better to turn it off and ignore it. Also, don't pay extra if you're only paying for poor quality HDR.
Color
The quality of a monitor's color is influenced by a lot of factors and can be measured in numerous ways. When we say a curved display has good color quality, we're referring to color accuracy and range.
When buying curved screens lookout for the percentage of the sRGB color spectrum/gamut that it covers. The higher the better. In fact, it can even surpass 100%. For example, the AOC CQ27G2 has great color that reaches 120% of sRGB.
An increasingly common standard is called DCI-P3 and follows a similar principle. It represents a 25% wider gamut than sRGB and is usually associated with HDR. So, 100% of the DCI-P3 gamut is essentially the same as 125% of the sRGB gamut.
Color can be subjective though, for example, an image may have accurate shades but that doesn't mean they are vibrant or look good in that particular case. There's also a brightness and contrast ratio to consider.
It takes a lot for a screen to be the best curved monitor, but you're bound to find something fitting.
Wrap Up
So, we discussed the best curved monitors for gaming, movies, and work.
Our list has something for everyone, no matter the end goal. We're sure that by now one or two have caught your eye. Care to share your choice in a comment?
Are curved monitors really worth it?
A good curved monitor is definitely worth it. It is more immersive, easier on the eyes, and more efficient to use. Of course, you can still get good PC monitors that are flat. But unless you will be primarily using it to watch movies from a distance, a curved one is always better.
Is a 24-inch curved monitor worth it?
24 inches is about the limit before curved screens start to lose their luster. At that size, it is so small that the immersion you get from the curvature is basically lost. You can easily see the edges and therefore are taken out of the experience.
We personally would not buy a curved monitor below 27 inches.
What is the best curved monitor to buy?
If budget is not a factor, the absolute best curved monitor we have reviewed is the Acer Predator X35 for $2,499.
This is closely followed by the slightly smaller Asus ROG Swift PG35VQ, which has the best-looking HDR of the bunch.
If you're on a tighter budget, we recommend something like the Dell S3220DGF for $377.99.
Do curved monitors reduce eye strain?
There is preliminary evidence that a good-sized curved monitor is better for your eyes and reduces 'ocular exertion' when compared with a traditional one. While at first, it may seem like you're moving your eyes more, once you've adjusted you're actually getting a wider field of view, better directional lighting from the screen, and a better field of view. This can prevent your eyes from getting tired.
So, choose the best curved monitor for your needs and dive bravely into imaginary worlds or your work.
Keelan Balderson
A qualified journalist and longtime web content writer, Keelan has a passion for exploring information and learning new things. If he's not writing or pushing his own brands, you'll find him watching pro wrestling or trying not to rant about politics online.
Leave your comment
Your email address will not be published.
You may also be interested in: