Are you an artist and or creative professional that needs to digitize your work? We have 13 of the best drawing tablets that can make this a breeze. We've evaluated each based on:
Price

Suitability for professionals and beginners

Size and build quality

Screen and compatibility

Stylus and pens

Overall performance
Check out our table of quick reviews or read further about how we put each device through its paces.
Read More
Wacom One Creative Pen Display
Wacom One Creative Pen Display
Resolution
Full HD 1920x1080
At $399.95 MSRP, the Wacom One Creative Pen Display is the company's lowest-priced model of a drawing tablet. It is aimed more at amateur artists, doodlers, and physical note-takers, rather than professional artists.
However, you can still get the superb results that Wacom has become famous for. It always ranks in any best art tablet list.
This is a draw-directly-on-screen tablet and does not require nor come with a secondary display. It's not as large as its sister products, coming in at 13.3 inches, and includes a more basic stylus pen. It also covers 91.7% of the sRGB color spectrum which is not quite at the pro level. This makes it the number one pick for students and artists just testing the waters of digital drawing.
The device is a full HD 1080p anti-glare screen that has great viewing angles. You can prop it up to a 19-degree angle with the fold-away legs at the back.
There's also a USB-C port for charging and further screen connectivity. It comes with cables that support C to the power plug, C to A, and C to HDMI, so you have everything you need to power, charge, and extend your display.
It should be noted that this connectivity is limited to Android and Windows devices. MACs or iPhones/iPads can't connect to this particular graphics tablet.
With 4,092 levels of pressure sensitivity, the Wacom One more than meets the industry base level of 2,000. We found the stylus fast and responsive, so you don't have to worry about lag or bad calibration. These are the veterans of the technology and have had that down for many years.
The pen draws its power from the light emitted from the tablet and does not require charging. It has one programmable button (usually the eraser). Wacom has many other upgraded pens with more buttons, finer tips, and other features that you can buy as well.
You'll get access to their excellent software suite, including the Bamboo Paper Pro Pack add-on, designed for pen doodling and hand note-taking, as well as Clip Studio Paint – free for 6 months. This is for artists to draw and paint.
You can also get months of free access to Adobe's own drawing suite, Fresco.
For the privilege of having a Wacom, this is the ideal mid-level art tablet for those that can afford it.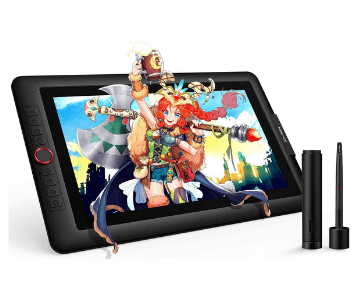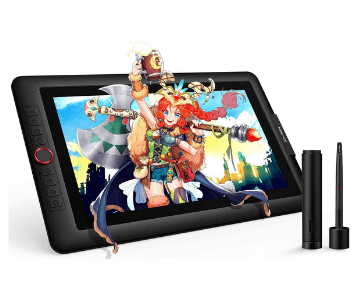 Working Area
13.55 x 7.62"
Resolution
Full HD 1920x1080
At a similar price to the Wacom One comes the XP-Pen Artist15.6 Pro for $399.99 MSRP. This on-screen drawing tablet again is aimed more at amateurs than the pros, giving you 8 handy shortcut buttons along the left side and a larger 15.6-inch full 1080p HD display. Where it falters against the Wacom One is 84% sRGB, which could lead to mild inaccuracies in color which is not what you want from a digital art tablet.
The tablet's surface tends to be slippery and is more akin to a smartphone screen, which doesn't bring any issues with the supplied pen. You're also given a fouling glove, which makes things more comfortable if that surface texture is annoying.
The stylus itself provides an impressive 8192 levels of pressure sensitivity, doubling that of others at this price point. The caveat is that you might need to use the pressure curve setting because it can require too much force to get going.
There is also 60 degrees of tilt capability for shading, but it can become inaccurate and certainly isn't perfectly implemented.
Since you get a dot/cursor that corresponds with the position of the pen nib, the tilting puts this out of whack. It all still works and there's no latency, it just takes some getting used to that the cursor no longer corresponds to the pen's position.
You do however get 8 replacement stylus nibs and a durable pen holder for traveling and storage. The hold also doubles as the tablet's stand to let it stand up a bit instead of laying flat, though this isn't as good as having physical legs that are actually attached to the device.
The Artist15.6 Pro has a USB connection and cable and the device can run from an external power bank.
While there are a few issues here and there, that doesn't take away from what is a good value. It beats the Wacom One is the size and pressure sensitivity.
But, still, with a less than ideal color accuracy and a bit of a finicky pen, this still isn't for the pros. This would better suit those first getting to grips with a digital drawing that can't justify a larger budget.
HUION Kamvas 22 Graphic Drawing Monitor
HUION Kamvas 22 Graphic Drawing Monitor
Working Area
18.77 x 10.56"
Resolution
Full HD 1960x1080
A wireless drawing tablet with screen, HUION go all out with their latest model Kamvas Pro 22 drawing tablet, which is technically a 21.5-inch Full HD 1080p display.
Let's be clear. That's a good amount of surface area for artists and in contention for the best drawing tablet with a screen available.
Throw in anti-glare glass, a stylus with tilt support for realistic shading, and 20 programmable buttons, you've got a high-end product for $799.
In terms of performance, it also has a great color gamut of 100% sRGB so you know what you're looking at is accurate if the end design will be printed. Plus, with a 178-degree viewing angle, you can look at it clearly regardless of how you position the tablet.
Furthermore, the 8192 pressure levels on the battery-free stylus give you full control over the line weighting of your drawing, with up to 60 degrees tilt, and a report rate of 266 RPS. In layman's terms, this is one of the highest rates at which info is passed between the tablet and the pen, meaning absolutely zero lag or latency. In that respect, we found no difference than if drawing in a traditional notepad, making this one of the best tablets for drawing.
There is also no gap between the cursor and the pen tip, so calibration and accuracy just aren't a problem. The matte glass surface is not dissimilar from an LCD screen and we didn't experience any visual artifacts that are quite common with typical matte screen protectors.
The pen is also one of the most comfortable to hold with a perfect weighting, rubber grip, and two buttons that by default replicate the mouse buttons. The pen also has a holder that can stand vertically or horizontally and opens to store up to 10 replacement nibs (ours came with those replacements).
The display stand is sturdy and VESA mounted with rubber feet, meaning it's not going anywhere once you've put in the four screws. They throw in the allen key/ screwdriver, so you don't have to hunt for the tools either. You can lay your tablet flat or just shy of completely vertical. Somewhere in the middle is your best option.
The screen is large and smooth, the image is sharp, and the pen is responsive. It's also good to go as a Windows and MAC drawing pad. This is something the professionals can make use of and is easily in contention for the best tablet for artists.
You are working on a budget but don't want to compromise your drawing experience? Then, you should definitely consider trying out the PicassoTab by Simbans.
The 11.6-inch tablet with a 1366x768 resolution display runs on an Android operating system. It is effectively a regular smart tablet but oriented towards those who fancy themselves more of a creative type.
Its strongest point? Definitely the price.
Sure, it may not be the cheapest drawing tablet out there, but it's among the most affordable Android ones. You don't need to connect it to a computer, and it can double as a regular tablet. However, in this case, that's both a blessing and a bit of a curse.
Why is that?
The standalone factor means you won't be able to use any desktop apps such as Photoshop or Toon Boom on it. On the other hand, you have the entire Google Play Store at your disposal, which does offer an abundance of drawing apps.
What makes this device great for drawing?
First off, it comes with a ton of extra items—a special case, a pen, and a pre-installed drawing app. All this makes it a note-taking tablet. But the coolest additional perk of all? The special glove! It allows you to rest your hand on the device without accidentally activating the touch screen.
Now, let's talk about the pen.
Or, more precisely, the Picasso Pen 2, as it's specifically designed to work best with the PicassoTab XL. You may be tempted to dismiss this as just another stylus, but you'd be quite wrong to do so.
The pen has 1,024 levels of pressure sensitivity. This means that your brushstrokes will be directly influenced by how hard you press down on the screen. And if you're an artist, you know very well just how important this is.
What about its specs?
The tablet has the power of a typical home computer. It features a quad-core processor with 64 GB of disk space and plenty of storage for your creations. The display is IPS HD, making it extra clear for drawing or general entertainment.
Finally, the PicassoTab XL has a micro HDMI port with which you can connect it to a TV or monitor, along with a USB-C port. And, of course, there is Wi-Fi functionality. So not only is this tablet very affordable, it's quite versatile for its price range.
Working Area
13.55 x 7.62"
Resolution
1920 x 1080 HD
If you're looking for value for money, one of the best options currently out there is the Gaomon PD1560 drawing tablet for $300. It comes with a 1080p Full HD display and a 15.6-inch screen. It has an acceptable color gamut at this price, 10 programmable buttons to shortcut for your desired software, and has drawing gloves to make the process more comfortable and reduce friction.
The Gaomon tablet has a basic black design with the buttons down the left side, though the build quality is high and it's surprisingly thin compared to other drawing pads. You get a 3-in-2 cable that connects to the USB-C port and mini HDMI ports, and the other end does your power, USB device, and/or HDMI display. For non-HDMI Macs, you will need an additional HDMI to USB-C adapter as there isn't one included here. It will work though as we tested a Mac for our mirrored display setup.
But, how does it perform?
The full HD IPS display looks vibrant and has good viewing angles, but the color gamut is not the most accurate at 72% advertised. Some users report experiencing lower in their own tests, making a better electronic sketch pad than a full-blown colored art device.
Nonetheless, we think it's okay, but if you're a professional and will be printing off work, you'll need to go through extra steps to verify or correct its color.
The pen and overall drawing experience, however, is top-notch. You get nice 8,192 levels of pressure sensitivity and the inbuilt curve works perfectly. You don't have to press too hard and more importantly, there are no lag or calibration issues. Where and what you draw is what you get on screen.
If we want to nitpick, the pen is quite smooth and could do better grip-wise, but it's certainly not a dealbreaker when it works so flawlessly otherwise.
It's a bit old-fashioned with its 'drivers CD' but you can also just connect it to your Windows 10 PC to have it pull adequate drivers automatically. If you're not convinced, you can also go to the Gaomon website to download the latest drivers instead.
The native software lets you program your shortcuts, limit the workspace of the display (i.e. make it smaller), and a slight pen pressure adjustment, though you cannot and most likely don't need to alter the curve anyway.
Ultimately, we'd categorize this as a more affordable entry-level model over the likes of the Wacom One or XP-Pen Artist15.6 Pro. It has similar performance and can be picked up for $100 less, making it one of the best graphic tablets for those on a budget. We also like that it comes with drawing gloves and the stand can give you a better viewing angle.
Working Area
19.5 x 11.5"
Resolution
Full HD 1920x1080
At just shy of $1,200 MSRP, this model is where Wacom really kicks things up a gear for its professional art tablets. It has a sleek, premium built direct-display drawing pad with superior color accuracy and a nice large surface area.
It comes in a professional plain black design, with a pre-installed adjustable VESA mounted stand that has rubber feet and can be easily folded away for portability. With 16 to 82 degrees adjustability, you are sure to find the position that best suits you.
You get separate cables instead of an all-in-one solution, allowing for HDMI display, USB, and power. This allows for better reach and less entanglement (those who have tried the Cintiq 16 know what we're talking about).
What it lacks is any programmable buttons but that allows for more screen space, so we'll let them off. The software does the trick anyway.
Overall, the Cintiq drawing tablet is pretty thick and heavy but that's because it packs a lot of punch under the hood.
It's a full HD (1,920-by-1,080-pixel) resolution on a 21.5-inch IPS panel, offering an impressive 96 to 98 percent sRGB color coverage. That means the colors you see on screen are accurate and good to go to print when you've finished without any extra tweaking – which is perfect for professionals.
Having what amounts to a 22-inch screen laying on your desk can be a bit too big for some people and it's not the most portable. But boy does it come closer to the desired canvas size than a lot of other tablets on the market. We easily rate it as the best Wacom tablet for artists.
The Cintiq 22 uses Wacom's top-of-the-line Pro Pen 2 stylus, which is comfortable to hold, as responsive as they come, and provides 8,192 levels of pressure sensitivity – you can get your lines as thin or thick as you desire.
The stylus also features tilt support, so you don't have to worry about coming off the 'paper' or poor calibration when beginning to shade or when you simply use the pen at an angle. What's more, it doesn't need a battery as it draws its power from the device itself.
If you're looking for the digital equivalent of a canvas in an art studio, this is it. This is not just a digital sketch pad it's the best tablet with a stylus on the market.
Version 2 of the XP-PEN Deco01 is up there for the best cheap drawing tablet and can be picked up online for less than $100. The main factor to point out is it must be hooked up to a Windows or Mac device to get a visual display, as the 10-inch tablets themselves only act as the drawing pad.
It can easily be set up in left or right-handed mode, with 8 programmable shortcut buttons and LED lights to indicate the active drawing perimeter. These buttons can be set to anything, but you'll probably want at least an undo and redo alongside your favorite tools.
Although it is mainly plastic the build quality is still good. We found it light and nimble when sitting back and drawing while looking at our laptop display. This is hooked up via USB and all the cables you need are included to get your electronic drawing tablet up and running quickly.
The stylus pen is surprisingly advanced for the price, having a great 8192 levels of pressure sensitivity and a 60-degree tilt allowing for stable and balanced drawing.
It also comes with two programmable buttons which we advise one to be the eraser that you hold down while performing the task as there is no native eraser functionality at the back. Overall, we found it to have a comfortable and ergonomic design despite lacking rubber gripping.
Luckily, you don't have to charge the pen as it makes use of EMR, a way of wirelessly charging from the power given off by the tablet itself.
In the box you get a few cool accessories including a cleaning cloth, drawing gloves for easier gliding, the stylus pen holder, extra pen nibs housed inside the holder, and a USB C cable. You can connect it to your display which should automatically prompt the download of the required drivers.
There is also some Android support if you have a USB adapter. This isn't for a display, rather it turns your Android devices into a drawing tablet itself with the aid of a few apps.
If you don't want to view what you've drawn directly on the tablet, the XP-PEN Deco01 V2 is an affordable option. The catch is you need to have a good display to begin with to get accurate colors for your professional work. One of our best tablet under 100 entries.
This USB-based device is a small portable drawing tablet with stylus to be displayed on a larger tablet, laptop, or computer display. It is one of the most popular products in the world in this market, and there are many reasons why – the main one because it's less than $60 price tag. The ideal drawing tablet if you can also find a screen cheap.
However, it certainly isn't for everyone and we wouldn't recommend it for a professional artist. It only has a 4 x 2.23inch active surface area and was originally only intended for recording your signature on PDFs or, at the most, taking notes.
Users have extended its capabilities and Huion has somewhat embraced that, but this isn't a large professional drawing tablet. It's a small affordable pad that you can extend to a display and do basic drawing if you so choose.
It works well for beginners who aren't sure whether they want to spend money on a more expensive model yet, new tattoo artists perfecting their small basic designs, students that need a note-taking tablet, and those that need to capture written signatures digitally. If, however, you have experience with graphics or drawing tablets, or are a professional and need a high-end solution right away, this isn't for you.
One reason is the stylus is at the lower end of the pressure sensitivity level at just 2048, which was acceptable at one stage but is now well below what's expected of a good drawing tablet. It's also quite flimsy and not very tilt friendly. Furthermore, the pen takes a AAA battery (remember those?), while most modern pens charge themselves or at least have a USB connection.
One plus that makes it a bit more functional are the three programmable buttons down the side, for tasks like undo, redo, and delete. However, the drawing area itself is just too small to do anything substantial.
Nonetheless, it looks nice, is quite durable, and if you know what you're getting into it's a good little device. You also get a bunch of extras such as four replacement stylus tips, a wool-lined bag to carry it in (which is easy since it's so small), a cleaning kit, and an anti-fouling glove to make drawing and writing smooth and error-free.
Ultimately, it's a good drawing tablet for beginners that allows you to get used to how such technology works before saving up for something more expensive. A good basic sketch pad for PC.
XP Pen's Deco Fun portable drawing tablet has lots of fun features for children.
It also suits educators that want to create engaging content.
You can choose from three graphics tablet options:
Extra Small 7.18" x 5.3" x 0.41" – with a 4.8 x 3-inch work area.
Small 8.28" x 6.29" x 0.50" – with a 6.3 x 4-inch work area.
Large 12.40" x 8.77" x 0.49" – with a 10 x 6.27-inch work area.
Pricing is also good – $29.99, $39.99, and $49.99 respectively. The latter two have a built-in 60-degree tilt. All come with a battery-free stylus.
Deco Fun is not just a drawing tablet for PC – it works with all your devices. What's more, it's plug-and-play. There's no messing about with drivers or installation. You can connect it to your smartphone, tablet, laptop, or PC immediately.
It works with Windows, Mac, Chrome OS, iOS, and Android. It also has native support for Excel, Acrobat Reader, and Word.
This digital sketch pad is perfect for educators, especially for remote classes. It's a fun way to teach over Zoom and Skype. It works in the classroom too, with a whiteboard hooked up to a computer.
Conduct presentations, run through tutorials, or get creative with animated stories – the possibilities are endless! Because of this, it's our top digital drawing pad for kids. But there's so much more that appeals to younger users.
First, it's available in a variety of color options. Whether you go for Apple Green, Carmine Red, or Space Blue, it's a striking piece of tech. Of course, professionals can always opt for the classic black version.
A good tablet for drawing also needs lots of features. Kids will instantly be wowed by the number of colors, brushes, and patterns available.
What children will really love is free drawing software that you can claim after purchasing the tablet. It comes with a variety of brushes and drawing tools and is exceptionally intuitive. We tried it with two kids, aged 4 and 6, and both enjoyed drawing on it. Still, it's suitable for bigger kids as well.
Deco Fun is not just a cheap device for a bit of throwaway fun. The pen pressure is 8192, which puts it up there with some of the better tablets we've reviewed.
We went in assuming this was just another drawing pad for PC. We came away knowing it's one of the most versatile and fun options out there. It works on all devices and is very well priced.
Working Area
13.5" x 9.87"
Resolution
3240 x 2160 (4K)
Looking for a 4K tablet for artwork? The Microsoft Surface Book 3 is one of those broad solutions that allows you to draw but is also an all-around touchscreen laptop. That's how it becomes of most use to designers and artists if you purchase one of the Microsoft Surface Pens to go with it. This allows you to draw directly on to the laptop display and use your desired Windows software to help you along the way.
Laptops with touchscreens are powerful, if not a bit overpriced. However, this one delivers you a 4-core 2.3GHz Intel Core i7-1065G7 processor, Nvidia GeForce GeForce GTX 1660 Ti computer graphics card, 32GB or RAM, and most importantly – a 15.6-inch 4K (3,240 x 2,160) PixelSense display with great color accuracy. This will set you back as high as $2,799 MSRP.
This isn't a device you get for drawing, it's a laptop you get to be a laptop that allows you to draw (or touch).
The Surface Pen comes with 'precision ink' – an eraser on the end and has tilt support to help with shading. It didn't perform as well as some of the dedicated drawing tablets on our list, but we found it to be a comfortable fit and lag-free.
It is aimed mostly at note-takers and people correcting work seemingly by hand, rather than artists. Although, with 4,096 pressure points it's perfectly capable of sketching and shading and does market the pen as such. We found it to be a competent graphic drawing tablet.
Where it really stands out is with the bright 402 nits display which covers 100% of the sRGB color gamut. So, unlike some purpose drawing tablets, this outperforms them in color accuracy.
We should also note that this is an impressive 4K display, i.e. quad-HD, which when coupled with the aforementioned graphics card also makes it an impressive gaming laptop. Though it's also impressive in most areas of design and editing as well, handling Photoshop and Premiere without issue.
There are a couple of different models with slightly different specs and prices, but the main thing for those wanting to use this for drawing is that you get the associated Surface Pen bundled or separately. You'll have to make use of your finger until then. Fortunately, most Surface Book 3 owners can either get it bundled or at least discounted from its usual $99.99 price tag.
Either way, it's easily in contention for the best tablet for graphic design.
Apple iPad Pro + Apple Pencil 2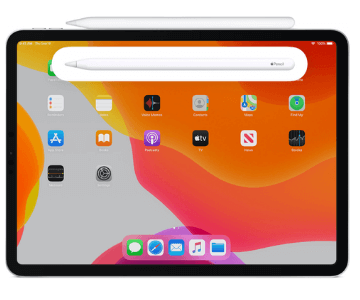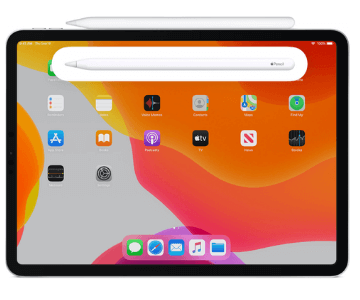 Apple iPad Pro + Apple Pencil 2
Working Area
10.79 x 8.21"
The closest thing you'll get to an Apple graphic tablet – an increasingly common combination for drawers and sketchers is the Apple iPad Pro with the Apple Pencil 2. This extends the touch capabilities and great specs that the iPad provides, with a stylus style pen that comes close to creating a professional artist tablet and arguably the best note-taking tablet for students.
First off there are two sized versions of the iPad Pro, an 11incher and one that's 12.9 inches. We prefer larger surface areas to do our design work. Both can be picked up for less than $1,000, with the Pro 11 as low as $799 MSRP.
Сt stands out as a graphic design tablet because of its color quality and accuracy, emitting 111% of the sRGB color spectrum – about as good as it gets when compared to dedicated drawing tablets. The color you see is the color that will get printed or sent to your client.
When partnered with the 'pencil' you get a stylish, simple white, and comfortable design, with magnetic charging that works across many Apple devices. Not just your iPad, though we'd say they make the best overall team.
Calling it a stylus is perhaps an understatement, as this one has actually been designed with artists in mind not just note-takers and the odd doodler. That's why it will cost you another $130 unless you get it as part of a deal.
The latest model has one flat side which magnetically attaches to the iPad Pro for easy storage and charging at the same time. This design element doesn't affect balance or comfort. We found the pen a pleasure to use with its matte coating – you can lay it down without rolling away!
Performance-wise, you'll get a very sensitive response with pressure sensitivity, but true to Apple they play their cards close to their chest and don't reveal an official 'pressure sensitivity level'. However, experts have put it around 4,096 and although that's half of some devices, Apple always outperforms at lower specs. The pen also supports tilts to help with thicker lines and shading effects.
Like similar offerings from Microsoft, this is an ideal solution for those that want a powerful touchscreen laptop to double as their drawing tablet. However, you may be able to get a better overall drawing experience with a high-end dedicated drawing tablet.
The Apple Pencil 2 is a great product and really makes the iPad Pro a fit for artists, which itself is one of the top-rated tablets itself. However, as with all things Apple computers you need to be an Apple buff to get the most out of it.
Having created flagship Android phones and great tablets, the Samsung Galaxy brand has jumped into the world of drawing tablets via its Galaxy Tab S7+. It offers a $39.99 'S Pen' and PENUPP app to draw within the device's respectable 12.4inch Super AMOLED display with a 266 pixel-per-inch density (resolution is 2800 x 1752).
That's one of the best on the market. And, in Vivid mode can produce 210.6% of the sRGB color gamut, which means you're getting better color accuracy than most, if not all dedicated drawing tablets.
Of course, it's not actually a drawing tablet and does have some limitations, even at $649.99 MSRP at the base model. Firstly, you'll want to remove any added screen protector because that can mess with the texture and the responsiveness of the pen.
The S Pen itself has 4,096 levels of pressure sensitivity. This is less than most of the good drawing tablets but comparable to the Microsoft Surface Pen and Apple pencil 2. It also has a tilt to help with thicker lines and shading, so isn't lost on the pros.
It's nice to hold and functions well. For example, a simple tap will undo a stroke or two you've made in error. It's also very beginner-friendly via the PENUPP app that lets you choose existing drawings, watch the pros create them, and trace them to varying degrees to get used to how it all works.
As a display tablet, it's one of the best, but you may already be seeking a tablet to make this worth the price. It's the best Android tablet for drawing without a doubt.
Huion OSU Graphics Drawing Tablet
Huion OSU Graphics Drawing Tablet
Levels of pen pressure
2,048
Connectivity
USB Plug and play
Suitable for beginners
Yes
Is this the best digital drawing tablet? No, but it's a wonderful budget choice. It has a lot of the right features and can be picked up for just a mere $20 online. Only, it's still on the small side at just 4inches x 2.23inches and more designed for entry-level users than professionals. This is more of a tablet for note-taking.
This time you won't get any of the bells and whistles in terms of carrying case, there are no programmable buttons, cleaning set, or gloves.
You do get the same 2048 levels of pen pressure, which is subpar in today's market but is still viable if you want to try out your digital sketches or do some note-taking.
It's USB plug-and-play, so you need an extra display to see your work. The old-style stylus requires AAA batteries rather than being chargeable or drawing power from the tablet.
Bluntly put, this is not in any way for a professional but it is still good enough for someone who wants to take some notes and test what drawing via tablet might feel.
Let's not forget this is the same company that now makes the high-end Kamvas 22-inch tablet, so there's still some quality tech here. It's just outdated and for beginners. It is, however, the best portable drawing tablet due to its small size.
What Is a Drawing Tablet?
A drawing tablet is a computer device aimed at professional artists, illustrators, architects, engineers, graphic designers, and even just note-takers. A drawing tablet with a pen allows you to use a stylus-style pen to digitally draw in numerous ways onto the tablet surface with the aid of associated software.
The drawing may occur directly in front of them on the tablet's surface area display or via an attached display (like a laptop, secondary tablet, or bigger desktop display). With this type, you draw on the pad, but you see the result on the separate screen. A drawing tablet with a screen may come as a bundle or something you must connect to an existing display via USB or HDMI. This is often also called a graphics tablet – the terms can be interchangeable.
One of the most important elements of a drawing tablet is its stylus pen related pressure sensitivity – the higher the better. This is because it allows you to have more control over the line weight/thickness of what appears on your display. How thick and opaque your lines are is dependent on how much pressure you apply.
Traditionally, levels started around 2,000 but today easily reach over 8,000 to provide more than enough variance for professionals.
While most drawing tablets come with a stylus style pen and nib, through software you can still, in a sense, paint on your digital canvas. You may also be able to purchase different types of pens from the manufacturer that work better for different purposes. Furthermore, the top tablets for drawing allow the stylus a degree of tilt to aid your drawing/sketching style and for shading.
Drawing tablets with displays usually have a high color accuracy so you know what you're seeing on screen is what the end product will look like, whether printed or digitally applied in some other fashion.
What Are the Different Types of Drawing Tablets?
There are different types of tablets that can accomplish drawing. These include:
With-screen drawing tablet
This is your typical drawing tablet. Think of it as a regular touchscreen tablet that just happens to come with an advanced stylus pen that better facilitates drawing, notetaking, and other handwritten work. The best graphics tablets tend to have built-in displays.
Without-screen graphics tablet
Commonly called a graphics tablet, though also sometimes a drawing tablet, this is more like an electronic pad that registers your strokes. You don't see them on the pad itself, rather a separate or built-in laptop-style display. These can be typically connected to computer screens, laptops, secondary tablets, and even phones, but the drawing is done on the tablet while the result is shown on a display.
Regular tablet with drawing functions
A lot of touchscreen tablets, laptops, and even desktops at the higher-end have the capability to take input from a stylus and thus can function as a 'drawing tablet'. The main difference is that except for a few models, they tend to have less advanced pens. On the other hand, the higher-end devices can have better displays and more accurate colors, which is great for artists. If you just want the best writing tablet, you can go for a cheaper model.
How To Choose the Best Drawing Tablet
Choosing the best drawing/ graphic tablets for you depends on your experience level, how you want your drawings to be displayed, and whether you're a professional artist or a beginner. Whatever the case, you must consider the following before your part with your cash:
Budget
Drawing tablets do not come cheap. Even at the entry-level, you will be looking to spend upwards of $400 for a reputable brand like Wacom for a full drawing tablet. While there are also good budget graphics tablets at below $100 you must hook them up to an external display. If you just want to take notes or doodle on a regular tablet, you can do so for much cheaper. But artists will need some funds to get the best experience.
Purpose
First off if you're looking for the best tablets for note-taking then you do not need to fork out for a drawing tablet. Even some of the most basic tablets can allow you to take notes with a stylus and many apps allow for handwriting recognition.
That aside, you need to consider whether you're going for detailed art, cartoons, technical drawings, or a bit of everything.
Onscreen or Separate Display
Terminology can overlap when it comes to drawing tablets; some get called graphics tablets, some only get called one or the other if you draw on the display or draw on an art tablet with a separate screen. Either way, you will have to decide whether you want to see your drawings and design right in front of you like the tablet itself is a piece of paper or whether you want a high-quality drawing pad that registers your motions but only displays them on a separate display. This can be LCD monitors, a brand compatible add-on display like it's a laptop (with a drawing pad instead of the keyboard), a mobile device, or another tablet.
The price of either option really depends on if you already have a screen your drawing device can hook up to.
Display Size
If you're used to a certain size canvas using a traditional medium, then you may want to replicate this as close as possible with your drawing tablet. Sizes range from 13 inches up to 22" in our reviews, while the Microsoft Surface Book 3 offers a 4K graphics tablet with a screen and 100% color sRGB coverage.
There are smaller options like the 4 x 2.23inch Huion H420, but this was initially intended for PDF signatures and a bit of note-taking before artists realized it used much of the same technology and could perform as an entry-level sketch tablet, even if the surface area itself is tiny.
The best pen or brush to paper experience is had on tablets that are a digital art pad with the display as part of the device rather than using a separate one. However, personal preference shouldn't be discounted, so if you get the chance to test out different devices then do so.
Compatibility and Connectivity
An all-in-one drawing tablet might not need much more than a charging cable, though they often let you duplicate to a secondary display via USB or HDMI and you can further this functionality with any number of relevant adapters.
A graphics tablet or pad that requires a secondary display will almost certainly come with the required cabling, but you can extend this further depending on the specs and available adapters.
Some stylus pens will draw their power from the tablet or require their own charging cable and/or battery.
And, remember, if you're an Apple fan you'll probably want to opt for an iPad 2 pro with Apple Pencil 2. Windows and Android users have endless options and software.
Color Accuracy
At least with traditional offline mediums, it's your eyes that determined the color of the piece. When it comes to a graphics drawing tablet you have to rely on the screen and sometimes the software you are using to be accurate.
One of the best measures of this is the sRGB coverage, which is a smart way of saying how many shades of color along the scale the display can render. As close to 100% as possible makes for accurate colors, meaning they will look virtually the same when printed or applied to objects, etc.
Don't ask us how, but some displays can even go beyond 100%, with the likes of the Apple iPad Pro getting 111% and the Samsung Galaxy Tab S7+ getting over 200%. The only downside is that because these aren't designed just to be drawing pads, they're expensive, and can lack in other areas.
Pen Sensitivity
A drawing tablet is only as good as the pen it comes with, or you can at least buy it. This acts as the input for the screen or graphics tablet that you've hooked up to a screen. The best provides no lag, allows enough levels of pressure sensitivity so you can adjust the pressure to adjust the weight of your line, and support tilt.
This lets you draw with your own slanted style but also aids shading and line weighting. The more tilt available the better, because if you go too far the pen will come off the digital page or start drawing in the wrong place and become wonky.
Software
You'll need to consider what software comes natively with your device and what software is compatible with it because not all drawing apps are as good as each other. You might get on better with something from Apple than Wacom's native drawing solution, despite being a leader in the industry.
You also need to consider whether you're just notetaking, drawing, sketching and painting, creating architect plans, designing products, etc. before deciding on the software and combinations of programs you'll need to succeed.
Wrap Up
Whether you're a beginner on a tight budget or a professional looking for the absolute best drawing tablets, we got you covered.
Our drawing tablet reviews and guides will help you pick the best one for you.
So, what are you waiting for?
Choose one and start creating!
What are drawing tablets good for?
Drawing tablets are designed for professional artists, illustrators, graphic designers, engineers, architects, and hobbyists who want an easy way to digitize their creations. They're also good for note-taking and correcting notes by hand.
Drawing tablets provide the modern equivalent of the artist's medium, allowing you to use a digital pen input device that has a variety of functions (thicknesses, pens, brushes, etc) and/or a variety of pens themselves, that let you draw, sketch, and paint directly on to the digital canvas that is the tablet.
You either see it directly where you draw on the screen, or on a separate display hooked up to the tablet.
The benefits of drawing tablets are twofold. Firstly, whatever you produce is instantly saved in a digital format ready to be sent to clients, your portfolio, or printed in high resolution. Secondly, unlike the days of having to make corrections manually, you can simply undo a long history of movements or use a digital eraser to allow you to easily get your work back on track.
The best drawing tablets give you levels of pressure sensitivity to help create different sized lines, have a good-sized surface area to work on, and extra controls to help not hinder your natural talent.
What is the difference between a graphic tablet and a drawing tablet?
Graphics tablets and drawing tablets have some overlapping functions and the terms are often used interchangeably. The traditional difference between the two is that a graphics tablet requires a separate screen to see your work (or at least a built-in additional screen like a laptop above the drawing pad), while a drawing tablet shows you your work directly on the tablet surface you are drawing on.
That does not preclude the ability for a drawing tablet to be hooked up to a display and some products marketed as graphics tablets also show what you've created on the tablet surface itself.
Rather than getting too bogged down in these differences, you should check our reviews or any other product you're looking at to see whether the device can be used on its own as you draw or needs an additional display.
Is a drawing tablet worth it?
A digital drawing tablet is certainly worth it if you are a professional in any field that requires digitizing drawings and artwork; from graphic designers to architects, and all the artists in-between.
They allow you to use a stylus style pen or a variety of compatible pens to draw directly on to the tablet screen or a connected pad with additional buttons and software.
They are aimed at the pros and provide the features and nuances that a lot of most regular tablets don't.
If you are more of a hobbyist or just starting to get to grips with the concept of drawing digitally, you may not necessarily need a full-blown high-end drawing tablet now, but it's still worth considering for the future.
Any touch screen tablet computers with stylus pens can allow some form of drawing, so that's always a good place to start. Or you could look specifically for the best drawing tablet for beginners, Samsung Galaxy Tab S7+, which comes with an excellent beginner app.
Can I use a regular tablet as a drawing tablet?
To a degree, yes. Some regular tablets, as well as the iPad have drawing capabilities via the use of a stylus pen or pencil and supporting software, though they are not quite up to scratch with the high-end dedicated drawing tablets and lack certain features.
You won't be doing fine art or highly technical sketches using these devices. However, they are suitable for more basic sketches and drawings, or simply as digital whiteboards to doodle ideas like a notepad and pen.
You will also have to consider the screen size and color accuracy, which may not be appropriate (or at least you'll have to choose the right options) to get the same experience as a good drawing tablet.
Good options that have drawing functionality but aren't necessarily marketed as drawing tablets are the iPad Pro + Apple Pencil 2 and Microsoft Surface Book 3 with Surface Pen. These double as great touchscreen laptops that allow you to use their pen accessories to accomplish a medium level of drawing capabilities.
Where they stand out is providing a superior display with better color accuracy than even some of the high-end drawing tablets themselves.
What is the best cheap drawing tablet?
The best cheap drawing tablet in terms of value for money, that will give you what a professional requires without breaking your bank balance, goes to the GAOMON PD1560. At just $300 you get a 1080p Full HD display and a 15.6-inch screen, all the connectivity, you need, and high-end pen pressure sensitivity. Ideal if you need a cheap drawing tablet with a screen.
At less than $100 the XP-PEN Deco01 V2 provides 8192 levels of pressure sensitivity, 60-degree tilt, and programmable buttons, but has a smaller drawing area and requires a separate display.
The overall, but quite limited, cheap drawing tablets go with the $60 Huion H420 and the $20 Huion OSU, both of which require external displays.
What are the best drawing tablets?
At around $1,200, the absolute best-dedicated drawing tablet with its own WYSIWYG screen is the Wacom Cintiq 22HD, offering:
the largest surface area of the tablets we've reviewed
96 to 98 % sRGB color coverage

8,192 levels of pen pressure sensitivity

superior tilt implementations.
This is closely followed by the Huion Kamvas 22 Graphic Drawing Monitor, at $799 – the best drawing tablets for value for money at 22-inches.
The best drawing tablet for beginners with a high budget is the Samsung Galaxy Tab S7+, while the cheaper Huion's in our list are great budget options to get to grips with the process.
Keelan Balderson
A qualified journalist and longtime web content writer, Keelan has a passion for exploring information and learning new things. If he's not writing or pushing his own brands, you'll find him watching pro wrestling or trying not to rant about politics online.
Leave your comment
Your email address will not be published.
You may also be interested in: