If you need powerful bass when cruising the streets, but have limited space - consider installing a shallow sub that is less than four inches deep. We narrowed the search to 10 standout models, so you can choose the best shallow mount subwoofer for your particular vehicle. We paid special attention to:
Mount depth and cone diameter

Power

Bass sound

And build quality
Read More
Top 10 Shallow Mount Subwoofers for 2022
Skar Audio VD-10 D4 10" Shallow Mount Car Subwoofer
Skar Audio VD-10 D4 10" Shallow Mount Car Subwoofer
Great value for money
Yes
When it comes to shallow mount 10 inch subs, the Skar Audio VD-10 is an excellent starting point for upgrading your car audio. Its $40 price tag is perfect for those on a budget that still desire high power and performance. You get 500-watts RMS, peaking at 800-watts. Moreover, you get wiring flexibility and the most out of your amp thanks to its dual 4-ohm voice coils.
Skar makes its coils from copper while stitching its pressed-paper cone and foam together. This ensures hard-hitting bass over the long term.
Overall, Skar delivers accurate and deep bass with its compact design.
Kicker 43CWRT102 CompRT 10″ Shallow Mount Subwoofer
Kicker 43CWRT102 CompRT 10″ Shallow Mount Subwoofer
This rugged sub features premium stitching, a UV-resistant polypropylene cone, and Santoprene surround. A layer of rubber tops off the kicker, making it our pick for when you pop the trunk for outdoor use. Not even rain will keep you from sharp low frequencies.
Vehicle sound systems will benefit from a powerful 800-watt peak while remaining under 4-inches when mounted. Furthermore, the pair of 2-ohm voice coils lets you wire two separate channels to the amp.
Pick up this woofer for just shy of $200.
Rockford Fosgate R2 Ultra Shallow Mount Subwoofer
Rockford Fosgate R2 Ultra Shallow Mount Subwoofer
Injection-molded
Polypropylene cone
If you lack space or have a tiny speaker enclosure, this $119 driver has a mounting depth of just 3.4 inches. Despite its thin 10-inch design, it produces loud bass with competent low-end frequencies. You get an RMS of 200-watts, with a peak power of 400-watts.
Rockford Fosgate uses quality, long-lasting materials, including a mica injected cone, stitched tinsel leads to reduce fatigue and anodized aluminum 4-ohm voice coils. The latter provides 100-degrees of heat dissipation. Moreover, stamp-cast baskets with spider venting further aid cooling. Bigger subs tend to only sport such a design.
For thumping bass in a restricted space, this is one of the best shallow subwoofers on the market.
JL Audio 10TW3-D4 Shallow Mount S
JL Audio 10TW3-D4 Shallow Mount S
Sound quality
Exceptional
Unique concentric tube design
Yes
Polypropylene cone
Injection-molded
The 10TW3-D4 from JL Audio has a high-quality build that can withstand the flex from high-powered amps. It uses cast-alloy to house a strong polypropylene cone and a double 4-ohm voice coil. It suspends this alongside its magnet in a concentric tube, allowing the large motor to sit further forward than other shallow mount designs. A durable high-roll rubber surround wraps the sub. This combines for distortion-free sound over hours of use.
Your average to good shallow mount subwoofer will most likely lack the clarity and richness of this $429.99 model.
Rockford Fosgate Punch P3 Shallow Series Subwoofers
Rockford Fosgate Punch P3 Shallow Series Subwoofers
Options for all diameters
Yes
Suits sealed and ported enclosures
Yes
The P3 Shallow series from Rockford Fosgate includes 12, 10, and 8-inch shallow mount subwoofer models. All come with 4-Ohm voice coils for wiring flexibility, while RMS power is 400W, 300W, and 150W, respectively.
Rockford makes them with a StampCast and spider vent basket for airflow, an anodized aluminum cone, and a trim ring made of cast aluminum. Its patented M-Roll Santoprene surround prevents the over-flexing that occurs with cheaper subs.
The 8-inch version is one of the thinnest, mounting at just 2.66 inches.
Alpine SWT-10S4 10-Inch Shallow Mount Subwoofer
Alpine SWT-10S4 10-Inch Shallow Mount Subwoofer
Power and volume are what you want from a subwoofer, and the Alpine SWT-10S4 excels at both. It can reach 1,000 watts, which is top of the range for a 10-inch shallow mount. Moreover, it has a high amplitude surround that allows the cone to move further, pushing out more air. This results in a louder and deeper bass experience.
Alpine reinforces its rubber trim ring with Kevlar to accommodate its booming performance. This ensures long-lasting duration for this more powerful than the average shallow mount car subwoofer.
PIONEER TS-A2500LS4 1200 Watt 10" Shallow Mount 4 Ohm SVC Subwoofer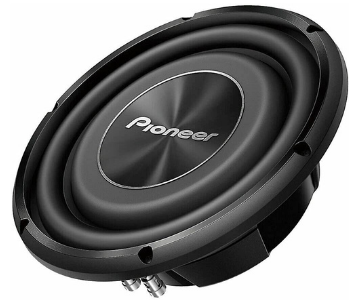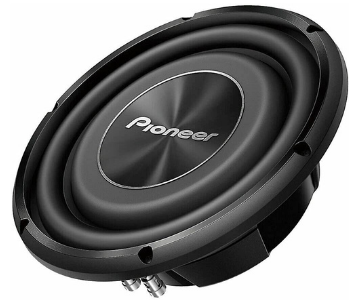 PIONEER TS-A2500LS4 1200 Watt 10" Shallow Mount 4 Ohm SVC Subwoofer
Frequency response
20Hz - 900Hz
Mica injected
Molded cone
If it's raw power you want, the Pioneer TS-A2500LS4 is your solution of choice. It leads the pack with a peak of 1,200 watts. Practically unheard of when it comes to shallow mounts. And at the same time, it manages to have one of the thinnest profiles, making it one of the best all-around options for adding bass in very tight spaces.
We also praise its build quality, boasting a Mica-injected cone and rubber surround. The sub easily fits and is highly secure due to its 8-AWG push terminals.
Rubber surround
Durable Santoprene
Even smaller than the Kicker 8" shallow mount subwoofer option, the 48CWRT674 is just 6.75 inches. Use a single sub when your car heavily restricts width and depth, or double it up to get twice the punch. Complimenting its slim profile, it has specially designed top and back plates to ensure greater bass with limited distortion.
Furthermore, Kicker expertly crafts its steel basket, rubber surround, and injection-molded polypropylene cone to withstand years of heavy use.
Kenwood Excelon KFC-XW1200F 12 Shallow Mount Subwoofer
Kenwood Excelon KFC-XW1200F 12 Shallow Mount Subwoofer
Spring terminals
Silver-plated
This Excelon model is the leader of the 12-inch shallow mount subwoofers. Those extra inches create the most powerful option on our list, cranking out a peak of 1,400 watts and an RMS of 350W. Your car windows will surely shake and hopefully not shatter.
Moreover, it uses only top components. Enjoy crackle-free bass at high volumes thanks to its glass fiber honeycomb cone, aluminum diecast basket, and thick rubber surround. Its super linear spider design gives optimum support for linear motion, improving overall sound quality.
Frequency response
35Hz - 300Hz
Great value for money
Yes
Skar Audio's shallow mount 12-inch subwoofer utilizes a high-temperature 2-inch voice coil to keep things cool while pumping out 800 watts of peak power. Moreover, its RMS is higher than most other shallow subs, at 500 watts.
The cone consists of competition-grade pressed paper, a high roll foam surround, and 2-layer conex spider.
This powerful and durable model is all the more impressive when you factor in a price tag of only $110.
Wrap Up
Whether it's an issue of available depth or width, the leading subwoofer brands have robust solutions to meet everyone's spatial requirements. Ranging from just $40 to a few hundred dollars, you can experience compact chest-thumping bass at an affordable price.
Are shallow mount subs loud?
The loudness of a shallow mount sub is relative to its size and design. When introducing any sub to your audio system, you can expect to experience a volume and low-frequency upgrade compared to a factory car stereo system. However, larger traditionally shaped subs will produce louder sounds than a shallow mount.
Furthermore, when it comes to subwoofers - size matters. A 12-inch shallow mount is louder, on average than an 8-inch shallow mount.
Are shallow mount subwoofers any good?
Yes, you can upgrade to a shallow mount subwoofer to counter space limitations and get great results. This especially applies to cars that have restricted trunk space.
Although diameter sizes vary between 8 and 12 inches, depth rarely exceeds 4 inches. This allows for easy fitting behind or under a seat. Alternatively, a versatile trunk or hatch can also accommodate such woofers.
You can expect lots of power, volume, and distortion-free bass from the best shallow mount subwoofer designs.
What is the hardest hitting shallow Mount subwoofer?
If you're looking for raw, unadulterated power and hard-hitting bass that gives bigger models a run for their money, it's a close contest between the Alpine SWT-10S4 and Pioneer TS-A2500LS4.
Both are 10 inches and have similar performance. The Alpine thumps out 1,000 watts of peak power through a high amplitude design. Meanwhile, the Pioneer reaches a staggering 1,200-watt peak but lacks the same amplitude.
If you have room for a larger 12-inch shallow subwoofer, the Kenwood Excelon KFC-XW1200F is the most powerful. It delivers an impressive 1,400 peak wattage.
Keelan Balderson
A qualified journalist and longtime web content writer, Keelan has a passion for exploring information and learning new things. If he's not writing or pushing his own brands, you'll find him watching pro wrestling or trying not to rant about politics online.
Leave your comment
Your email address will not be published.
You may also be interested in:
11 Best 8 Inch Subwoofers for 2022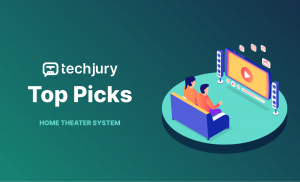 18 Best Home Theater Systems for 2022
11 Best Headphones for Music for 2022