StealthSeminar Review
Best for: Automated lead generation webinars
Strengths
Plenty of seminar formats
Step-by-step configuration
Easy event scheduling
Ready-made registration pages
Weaknesses
Outdated UI
No recording feature
Inconsistent customer support
What Is Stealth Seminar?
Stealth Seminar is an online webinar software for hosting live, automated, and hybrid video presentations.
It's where you can:
directly stream to Twitch or YouTube

run pre-recorded seminars that look like live events

engage in

real-time

web

conferencing

like

meetings

,

video chat

,

data conferencing

, etc.

monetize automated evergreen webinars

set up the entire event process – from registration to broadcast to analytics

integrate your sales workflows
With these features, the program gears toward driving business growth.
As one of the first automated tools on the webinar market, Stealth Seminar completely changed the game during its 2010 debut. Since then, more than 18,000 businesses have trusted this web service to generate and convert leads globally.
But now that the space has so much strong competition, can it still hold its place?
After looking through several Stealth Seminar reviews, I decided to take it for a spin myself. And here's what I've discovered.
Features
I signed up for the program's Professional Plan to explore all the features needed for your projects.
Let's take a look!
Webinar Setup
Upon logging in, you'll first need to choose the webinar format. From what I found, Stealth Seminar is a well-rounded solution that provides multiple ways to present:
One presentation - multiple audiences. With the Stealth Seminar web app, you can host your pre-recorded projects on autopilot.
Simply upload your video file in a standard format like MP4, MOV, AVI, etc. Or, you can just enter a Youtube URL. Once encoded, the program runs them as frequently as needed. As such, you'll never have to present the same seminars repeatedly!
However, it's worth noting that the software has no recording feature. So, you'll have to use another tool such as YouTube Live to record your webinars.
You can face your webcam, enter videoconferencing mode, and hold your seminar in real-time. And the good thing is, you don't need a separate streaming software to do it. The interface allows you to directly stream to a social network service like Twitch or a streaming platform like YouTube Live.
You can use Stealth Seminar to host a webinar with live and pre-recorded elements. Let's say you filmed yourself presenting a business pitch or a product walkthrough. You can play this initially, then hop on live to engage with your audience or answer some questions.
You can also set up your pre-recorded videos as on-demand webinars, which viewers can watch anytime. After registration, they can instantly enter the room.
Scheduling
Once your format is ready, you can set your webinar dates, start and end times, and replay schedules. There are fields on the configuration page where you can indicate the necessary information.
Now, there are two options for scheduling your automated events:
Attendee Time Zone

: If you set it to PST and you plan your event for 9 AM, the participants will see it at 9 AM in their time zone.

Webinar Time Zone:

If you set it to PST and schedule your webinar for 9 AM, the participants will see it at 9 AM PST.
Registration Pages
Getting viewers for your webinar is easy. If it's not an exclusive event, you can just set your event to Public and allow anonymous attendance.
On the other hand, if you're reaching out to a specific demographic, you can create a landing page where interested participants can register.
There are 37 customizable page templates that require minimal editing. They come across as a bit generic for my taste, but still professional and quite enticing.
Good news – you can try them all even when using the Stealth Seminar free trial!
You can edit the titles, text descriptions, and visuals through one-click configurations. You're also free to upload images like your logo, portrait, or whatnot. You can also add extra fields like Start/End Time, GDPR Consent, Facebook Reminder, etc.
Content Customization
On the Customize stage of configuration, you can design several pages to enhance the viewer experience. For example, you can edit the content that your audience sees on the Watch Page before or during the event. Something like this: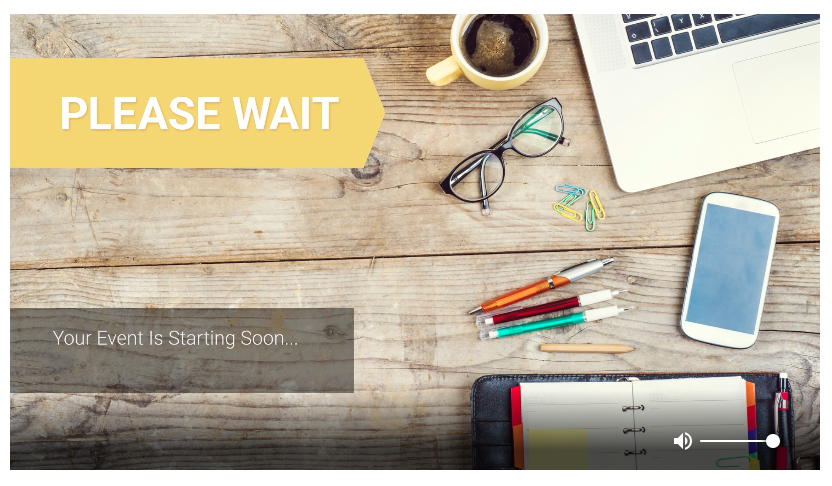 You can also customize the following:
Thank You Page

- the content your participants will see after registration. You can also set a redirect URL for this, which can be an image, video, or landing page.

Countdown Page

- the content displayed during the 30 seconds preceding the webinar's start.

Webinar Complete Page

- something that wraps up the event.

Legal Content

- includes the Privacy Policy, Terms of Service, and Copyright. You can include this as a text footer or send it by email.
Alerts and Reminders
A webinar program isn't complete without event notifications. On Stealth Seminar, you can send email and SMS communications that remind participants of your scheduled webcast. And just like the tools in communication software, you can automate this whole process!
For example, you can send personal messages.
You can also add buttons, links, footnotes, and an Add-to-Calendar command to give your registrants a seamless experience.
And did you know you can remind them on social media, too? A Facebook option lets you remind registrants five minutes before events start.
Split Testing
Do you want to identify which material has the best conversion rate? Split Testing is the key!
This unique feature of Stealth Seminar has no extra cost. In the Miscellaneous section, you can just click the Start a Split Test button to compare several versions of your webinar.
There are two event elements you can test:
Webinar

- you can select another webinar to split test with to see which event will be more engaging.

Registration Page

- you can test up to five registration pages to see which one will potentially get more sign-ups.
Note that you must use the in-built templates to perform registration split testing. Testing on custom pages is not possible.
Chat/Q&A
Interaction is an essential part of web conferencing, but how will you incorporate that into your automated webinars?
Stealth Seminar's solution is Live Chat Mimic.
The tool lets you simulate a web chat or instant messaging experience for the viewers. Here's an example – you can add pre-programmed questions for the Q&A portion like:
As you can see, you'll be able to indicate the following:
the exact time where the question will be displayed

the role of the person who asked it - host or attendee

the nickname for identification

and the actual message.
Although pre-recorded, this will make your event appear as a live event!
Calls to Action (CTA)
To boost engagement, you can incorporate various calls to action to prompt your audience to participate. The Stealth Seminar free trial previews all the CTAs you can add to your broadcast.
For example, with a live poll, you can get your viewers' opinion on a subject matter instantly. Make them choose from options like:
If you're hosting a pre-recorded event, you can still do this by setting up a simulated poll. Like the Live Chat Mimic option, you can configure the questions to automatically pop up at certain times. You can also choose whether or not to show the results during the session.
Insights and Analytics
The best way to track your progress is by looking at the stats. You can monitor your webinar results via the analytics dashboard, which offers in-depth information on all your projects.
Aside from the online guestbook, you can also view and analyze the following figures:
Total Views (Event + Replay)

Show-up Rate

Total Revenue Generated

Conversion Rate

Registration Opt-ins
And so on. If you want more detailed reports, you can also use third-party tools like Google Analytics, Google Tag Manager, KISSmetrics, Hotjar, Clicky, Clicktale, etc.
Ease of Use and Interface
The program is light and user-friendly, thanks to the one-click configurations. And what makes it even easier is the step-by-step walkthrough you'll experience when signing up.
And because it's a web-based tool, compatibility is a non-issue. You don't need to download a Stealth Seminar app on your desktop or mobile. Just use your web browser!
That also means you need a stable internet connection for it to work, especially when it's showtime. Good thing the software has a bandwidth detection feature to ensure a seamless broadcast across varying internet speeds.
The site is pretty responsive, meaning you can consistently use the program on any device. Though, if you're the webinar host, you need a computer to access full functionality.
I think the interface needs a facelift, as it looks a bit plain and dated compared to other tools on the market. But where it lacks in looks, it conquers in function.
Stealth Seminar Integrations
The program's automation toolbox is rich on its own, but you can power up the interface with even more integrations.
You can upgrade your account by adding third-party plugins. The selection ranges from CRM tools to sales workflows to email marketing services and many more.
Here are some popular plugins you can add to your account:
Zapier

AWeber

Mailchimp

ConvertKit

Stealth Power Webhook

Ontraport

Keap (formerly Infusionsoft)

HubSpot

Drip
And the list goes on!
You can also integrate an autoresponder but you should expect to need a developer to set up the system.
Support
Many Stealth Seminar reviews sing praises about its customer service. I wasn't entirely convinced, so I tapped all the support channels and tried to see for myself.
Firstly, the company offers support seven days a week. Their lines are open from 7 AM to 7 PM MST on weekdays and from 7 AM to 3 PM MST on the weekends.
There are two ways to connect with a representative – via email and live chat. The reps aren't always available, and it took about 4 hours before I got a response from someone. The attendant did answer my inquiries well, and they were quite accommodating.
I also appreciate that the representatives can do the work for you. That is if subscribed to the Growth or Power plan. They can fully set up your webinar from start to finish. And they do it quickly, as the turnaround time is usually just one business day.
It would be nice if this assistance level extended to the lower-priced tiers for consistency.
Stealth Seminar Alternatives
Some of the program's features reminded me of quite a few other tools. So, I conducted a little side-by-side comparison to help you decide if Stealth Seminar is the one.
Stealth Seminar vs. Demio
Demio is a no-download webinar program designed for business growth – specializing in marketing presentations.
Similarly, businesses can use its tools to host live webinars with interactive sessions. You can also pre-record, automate, and simulate recordings. One of its strongest qualities is that it can broadcast material in HD with minimal delays.
And just like with Stealth Seminar, users can maximize audience engagement through polls, Q&A portions, and live chats.
Demio's clear edge over the other is its Multi-Presenter feature. An event can have changing webinar presenters or multiple hosts in one presentation with this feature. If your team consists of numerous presenters, we suggest checking this program out.
Demio is also cheaper, coming in at $49/month for the Starter plan. There is, however, a 3-hour session limit and a smaller attendee room.
Stealth Seminar vs. EverWebinar
EverWebinar works by automating evergreen webinars to look like live events.
It shares with Stealth Seminar quite a handful of similar features, like:
easy video imports

conference scheduling

on-demand webinars with the Just-in-Time setting

live chat simulator or pre-programmed Q&A sessions

registration page templates

webinar split testing
Both tools have similar automation capabilities. What EverWebinar lacks, though, is Stealth Seminar's versatility. Unlike the latter, it can only host pre-recorded events. There is no live broadcasting option.
At $99, it's also the more expensive option, considering it's an automation-only program. There is no free trial either. You get more bang for your buck if you invest in Stealth Seminar's multi-format capability.
Stealth Seminar vs. WebinarJam
WebinarJam is EverWebinar's sister app – the one that handles live presentations. This program caters to sales teams who want to convert leads and close deals through interactive videoconferencing.
Its webinar configuration tools are strikingly similar to Stealth Seminar's:
one-click attendee registrations

polls and surveys

SMS and email notifications

video injections

event monetization
When it comes to live interactive elements, WebinarJam has the upper hand. It has excellent marketing tools like product offers, multi-media display, whiteboarding, etc.
Its Attendee Spotlight feature can also turn participants into presenters, which Stealth Seminar doesn't offer.
Stealth lacks a free trial and has monthly payments, which can be a red flag for short-term users. While WebinarJam is an instant investment and a big one with its expensive subscription plans.
Stealth Seminar Pricing
The program has a tiered pricing structure with no free version in sight. The price points suggest that the program caters to businesses who want to invest in an all-encompassing solution.
For your consideration, check out these Stealth Seminar subscription prices:
There's a free trial available for 30 days, but only for the Starter and Professional plans. You can also get a full refund within 60 days if you find that the program isn't working as expected.
Stealth Seminar Review - Verdict
This program is quite the jack of all trades.
It can host live, automated, and hybrid webinars in a single interface. While most programs offer just one or the other, Stealth Seminar brings it together into one versatile solution.
Not only that – it also packs essential conferencing features like scheduling, replaying, and reporting. What's more impressive is its ability to make pre-recorded seminars look and feel like live events.
With that said, Stealth Seminar has a price point that gets overshadowed by affordable tools like Demio.
The dated interface can also be a setback. Users who love modern navigations may easily get thrown off by the basic UI.
But to end this Stealth Seminar review, I'd recommend that you look past the face and focus on the function.
It's not the most attractive program, but its capable automation and rich feature suite will draw you in.
Nero Peña
Nero is an all-around wordsmith with a degree in Communication Arts— not the vicious emperor you might know in history books. He's an avid reader. A frisky writer. A tech enthusiast and occasional binge-watcher. He likes long walks on the beach. Enjoys deep thinking and shallow conversations. Hates ketchup. Panic! At The Disco.
Leave your comment
Your email address will not be published.
You may also be interested in
.