Setmore Review
Strengths
Freemium pricing
No user seat limit
HIPAA-compliant edition
Super intuitive interface
Weaknesses
Limited Booking Page customizability
No subscription support
No multi-location option
What Is Setmore?
Sometimes called Setmore Appointments, Setmore is freemium booking software. The sky's the limit for its utility, but it's particularly useful for service-based businesses in the following industries:

Beauty

Creative

Education

Healthcare

Professional

services

Trade

Wellbeing



Among the best appointment scheduling solutions out there, Setmore is highly interoperable. And it can work well even without integrations. With it, you can start accepting and setting one-on-one and group bookings without a site. If you push the boundaries of its functionality, you'll be able to:
Support various payment methods.

Host video conferences.

Import contacts.

Export data into

business

apps

.
And a lot more!
Founded in 2011, it's not accredited by the Better Business Bureau and is rated C+ only. But the Setmore reviews on Google Play, Capterra, and G2 say it's awesome. From 5,100+ testimonials, this Portland-headquartered company has received average scores of 4.2–4.6 out of 5 stars.
Setmore Features
Let's go over what this software can do.
Online Appointment Scheduling
Its core functionality is 1:1 appointment scheduling.
You can manually enter bookings in Setmore or supported third-party apps while speaking with your customers.
Likewise, you can let your customers self-book and pick their own time slots. Letting them schedule appointments when it suits them helps reduce no-shows.
Class Booking
If you sell events with multiple attendees, you'll find Setmore helpful. This capability is perfect for online classes, webinars, and training sessions.
Setmore Booking Page
The Booking Page is one half of the Setmore platform. It empowers customers to independently save their slots in their local time zones.
As a standalone site, your Booking Page will come with a unique URL.
Setmore will decide it at first, but you can change it later on.
If you already have a site, you can add your Booking Page to it through the company's plugin. Or, you can use any of Setmore's content management software (CMS) integrations.
Through EasyShare, you can copy-paste the link to your Booking Page anywhere.
Moreover, you can create a permanent Setmore QR code that links to your Booking Page.
You can download, print, and display it as you see fit. Anyone who scans it will be able to load your Booking Page and make an appointment.
Keep in mind that the original code will stop working after you make any change to your Booking Page. So, you'll need to generate a fresh QR.
Setmore Calendar
The calendar is the other half of the Setmore platform and is accessible by all account users.
All confirmed appointments on your Booking Page will appear on your calendar to keep everyone updated.
With the right integration, you can sync your calendars across different devices. This way, you can prevent scheduling conflicts, and your team can stay on top of their tasks.
By default, Setmore doesn't permit arranging multiple 1:1 appointments in the same time slot. But the admin (the user who upgrades the free account) can get around this restriction by activating double-booking.
Apps
This software has downloadable apps for:
Windows

macOS

iOS

iPadOS

And Android
But thanks to the Setmore web app, you can access your calendar and tweak most of your settings using a browser only.
Events
Formerly referred to as slot blockers, events prevent anybody from booking appointments within your chosen timeframe. On the Booking Page, the slots blocked by events are unavailable.
Blocking time in your calendar may be necessary if you or your staff members have personal matters to attend to. Creating an event is a neat way to set recurring breaks too.
This option isn't ideal when you need to gray out more than 24 hours in your calendar, though. Configuring the working hours and time-offs of your staff is more advisable.
Customer Login
Activable through the Setmore web app, this feature requires your Bookmark Page visitors to provide login credentials.
They can do so using their Gmail or Facebook accounts. Or, they can create a profile with a new set of credentials.
Having contact information on file will speed up the self-booking process. Plus, your customers will be able to view, reschedule, and cancel their appointments on their own. They can change their stored personal information whenever they want to as well.
Customer List
All customer profiles wind up in this Rolodex. It can auto-populate customer data, making manual scheduling on the calendar a breeze.
If you need more information, add custom contact fields on top of the standard four: name, phone, email, and address. The custom fields can be anything relevant that you can think of. A coupon code is a great case in point.
If you have existing contact lists, you can import them from Google or through CSV files.
In case of duplicate contacts, the Setmore scheduling software lets you merge (and unmerge) or delete them.
Off-Hours Booking
If activated, you'll be able to add appointments outside of your normal working hours. This option won't be visible on the Booking Page. So, your customers could only self-book when your staff is available.
Due to its inherent restrictions, you can leverage this feature as a way to impress select customers.
Offering your services during off-hours is a good strategy to show that you're willing to go the extra mile. Due to the trouble, you may get away with charging more than usual.
Appointment Labels
To know the status of your appointments at a glance, you can add any of the following labels:

Pending

Confirmed

Done

No-Show

Paid

Running Late



You can also create custom labels.
After saving them, your appointment tags will apply instantly.
Payment
Using the Setmore app, you can accept major debit and credit cards, Square, PayPal, Stripe, and cash.
However, the payment options at your disposal would depend on your plan and your home base.
If you have a free account, you can only handle Square and cash payments. If you subscribe to a premium plan, you'll unlock Stripe, PayPal, and bank cards.
Here are the debit and credit cards the Setmore booking solution permits by location:
Canada and Asia-Pacific:

Visa, Mastercard, and American Express

Australia:

All of the above plus Diner's Club

United States:

All of the above plus Discover, JCB, and Maestro

Europe:

All of the above plus UnionPay
Payment service providers like Square and Stripe have geographic restrictions too. To handle international payments, PayPal is your best bet.
Also, you'll need the PayPal integration to process debit and credit cards.
Payout speed and frequency vary by payment gateway provider. So, be mindful of how fast and how often Setmore's supported vendors can transfer your earnings to your bank account.
If you activate the built-in cash register system, you'll be able to record and create invoices. You can link them along with appointments to your Setmore calendar.
Customer Deposit Collection
By connecting Setmore to Square or Stripe, you can require a partial payment at the time of booking. Then, you can collect the remainder at the time of service. Since you can specify the deposit percentage, you can determine how much upfront payment is fair.
Requiring a deposit can discourage cancellation, as your customers will have skin in the game early on.
Setmore Customized Notifications
For new, rescheduled, or canceled bookings, Setmore automatically sends an email notification to the corresponding customers and relevant staff members.
This way, everybody will be on the same page regarding booking status.
Besides appointment confirmations, this scheduling platform is set up to send payment receipts via email too. This applies to transactions made via Square or Stripe only.
Reminders
To help prevent no-shows, Setmore can send out reminders. Depending on your plan, you may be able to refresh your customers' memory via email and/or SMS.
Email reminders can have no monthly limit, and SMS ones are restricted to one per recipient.
Setmore can't guarantee 100% text-messaging send rates in all countries. And it limits SMS reminders for class appointments in Australia, Canada, the United Kingdom, and the US.
The platform can alert you and your employees through email, but not SMS. However, you can activate push notifications using the Setmore mobile app for Android or iOS, which can be as good as text messages.
Reviews
You can let your customers write testimonials and rate your business. Also, you can automatically solicit reviews via email one hour after the appointment.
All submitted reviews are subject to your approval. In other words, you have direct control over which feedback will show up on your Booking Page.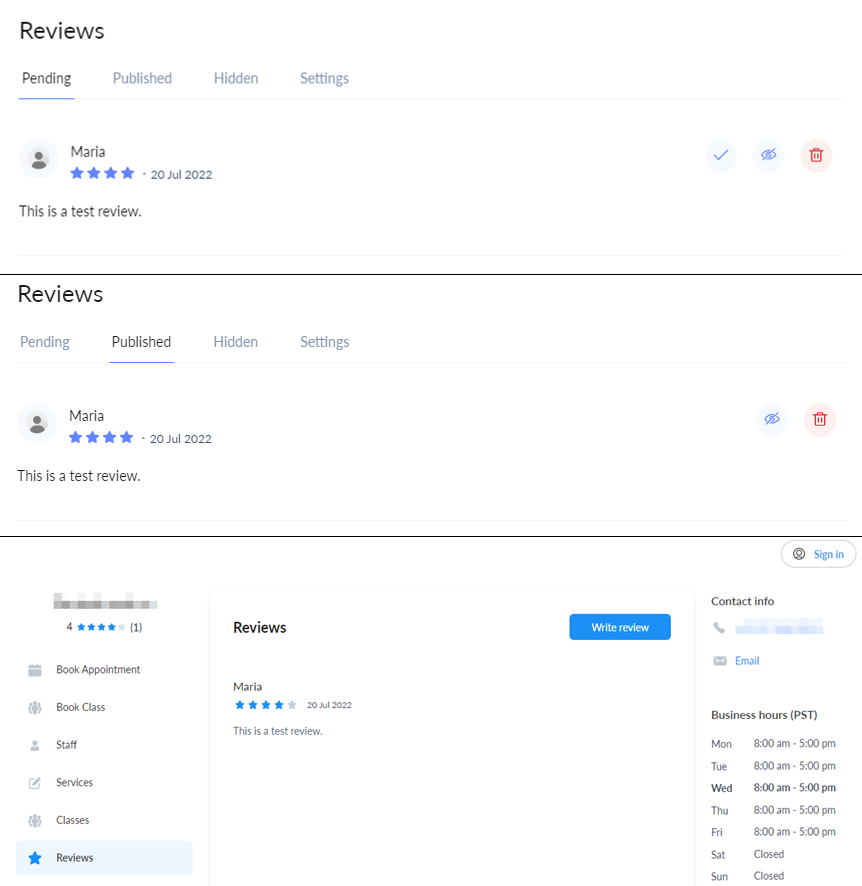 If you play your cards right, your published reviews can increase your bookings due to social proof.
Virtual Meetings
By connecting Setmore to a supported third-party video conferencing app, you can add online meetings to your appointments and classes. It enables you to reach global audiences and offer your expertise over the internet.
Setmore Recurring Appointments
To record higher customer lifetime value, offer recurring appointments instead of one-off bookings. You can choose from daily, weekly, and monthly intervals and pick particular days within the week.
Once booked, your series of appointments will automatically appear on your calendar. Setmore will notify your customers one time and remind them before each appointment as scheduled.
Unlimited Seating
There's no limit to the number of users you can add to Setmore. Although the Free and Premium plans have seat count constraints, the Pro package doesn't.
Granted, Premium provides just one pair of user slots. But you only need to upgrade once to unlock unlimited seating. And Setmore's free version is perfect for a team of four, so it's workable enough for many fledgling businesses.
Staff Management
With Setmore, you can easily manage your team remotely by:
Creating, deleting, or polishing user profiles.

Controlling the

services

they can provide.

Setting their working hours, breaks, and time-offs.

Requiring them to provide an email when logging in.

Promoting them individually through their dedicated Staff

Booking

Pages.

Syncing their calendars one-way or two-way.

CCing their emails to your email address.
Setmore Integrations
You can natively connect his scheduling software to 43 other apps. Have a look at some of its popular integrations below:
Business


AnswerConnect

Zapier

Xero

Gmail

Google Analytics

Google Search

Calendars


Google

Calendar

Office 365

Calendar

Marketing

Payment gateways

Sales and Customer Relationship Management


Freshsales

Insightly

Salesforce

Zoho CRM




Social


Facebook

Instagram Bookings

Instagram Streaming

Slack




Video Conferencing


Google Meet

Teleport (Free or Premium)

Zoom




CMS


Adobe Muse

Jimdo

Square Online

WordPress
The nitty-gritty of these add-ons is outside the scope of this Setmore app review. But I must say their availability may depend on your location.

Thanks to Setmore's Zapier integration, this booking software's interoperability reaches new heights. It lets you link it to 5,000+ apps and automate your mundane business processes with no code required.
Furthermore, you can build custom integrations to connect this software to your own tools. The Setmore API is still in beta, though. Until the company rolls it out to the general public, you'd have to request access to it via email.
Setmore Security
If your business is under the jurisdiction of the European Union, you're subject to Strong Customer Authentication (SCA) regulations.
To meet them, you need to process payments with Stripe or Square. Either payment gateway vendor observes adequate anti-fraud measures when handling online and in-person transactions.
If your customers fail the necessary online verification procedure, they'll have to pay cash instead.
Moreover, the company can help you satisfy General Data Protection Regulation (GDPR) requirements. Setmore can ensure GDPR compliance by:
Making your business's terms, conditions, and

booking

policies conspicuous in

scheduling

instructions and email alerts or notifications.

Adding disclaimers about receiving appointment-specific communications at the

time

of

booking

.

Controlling notifications at the granular level.

Rendering intake form fields easily customizable.

Providing simple and secure ways to view and export data.

Granting requests to delete personal data within a reasonable period.
Exclusive to healthcare providers, Setmore Health is a unique account optimized for Health Insurance Portability and Accountability Act (HIPAA) compliance.
This specialized software edition safeguards patient data with an encryption-powered API and additional authentication layers. It entitles you to technical support from the company's experts extensively trained in health privacy.
During setup, you can also receive a signed Business Associate Agreement (BAA).
As a medical appointment scheduling tool, Setmore ensures HIPAA compliance by imposing account limitations. You can expect:
Classes to be unavailable.

Reviews to be disabled.

Notifications regarding customer-initiated cancellation and rescheduling to be deactivated.

Customer and staff notifications to be simplified.
After account creation, you can't convert this Setmore edition for medical professionals into another, and vice versa.
Before using any Setmore integrations, think about potential HIPAA and/or GDPR noncompliance. Make sure to review other apps' data protection policies before connecting to them.
Ease of Use and Interface
First-timers would love the intuitiveness of this platform. Everything is seamless and foolproof to avoid intimidating users of different technical levels.
Creating a Setmore account completes practically in an instant. And you can finish its five-step setup in about a minute or two.
This software can be time-consuming to fully configure, make no mistake about it. But its well-thought-out design makes it easy to navigate.
For this Setmore review, I tested its web and Android apps. Both have a light theme with a wealth of whitespace.
Naturally, the mobile app can't match the feature-richness of its web counterpart. Among the noticeable missing elements in the Android version is the Setmore dashboard tab, perhaps due to space constraints.
Nevertheless, it's usable enough for managing your bookings while on the go.
My only criticism is the Booking Page's lack of character. It's simplistic to a fault, but it can get the job done.
Setmore Customer Support
The company's email and live chat agents are ready to assist anybody around the clock. For sales inquiries, this software vendor has a 1-800 hotline.
If you'd like to do your own research, Setmore has a decent knowledge base. This content library could be bigger, but it has reliable articles.
In addition, the company maintains a blog, has FAQ sections on its web pages, and offers setup guides.
Regarding product walkthroughs, you can arrange a Setmore demo to get a handle on the software more quickly. And the Android app has a quick link to a tour video on YouTube.
Although unadvertised, this vendor's social media accounts do exist and are somewhat active.
If you experience technical issues and there's no available Setmore customer service rep, you visit its system status page. It's the place to go to learn whether there are any service outages and maintenance-related downtimes.
I tested Setmore's 24/7 chat service on two separate occasions and got different experiences.
On the first one, I was able to immediately get a hold of an agent who politely and competently answered my questions. Along the way, the chatbot also suggested relevant reads to help me save time.
On the second, no one was online. The chatbot offered a callback instead.
Still, I'm confident that Setmore's team would've reached out to me as soon as they become available. In fact, they tirelessly reply to all kinds of feedback on Google Play, Capterra, and G2.
Setmore Pricing
For all industries except healthcare, Setmore offers three packages: Free, Premium, and Pro.
The company sells the last two as monthly or annual subscriptions. If you pay a year's worth of service upfront, you can knock up to 58% off the regular price.
$0
Unlimited appointments, 100 email reminders/month, Booking Page and emails with Setmore branding, Teleport Free add-on, and 4 seats max. It also grants access to all integrations, except for Zoom, Google Meet, Stripe, PayPal, Google Calendar, and Office 365 Calendar.
$5–$12/user/month
Everything in Free, plus recurring appointments, SMS reminders, custom notifications, plus Booking Page and emails with no Setmore branding. It also unlocks all premium integrations but provides seating to 2 users only.
To place an order, you can pay with any major debit or credit card. The company will store your card on file because its subscriptions are set to auto-renew. But you can change your billing info anytime.
Regarding refunds, Setmore has a muddy policy.
It says that its Premium and Pro plans come with a 30-day money-back guarantee. But its Terms of Use say payments to the company are nonrefundable.
Setmore vs Acuity Scheduling
On many levels, Setmore and Acuity Scheduling are the same.
Both allow unlimited 1:1 appointments and classes, permit self-booking, serve similar businesses, and have a ton of integrations.
In addition, either lets you create a custom appointment page, sync multiple calendars, and accept different payment methods. If you need a signed BAA for HIPAA compliance, you can go with any one of the two.
What makes Acuity Scheduling one of the most popular Setmore alternatives is its wider variety of automated emails. Aside from confirmations and reminders, this Squarespace brand does follow-ups too.
On the SMS front, these two booking apps can send out text reminders worldwide. But only Setmore is capable of push notifications.
Aesthetically, Acuity Scheduling has the better-looking interface.
Regarding customer service, Setmore wouldn't lose sleep over the quality and quantity of Acuity Scheduling's support channels. The former has live chat, email, and phone reps. The latter's help desk, on the other hand, interacts via email only and replies a day later.
In terms of pricing, these two booking software vendors have chosen different paths. Setmore prefers freemium pricing with flexible seating, while Acuity Scheduling has no free license with fixed user counts.
Setmore is more scalable, although Acuity Scheduling has a pair of quote-based plans for businesses that need 36+ calendars.
Overall, Setmore is more affordable mainly because you only have to pay for the user seats you need.
In monthly terms, however, Acuity Scheduling charges less per user. Plus, you can test-drive its starter package for seven days at no cost.
Setmore vs Calendly
These two apps have different use cases.
Setmore is for service-oriented businesses like barber shops and medical clinics. Calendly, on the other hand, is designed for sales, marketing, recruitment, information technology, onboarding, and revenue operations.
That's why Setmore is engineered to book 1:1 appointments and classes while Calendly is suited for setting professional meetings.
Although Setmore and Calendly don't exactly compete against each other, they're alike in many ways.
Both can send email and SMS alerts and are incredibly interoperable with a huge array of native integration. Either is compatible with Zapier as well, opening a world of business automation possibilities.
Furthermore, Setmore and Calendly support some degree of customization. The former can configure many components of its Booking Page. But it doesn't give the same latitude in adding company branding elements the way the latter does.
Both scheduling software vendors have adopted freemium pricing. However, Calendly's cost is more prohibitive for many reasons.
First, its monthly price per seat could be

300% more expensive

than Setmore's.

Second, it requires a

custom plan

if you need 30+ seats.

Third, it restricts

calendar connections per user

between 1 and 6.
In contrast, Setmore's priciest subscription costs only 50% more per user per month than Calendly's cheapest one. With no user count limit, you can plan your budget more easily when you scale up with Setmore.
Support-wise, Setmore and Calendly are virtually even. They employ chat and email reps, but the latter doesn't currently provide live customer assistance to individuals.
Setmore Review – Verdict
There are lots of things to love about Setmore. And at the same time, there's still much to be desired.
As a freemium app with non-restrictive user seat limits, it's certainly appealing to budget-conscious businesses that want room for scalability.
Thanks to its hyper-intuitive interface, it's quite friendly to new users, even the not-so-technical ones.
However, Setmore's current state may frustrate entrepreneurs with multiple locations or those who sell subscription-based services. Its Booking Page's lack of aesthetic customizations means you can't reinforce your brand without your own site.
Thankfully, its HIPAA-compliant edition is a testament that Setmore listens to feedback. I wouldn't be surprised if its developers are busy planning how to bring common user recommendations to life.
Give Setmore a try to see if it's a good fit for your business.
What is Setmore used for?
Setmore is a freemium 1:1 and group class scheduling platform at heart.
It can help you manually fill your calendar with booking requests but also empower your customers to self-book their appointments through various channels.
Yes, it is!
It has measures in place to help you comply with SCA and GDPR requirements.
However, Setmore can't guarantee impregnable data security when you integrate it with another app.
So, be mindful of how third parties safeguard sensitive personal information from malicious characters before connecting this software.
Is Setmore HIPAA compliant?
Yes, it is!
Unlike the regular editions, Setmore Health is optimized to help you meet and comply with HIPAA guidelines.
Among others, this specialized software version boasts enhanced patient data security and extends technical support from health privacy experts.
The software's free edition has no expiration. It gives you access to the core features and up to four user seats.
According to many Setmore reviews, upgrading to a premium plan is worth it—not just because it unlocks advanced capabilities. A paid subscription will give you access to all native integrations, expanding the software's functionality.
Romj Amon
Romj is a veteran copywriter who used to be a Jack of all trades. Now, he's trying to be a master of one: technology. He jumps down the rabbit hole to size the latest innovations up. As a content contributor for TechJury, he hopes to help you keep up in our fast-paced world with his discoveries.
Leave your comment
Your email address will not be published.
You may also be interested in: