Funnelytics Review
Best for: Marketers and business owners
Strengths
Visual approach to data
Free to use
Drag-and-drop
Capable of data calculation
Weaknesses
Interface could be better
Exports only to PNG
Marketer plan lacking in features
What Is Funnelytics?
If you're anything like me, you know just how overwhelming pages and pages of statistics can be.
But if you're in the game of examining customer data, is there an alternative?
According to Funnelytics, there is.
Funnelytics is a tool intended for marketers and business owners to visualize their consumer behavior in an intuitive way. It's a free, cloud-based program with an easy-to-learn drag-and-drop approach.
The Canadian-based company was founded in 2018 and claims its software to be revolutionary for digital marketers.
So is it? Let's find out.
Funnelytics Features
Funnelytics is free to sign up for and use; however, many of its features are only available for paid users.
The program uses funnel analysis to visualize your business's customer data, as its name suggests. You can manipulate those funnels in any way you want to create something resembling a mind map.
However, free users are restricted to only three diagrams per account, and many analytics features are exclusive to Funnelytics Pro.
Here's a list of the service's main attributes.
Drag-and-Drop Builder
Funnelytics' biggest strength is its intuitive user interface.
Funnel maps are compiled by dragging and dropping elements from the menu into the canvas. You can then draw lines any way you like to connect two elements together. Everything else takes care of itself, and you never have to bother with complicated scripts.
The Funnelytics app also has quite a variety of elements and shapes. There are over a hundred icons to choose from and use to represent traffic from various social media. There are icons for Facebook, Instagram, Spotify, etc.
And once you've selected the one you want?
Simply drag it from the menu and drop it onto the plot. That's all it takes!
And that's not everything – you also have access to text boxes, custom images, and basic shapes. You can use all of these to build the ideal funnel maps for your business.
Integration and Tracking
Now we get to the main event.
The Funnelytics tracking capabilities are undoubtedly the main feature that'll attract people to the service.
What are they?
To put it simply, once Funnelytics is installed on your website, the program automatically begins tracking visitors. Your funnel maps will be populated with real-time traffic across the pages you've inserted into your project canvas.
That way, you can see page-to-page conversions, which social media drives the most traffic, and much more. You can even examine which ads generate the most clicks. And it all happens automatically.
But how does it work?
Believe it or not, integrating the Funnelytics API with your website is super simple. All you have to do is copy and paste a few lines of code, and that's it!
But here's the reason why the tracking functionality is so significant.
It allows you to directly observe which portions of your site are successful and which aren't. You can make informed decisions about what drives traffic and the engagement metrics up while avoiding pitfalls.
And best of all:
The program automatically calculates numbers like revenue and profit based on the numbers it receives.
Autonomous processing of data, combined with a straightforward presentation, is a major reason why most Funnelytics reviews are so positive.
Forecast
Now, aside from tracking real-time consumer behavior across your website, you can use funnel mapping to make predictions.
Here's how it works:
Upon opening the forecast panel, you're free to manually input values for each node of your graph. The program then calculates all the important metrics like ROI and revenue. Need something changed? Simply edit the value you want, and the rest of the graph updates itself.
That's entirely independent of the Funnelytics tracking capabilities. You can create a simulation that mimics your plan of action. And then, that forecast lets you calculate what your goals need to be to turn a profit.
And here's the kicker:
Once you've plotted everything out, you can simultaneously view both the forecast and the tracking layer. This lets you compare your prediction to your actual metrics – incredibly useful for monitoring whether your business is on track to meet expectations.
Templates
The purpose of Funnelytics templates is to help you save your existing canvases and reuse them for future projects. That way, you won't have to start from scratch every time.
Whenever you have a funnel map you're happy with, you can select "Save as Template." This will let you name and store it in your Templates menu.
And when you're ready to use it?
Simply click on the Templates button and navigate over to "My Templates." All your saved funnel maps are there, just the way you saved them.
Vault
What Funnelytics calls the "Vault" is actually a fancy name for its various pre-made templates. These are similar to the ones you make yourself, except they're available to everyone from the get-go.
And there are a lot of choices here.
At the time of writing, there are 50+ templates, both paid and free. The company claims this metaphorical vault is millions of dollars in value.
How come?
You see, the premium templates are actually funnel hacks of real-world marketers. You may be familiar with some of them. The list includes businesses like Squarespace and Grant Cardone, among many others.
So, what's a funnel hack, exactly?
Essentially, it's mapping out another company's funnel. That's usually done by examining its marketing, sales pages, and advertisements, among other things. You then create a funnel based on that information and use it for your own business.
The Funnelytics Vault templates, however, do all that for you.
The catch?
Only premium accounts have access to them.
Ease of Use and Interface
By now, you should've realized that Funnelytics is all about ease of use. But does it actually live up to these expectations?
Well.
One thing is for sure – the program's funnel maps are intuitive and easy to read. Much more so than pages upon pages of statistics and numbers. What's more, these maps can save you lots of time and frustration.
So in terms of producing comprehensible data – it's outstanding.
But let's talk a bit more about the Funnelytics builder. Just how easy is it to make funnel maps from scratch? Its drag-and-drop user interface claims to be simple enough for anyone to use. But the truth is, it could be much more intuitive than it is now.
Let me explain.
First of all, its visual language is convoluted. The many unlabeled buttons make the experience disorienting, especially for people who aren't used to similar software.
Second, there's just no easy way to navigate the menus.
As an example:
You have to select a specific cursor from the toolbar to move around the canvas. But doing so means you can no longer drag-select multiple items. Moreover, doing it by holding CTRL – a feature that countless programs have – is just missing here.
It may seem like I'm nitpicking. But Funnelytics is an app that centers itself around productivity. And over time, these small nuisances add up and make everything slower than it needs to be. As a result, the program does have a bit of a learning curve.
It's not all bad, however.
At least everything is well organized. It's easy to find exactly what you're looking for in a matter of seconds.
How To Create a Funnel
So let's say you want to make a map for your business.
Despite the user interface's shortcomings, Funnelytics was built so everyone could easily create a funnel map for their company.
Here's how that works:
First, you have to decide whether you want to start from scratch or use the Funnelytics templates at your disposal. When you open the Vault section, you're greeted with dozens of pre-made maps. Select the one you want, then click "Save this funnel to my dashboard."
This will then load the funnel to your canvas, and you'll be able to work with it.
Now, if you want to start from a blank canvas, you can definitely do it. Simply click on the Funnels section, then "My Site," and then "Create New Funnel." You'll be prompted to name your map, then you'll be taken to the Funnelytics builder.
From here, the floor is yours.
To get started, drag and drop an icon from the menu onto the canvas. These icons can represent things like your web pages or sources of traffic. You can draw lines between them to display how they relate to one another.
Upon selecting an icon, you can click the "Settings" button at the top right and input values. Here, you can add info like how many people each traffic source pulls in, how much money it brings, and much more.
You can use the same menu for tracking real-time data from your site using the Funnelytics UTM parameters.
Then, the Analytics tab uses those values to calculate metrics like traffic and revenue.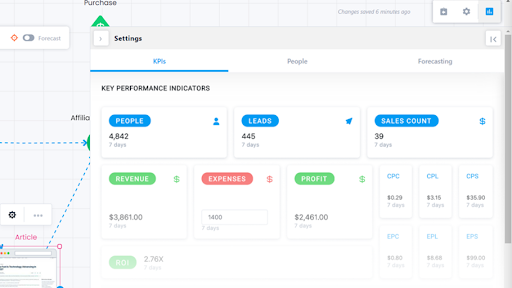 And there you have it. All you have to do is set the parameters, and everything else takes care of itself.
Funnelytics Pricing
Now, you have to keep in mind that while creating funnel maps is free, most of their functionality isn't. As such, you won't be able to take full advantage of the program unless you purchase a premium plan.
So what's included in the Funnelytics free plan?
For starters, you have access to six pre-made Vault templates. These are generic funnel maps and aren't associated with the funnel hacks of other marketers.
Then, of course, you can create a map of your own, but you cannot input any sort of values. Features like forecasting and tracking aren't available either.
So how much does the Pro version of Funnelytics cost?
The answer depends on various factors, such as the estimated usage volume and your business use case. Pricing is planned out on a case-by-case basis, so there's no one definitive price for the service.
The cost for your business is assessed by booking a demo call.
Should you decide to proceed with a purchase, you're entitled to a 14-day money-back guarantee.
Customer Support
Funnelytics customer support is available for both free and Pro accounts.
On the canvas screen, clicking the button at the bottom right corner brings up an email address you can contact. The support team is available Monday through Friday, between 9am to 5pm EST.
You can expect a response within 48 hours, although in my case, it only took about five.
However, if you're a premium subscriber, you get access to advanced support.
Funnelytics Pro members can contact customer service directly through the canvas application. Furthermore, they're of higher priority than Starter users. As such, Pro users can expect a reply within 24 hours or less.
Funnelytics vs Geru
When it comes to alternatives, Funnelytics has a few.
First, let's take a look at Geru.
Geru also specializes in funnel mapping, and it similarly uses a drag-and-drop method for its UI. However, it markets itself more as a funnel simulator rather than a tool to observe business metrics.
And sure enough, one of the main features of Funnelytics, the real-time tracking of data, isn't available in Geru.
Another point of difference is the lack of free options. Geru does offer a free trial for 30 days; however, after that, you'll have to purchase a plan.
That being said, when comparing Geru vs Funnelytics, the former does have its own set of advantages.
For instance, Geru is capable of data extrapolation. It provides reports which tell you what you need to shoot for to achieve your goals. And also what you can expect from your current models.
Surely, Funnelytics also has forecasts, but they're just not as detailed.
At the end of the day, Geru can plot similar funnel maps. However, their application is way different.
Funnelytics vs ClickFunnels
On the surface, these two programs share very few similarities.
ClickFunnels is more akin to a website builder. It's not, of course, but it has the capability of building web pages, among other things.
First and foremost, it's a tool to optimize your website to drive engagement metrics up and attract customers. So while it can be mistaken for a website builder, it's more of a tool for creating sales funnels.
In comparison, Funnelytics is used to create diagrams for said funnels.
ClickFunnels gives you the web analytics necessary to monitor your sales funnel and make decisions based on the available data.
In a way, this is a very similar alternative to Funnelytics.
Both websites are focused on giving you the information you need to make an informed decision about your business. You can follow what drives traffic and see what works for your website and what doesn't.
But at their core, these are two very different services. Funnelytics cannot create web pages, nor can it host your business' site. It's mostly an analytics tool.
Funnelytics vs Marketplan.io
Marketplan.io is a bit closer to home than ClickFunnel.
For one, like Funnelytics, it has a canvas where you can create funnel maps. It also lets you look at statistics about your revenue, traffic, etc. In fact, even its user interface is very similar. If you've used Marketplan.io, Funnelytics will instantly feel familiar.
But where the key differences lie is in Marketplan.io's capabilities for collaboration.
Don't get me wrong, Funnelytics isn't a one-man show either. But its collaboration feature set is rather limited.
Marketplan.io has various tools for communication between team members. One of them is a kanban board. This lets you track your team's progress and project goals, as well as keep everyone in touch. Furthermore, Marketplan.io has a team chat.
Sounds great, right?
However, Funnelytics definitely has the upper hand in terms of usability. And that's reflected when you compare Marketplan.io and Funnelytics user reviews.
The latter has far more icons to choose from, more tools to edit the canvas with, and more comprehensive analytics. You can even upload your custom icons to use for your funnel maps.
Marketplan.io's canvas is more rudimentary. If you're searching for a decent alternative, there are better places to look.
Funnelytics Review - Verdict
Funnelytics is best summarized as a central control panel for your business.
It lets you create funnel maps representative of your enterprise and monitor everything about it. From visitors to revenue to ROI, the program can track all those metrics from your website in real-time.
What's more, it lets you create forecasts and see exactly what you need to do in order to achieve your goals. You can instantly edit and recalculate everything by simply changing the values you need.
Due to this balance between simplicity and usefulness, there are few Funnelytics alternatives that can truly compete.
With that being said, who is the service best for?
Marketers who want to track the performance of their sales funnels in real-time will benefit the most. The whole idea of the software is to be very simple to read yet still provide all the necessary information.
Its user interface is far from perfect and has a bit of a learning curve. But the important part is that virtually anybody can learn how to use it to make funnel maps, including you.
Funnelytics is one of the best options for creating funnel maps with real-time tracking. If you're looking for a tool to help with forecasting and revenue calculations, it's definitely worth considering.
What is Funnelytics used for?
Businesses use Funnelytics to track how their websites perform. This includes which sources drive the most traffic, advertisements performance, page-to-page conversion rate, and more. It can also be utilized for calculating profits and ROI.
How much does Funnelytics cost?
As mentioned in our thorough Funnelytics review, the starter version of the software is free. But if you want access to premium features, you'll have to purchase a Pro plan. Its price depends on your business use case. You'll need to book a demo call to get an estimation of how much your company will have to pay.
Georgi Karaivanov
My fascination with technology began from quite an early age thanks to computers and video games. Nowadays, I love anything related to music production and astronomy. Coincidentally (or is it?), both of those have a great deal to do with tech. Honestly, most of the stuff that can be accomplished with modern electronics kind of seems like magic to me. This is why I feel this strong need to constantly learn more about it and talk about it, almost to the detriment of others.
Leave your comment
Your email address will not be published.
You may also be interested in
.