Similarweb Review
Best for: Digital marketing agencies
Strengths
User-friendly dashboard
Impressive data visualization
Large scale datasets
Filter data by country
Weaknesses
Limited features on the free version
Questionable data accuracy
Expensive pricing plans
Imagine running a business in an industry with zero competition. While that can be a good thing, it's simply next to impossible in today's world. You'll need to always be on your toes to outshine your rivals.
The good news? Similarweb is here to help. You can spy on competitors, analyze audiences, monitor markets, etc. Additionally, it's equally suitable for boosting your search engine rankings.
There's more:
All info is presented in clean, colorful graphics for your understanding. You can also create custom dashboards with the metrics that you only need.
But is it worth your money?
Continue reading to find out.
What Is Similarweb?
Similarweb is a competitor analysis solution for scaling your business online. It provides web analysis tools for optimizing marketing channels and growing your revenue. The platform best suits SEO specialists, agencies, enterprises, and digital marketers.
The company draws its data by tracking numerous activities across the web. This includes:
websites

mobile apps

search engines

public databases
The solution first hit the market in 2007. It's headquartered in Tel Aviv with regional offices in New York, USA, and Kyiv, Ukraine. Some of the big names that use it include AirBnB, Walmart, DHL, etc.
Similarweb Features
Similarweb Inc. offers the following digital intelligence tools for accelerating your marketing:
Website Analysis
This feature is essential for analyzing the performance of top-ranking websites online. It displays SEO metrics about competitors that matter to you. Some of the data it provides include:
Average monthly visits

Visitor demographics

Sources of traffic

Country and industry rank
While the above insights are available on the free version, you'll get more with Similarweb Pro. For instance, you can view a site's full list of keywords, referring websites, paid advertising history, etc. Moreover, there's an option to compare up to five domains side by side.
Engagement Tracking
Engagement tracking is another feature that is repeatedly praised in Similarweb reviews.
First, the tool displays how much time users spend on your website in total. It also includes the average number of page views per visit.
Next, bounce rate shows you people that immediately leave after opening your site. You'll also find duplicate audiences that show repeat visitors on computers and mobile devices.
Web Industry Analysis
Understanding industry dynamics is crucial for identifying opportunities and threats. With this option, you can find top-ranking companies that you need to watch closely. Other industry-wide insights that this Similarweb data tool generates include:
Web traffic trends

Ideal marketing channels

Industry demographics

Search interests and trends
Unfortunately, you can't create a list of trackers using the available industries. You have to filter companies afresh every time you use it. But you can find almost a similar function in the next feature below.
My Trackers
This is one of the vital Similarweb features. It's ideal for keeping close tabs on competitors at all times.
And the best part:
You can create lists of websites to monitor. The configuration process has options to set target industries and countries for analysis. Once deployed, you'll receive monthly notifications of any changes in trends.
On the flip side, you can only configure a maximum of three trackers. There's also a limit of 25 sites for each that you create.
But what if you're an app publisher?
Mobile Apps Analysis
App analysis should be your companion if you're a mobile publisher. It lets you view the performance of smartphone applications globally. The insights it provides comprise the following:
Number of active users

Downloads from the store

Demographics on usage

Global and category rankings
This Similarweb search feature also shows you the audience behavior of consumers. The top categories include:
shopping

communication

finance

productivity
Armed with this information, you can improve your app's user experience to increase its popularity.
Keyword Research
The Similarweb search tool will make finding keywords easy. That way, you can find juicy queries to target without breaking a sweat.
You can view monthly traffic volume, top-ranking websites, and trends for a start. There's a filter to narrow down the results by country. What's more, you can create lists of exciting topics to follow.
On the downside, the depth of reporting is average at best. It doesn't display keyword difficulty nor provide you with closely related terms. Without these two, you risk using search terms that are challenging to rank for.
Custom Dashboards
Similarweb offers a standard dashboard for handling your market intelligence tasks hassle-free. While it works great, you can make your work stand out by creating custom panels.
Here's why:
You can use them to benchmark your performance against fewer competitors. The trackable metrics include keywords, monthly traffic, marketing channels, and more. So, you'll be able to identify areas of opportunities to outsmart rivals quickly.
Browser Extensions
Similarweb products extend beyond its web platform. The company offers users extensions for:
Google Chrome

Microsoft Edge

Opera

Firefox
You'll, however, be able to access limited data using this approach. And, as at the time of writing, standalone apps for mobile devices and PCs are unavailable.
Export Tool
You can use the export tool to save data on your device. The supported formats include PDF, Excel, and PowerPoint. Unfortunately, all files have Similarweb's branding all over. This is a deal-breaker for agencies that offer digital marketing services.
How Does Similarweb Work?
There are three ways to get started with the platform. You can use the free website search tool, web app or the Similarweb Chrome, or other extensions.
The first two are pretty much straightforward. You'll need to key in a site/app name to check the metrics. However, both give a brief overview of performance for the platform you're tracking.
For a detailed analysis, you'll need to sign-up for free. But you're required to have a business email to do this. This is simply a way of blocking spammers from the platform.
So, how about the interface?
It can be intimidating for beginners. Though, with a little bit of patience, you can learn fast.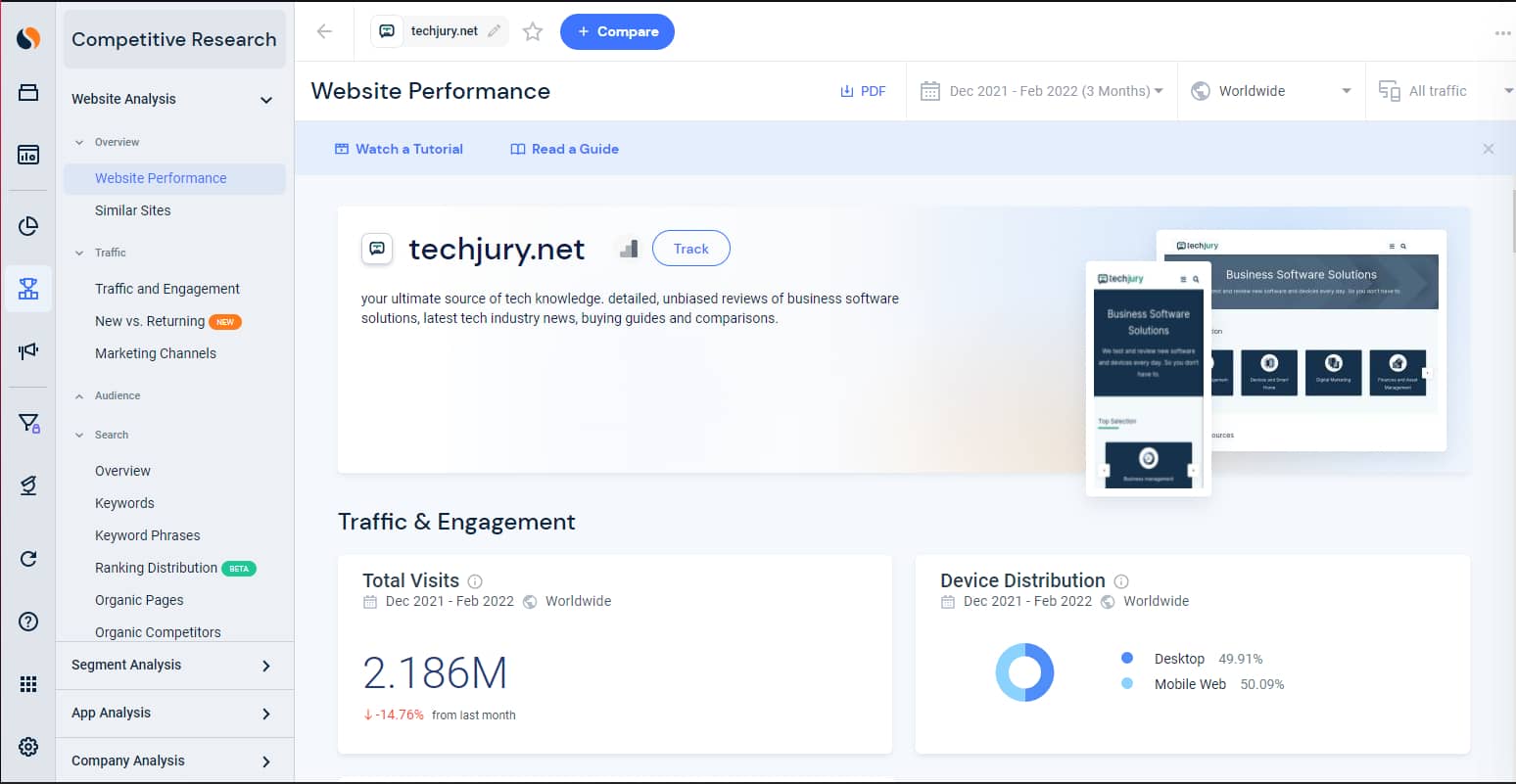 Away from that, you'll find the Similarweb user dashboard intuitive. The sidebar menu sure helps a lot. It also leaves you with plenty of screen real estate for analyzing data.
In addition, Similarweb makes good use of graphs and charts to ease your work.
Moreover, you can rearrange widgets on custom dashboards to make things better.
But.
The navigation panel of the Similarweb data source tool needs improvement. For example, it's not possible to minimize the secondary menu bar. This can be cumbersome when comparing large data sets.
Now.
What about the accuracy of data?
Data Accuracy
Disclaimer: There's no solution out there that's 100% correct.
Unfortunately, the accuracy of the results Similarweb provided is questionable.
Let me explain.
There's always a degree of incorrectness when analyzing data on the final results. This is known as the margin of error, which averages about 6%. With Similarweb it's around 20%, and in some areas, it exceeds 80%.
I first saw complaints about it in Similarweb user reviews, so naturally, I had to test it myself.
Consider my little study below:
I used the tool to examine Techjury's user engagement for 30 days. While at it, I compared the metrics with data from Ahrefs, Semrush, and Google Analytics.
The results?
Data from Google Analytics is as accurate as it can get. From the above image, it gave me monthly visits of 272,331. Ahrefs came close with a traffic of 298,987.
As for Semrush and Similarweb, I got 442,600 and 700,583 hits, respectively. Using Google's results as a reference, the margin of error will be as follows:
Google Analytics – 0%
Ahrefs – 9.33%
Semrush – 47.63%
Similarweb – 88.03%
The differences in the results also extend to other metrics. These include new visitors, bounce rate, session duration, etc.
So, what does this mean?
Although it's a good tool, Similarweb could have better traffic reports.
Customer Support
Similarweb's support agents are readily available if you get stuck. You can reach them round the clock via email and tickets.
A live chat widget is also available on the company's website. Sadly, the staff only addresses pre-sales queries using this channel.
Other than that, you'll find their agents friendly and responsive. The knowledge base also has many helpful guides to find your way around.
Similarweb Price
The tool has a 7-day trial that gives you access to all features. Once it expires, you'll be downgraded to the free Similarweb plan, that's quite limited.
Here's the outline of the plans:
Similarweb Alternatives
There are many solutions akin to this one, but are they really better than Similarweb?
Let's see:
Similarweb vs Semrush
Semrush is a top-of-the-range SEO platform for webmasters and marketers. It has a wide range of tools for finding keywords. Additionally, it has an assistant for managing content across your social media accounts.
Similarweb extends beyond websites. You can use it to monitor applications and the engagement behavior of users. The platform also supports custom dashboards.
Similarweb also wins when it comes to the interface. Semrush's sometimes feels clunky.
It, however, wins when it comes to pricing. Its plans start from $99.95/month, with the most expensive one going for $374.95/month. That's more affordable than its rival's cheapest $249/month tier.
On the other hand, Similarweb has a free plan which its competitor lacks.
Similarweb vs SE Ranking
SE Ranking is another popular Similarweb alternative. It's a beginner-friendly SEO suite for small businesses and agencies. Additionally, it has a flexible pricing structure for users working on a budget.
SE Ranking's user interface is simple, clean, and engaging. It employs the same sidebar menu that you'll see in Similarweb, but you can actually minimize it.
Aside from looks, it works great for optimizing pages for search engines. For example, you can use the backlinks monitor to find quality referral domains. It also has a keywords spy tool for uncovering low competition queries.
But that's not all.
SE Ranking's audit feature does an excellent job of identifying weak areas on your website. It highlights pages with poor content, missing internal linking, and SSL mismatches.
Similarweb products are, however, designed for marketing purposes. The platform works best for surveying industries to find areas of opportunities. You can also use it to improve search engine ranking across the web.
Similarweb vs SEO PowerSuite
SEO PowerSuite is comprehensive marketing software for SEO specialists, webmasters, and marketers. You can download it on Windows, Linux, and macOS computers.
In comparison, Similarweb has an extension for popular browsers. It doesn't provide any apps for PCs or mobile devices like its peer. Most of its features are accessible on its web app as well.
Regardless of the integration, both platforms are cloud-powered.
Both also offer keyword research, website analysis, and social media analytics. But the solution by Similarweb Inc. is a bit superior in functionality.
How?
It includes market analysis. You can sift data across different industries, countries, and app stores. Furthermore, the service can analyze user engagement based on varying demographics.
SEO PowerSuite stands tall when it comes to generating reports. You can export data in TXT, HTML, CSV, and SQL. Best of all, you'll find no watermarks on your files.
With Similarweb, you can download the documents in Excel, PDF, and PowerPoint. There is branding.
You'll find a free plan with limited features on both. But it's SEO PowerSuite's starting price of $299/year is lower.
Similarweb Review - Verdict
Similarweb is an outstanding tool for digital marketing. It offers a wide range of tools for gaining a competitive edge over rivals.
It stands out with its custom dashboards feature. Throw in the tracking option, and the ability to handle bulk analytics and you have a winning formula.
The platform isn't flawless, of course. It has questionable data accuracy and a slightly obstructive menu bar.
Overall, it's a feature-rich solution for businesses that need to stay ahead of the game.
Give it a try today - it's free!
Similarweb has pro and free versions. The latter is quite limited, though. If you're going to try it as an individual user, it might work for you. But it's not the best option for companies.
How trustworthy is Similarweb?
Somewhat. That's because it overestimates traffic by over 80% in some cases. However, there's no perfect solution on the market.
How does Similarweb collect data?
Similarweb gets data from search engines, public databases, and third-party partners. It also tracks millions of activities on the internet for information.
How much does Similarweb cost?
There's a free version if you want to test the software. It is, however, limited. The pro plans start from $249/month. For more info, check my Similarweb review above.
Daniel Wabuge
Daniel is a curious thinker that loves everything about tech. If he spots something interesting, rest assured that he'll reverse-engineer it. Apart from being an internet addict, he loves building web servers from scratch. Well, it's not his profession per se. But it's a passion he picked up after a series of unfortunate events involving terrible hosts. He's the "hosting guy".
Leave your comment
Your email address will not be published.
You may also be interested in
.