Avira Review
Best for: Home and office use
Strengths
Great lab tests results
Free plan
Mobile versions
Integrated VPN
Weaknesses
Free plan lacks customer support
Limited VPN with most plans
What Is Avira?
Avira is an antivirus software founded in Germany in 2006, though it had been in development since 1986. NortonLifeLock bought the company in 2020.
Its free version offers real-time protection, scans for computer viruses, a limited VPN, password manager, etc. However, many of its tools are only accessible through paid plans.
Avira Features
Let's look at what Avira has to offer. Reasonably, the more expensive the plan, the more features provided.
Virus Scans
Users can easily keep tabs on their PCs with three easy-to-access scans available.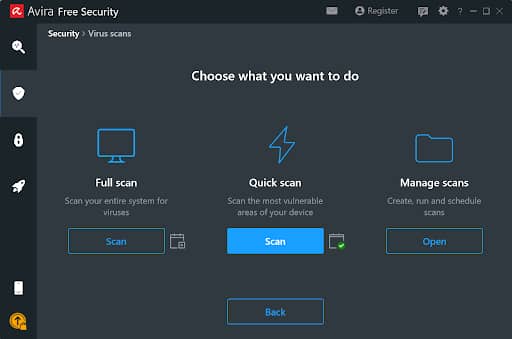 The Avira Antivirus scanner has a Quick and Full scan. The former checks the most vulnerable areas of your machine for malware, while the latter searches through the entire system.
You can also schedule Full scans - daily, weekly, or monthly. The software recommends users perform the last one.
Also, you can run custom scans:
Rootkit

Hard drive

Removable drive

Local drive

My documents

Active process

Windows system
Users can check when a scan was last performed to determine when to run a new one. However, you can also enable Avira to inspect your device automatically.
Real-time protection
The Avira real-time protection feature ensures malware doesn't infect your device.
Since it's constantly active, it scans every file you interact with, and if it identifies a threat, the tool automatically blocks it.
The good news is that these types of protection are available in every plan, including the free version. However, the following features are only accessible if you purchase a subscription.
Web protection
This feature keeps you safe while browsing the internet. The tool is on the lookout for phishing, malware, spam, and fraud.
Email protection
As the name suggests, this tool ensures incoming unencrypted emails and attachments are free of viruses and suspicious programs.
Ransomware protection
This Avira antivirus software feature protects your computer from ransomware, which often comes disguised as links, attachments, and downloads. Fortunately, this tool detects such before triggering and prevents your machine from locking down.
Still, Avira recommends regularly backing up your data so that in case of ransomware, you can wipe your hard drive.
Quarantine
This is where all the infected files found on your PC are stored. When put in quarantine, these computer threats can't harm your system. You can, though, look through them for either deletion or restoration in cases when the tool has made a mistake.
Software Updater
This is another one of the Avira antivirus features that are only accessible through premium subscriptions.
Its function is to avoid security holes by keeping your software updated. It will scan your system and suggest updates.
Firewall
This can be misleading because Avira does not offer an actual firewall. This tool only lets you manage the Windows Firewall. You can also choose if you want it to treat your network as public or private.
I'll leave it to you to determine if this is helpful or not.
Browser Safety
There is an Avira Chrome extension to support your browning needs. It also works with Edge, Firefox, and Opera.
It alerts you if you open malware or phishing websites. Additionally, it blocks tracking ads or third-party trackers and adverts in general. The extension shows you how many ads and trackers are blocked. There are also settings to change certain options, like blocking social media tracking.
VPN
A VPN service can provide you with improved online security and broader access to the world wide web.
This is where the Avira free antivirus software comes into play with its limited version of the Avira Phantom VPN.
Unfortunately, with only 500MB per month, the free plan provides too little traffic. If you want unlimited, you can pay for a monthly or annual subscription or purchase the Avira Prime plan.
The Phantom VPN connects with servers in 28 countries. However, the free version simply connects you to the nearest location.
Password Manager
The Avira Password Manager is another browser extension. It automatically creates secure passwords and allows you to access your accounts with one master password.
What's more, you can allow it to autofill your credentials and sync them across all your devices.
With the paid plans, the Manager can check for weak or reused passwords that can leave you vulnerable to brute-force attacks. Additionally, if you are a victim of hacking, you will receive notifications.
Safe Shopping
Besides helping you avoid scams and blocking trackers and ads, this extension can help you save money. It accomplishes this by comparing prices and recommending better deals.
Does it work, though?
According to other Avira reviews, it could recommend higher prices or completely different products.
File Shredder
If you want to avoid altogether the possibility of hackers restoring already deleted files from your computer, use the File Shredder feature. Simply drag and drop the files you want to get rid of permanently.
Keep in mind that a file can not be recovered by anybody, including yourself, once shredded.
As such, be extra careful when using this feature.
Privacy Settings
The Avira antivirus for PC allows you to customize over 140 settings to your liking. However, it also has a recommended settings option.
Either way, it's essential to keep your activity private and prevent the sharing of personal information.
Avira Crypto
This feature enables you to mine Ethereum cryptocurrency.
Here's the thing:
The system requirements for this feature are strict. If your machine does not fit them, you won't even see it as an available tool.
Also, it is only available in the US, Canada, and the UK.
Even if you fit the system requirements, consider whether you want to use the Avira Crypto tool carefully, as NortonLifeLock receives a 15% cut, and withdrawal and transfer fees are applicable.
Optimizer
The Avira device optimization feature is there to help you clean up space and speed up your computer's performance by fixing identified issues.
While available with the free plan, if wanting to optimize your system entirely, you will need to purchase a paid plan.
Battery Saver
Avira's System Speedup window opens when you click on the Battery Saver feature.
It intends to extend your battery life by reducing screen brightness and preventing automatic updates.
However, going into full Energy Saver or Power Boost mode can happen only after purchasing a paid plan.
Driver Updater
The Avira Driver Updater scans your system for outdated drivers since they make your computer more susceptible to hacker attacks.
Even though this feature is similar to the Software Updater, it does not require payment.
Duplicate Finder
This is another feature only accessible through a paid plan.
It scans your device for identical files and deletes all unneeded copies. In doing so, it clears up space on your hard drive.
Startup Optimizer
This tool shows up in the System Speedup window as well.
It helps reduce the number of apps that start with your device. That will improve your machine's speed.
However, it is also a paid feature.
Game Booster
This is another tool of the Avira antivirus for PC that requires a paid plan. It is for gamers and helps make your playing experience smoother. It closes applications and services and tweaks some device settings.
Mobile Application
The Mobile App is available for both Android and iOS. It includes some mobile security features like:
Anti-Theft

Microphone protection

Camera protection

Call blocker

App lock
Of course, a paid plan is necessary to access all available tools.
After this long list of Avira's features, let's now look at its interface.
Ease of Use and Interface
Avira has an intuitive interface. It's separated into four main windows:
Status

Security

Privacy

Performance
Its related features are placed in these tabs and are easy to find.
The Status window has three big icons, as well as a Smart scan quick-access button.
In the Security tab, you can find the following Avira antivirus features:
Virus scans - Quick scan and Full scan

Protection options - Real-time, Web, Email,

Ransomware

Quarantine

Software updater
In the Privacy window, you can find the following tools:
Browser Safety

VPN

Password Manager

File shredder

Privacy settings
And lastly, if you click on the Performance tab, you gain access to the following options:
Optimizer

Battery saver

Driver updater

Duplicate finder

Advanced tools

Game booster
It's not only easy to locate its tools, but the Avira antivirus software is also straightforward to install. In my case, it took just 5 minutes.
Avira Security
Now, this is probably the most crucial point. Does Avira provide proper security?
Let's look at the results from two independent labs.
AV Labs gave the software an outstanding score in all three analyzed areas - Protection, Performance, and Usability. That means it's in the caliber of antivirus software like Avast, which also received similar scores.
Another impressive rating of the program comes from SE Labs. Accordingly, Avira software has a top-level - AAA rating. Its results are even a bit higher than programs like McAfee.
Interestingly, in some other Avira reviews, you may find that the results are not as impressive.
Customer Support
I would say this is probably the software's worst aspect. You only have access to customer support by email or phone if using a paid version. And if using Avira Prime, you can even use a toll-free phone number.
For users of the free plan, there is an extensive archive of FAQ questions. And while you can find many answers there, if you can't - you are at a loss.
Pricing
Avira antivirus has a free version, as mentioned. If you get a paid plan but are unsatisfied, there's a refund option. However, keep in mind that you can only request refunds within 60 days of an annual subscription and 14 days for monthly ones.
Here's what the plans cost and what they offer:
Avira Review - Final Verdict
With Avira's high lab test scores, it undoubtedly provides high-level security. And while it has many features, the free plan can seem quite limited.
Despite this and its customer support challenges, there doesn't seem to be anything off about it - so why not try it out.
Is Avira completely free?
Yes, Avira does have a free version, but it has many limitations. To access more capabilities, check out its paid plans.
According to the high scores from AV and SE Labs, Avira has a high level of security.
Is Avira a good antivirus?
Avira is antivirus software that offers many valuable features coupled with high-level security. Overall, it's a good program. Read more about what it can do fin this Avira review.
Deyan Georgiev
Deyan has been fascinated by technology his whole life. From the first Tetris game all the way to Falcon Heavy. Working for TechJury is like a dream come true, combining both his passions – writing and technology. In his free time (which is pretty scarce, thanks to his three kids), Deyan enjoys traveling and exploring new places. Always with a few chargers and a couple of gadgets in the backpack. He makes mean dizzying Island Paradise cocktails too.
Leave your comment
Your email address will not be published.
You may also be interested in
.