SuperVPN Review
Strengths
Lifetime free version
Intuitive interface
Effective Netflix unblocking
Decent speed
Weaknesses
Personal data logs
Confusing ownership
Questionable security
Unresponsive customer support
SuperVPN is a virtual private network service from SuperSoftTech — a Singapore-based developer featured on Google Play. It is not the only VPN brand that goes by this name. But for this review, I tested the apps with these logos: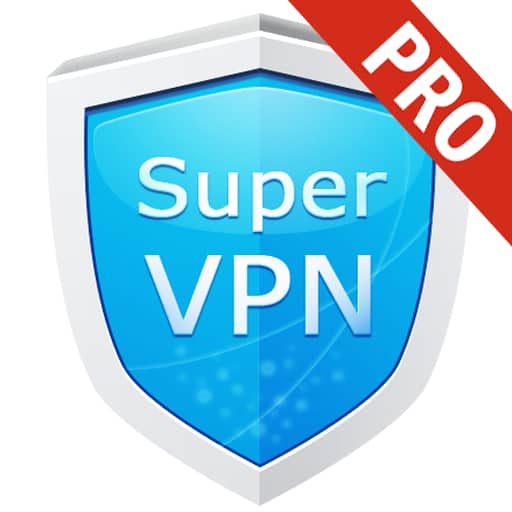 SuperVPN is insanely popular and notoriously controversial. Nearly 1.9 million users rated the free SuperVPN client with an average of 4.7 stars. And its premium counterpart SuperVPN Pro received an average of 4.6 stars from approximately 45,000 reviews.
The SuperVPN free version alone has achieved more than 100 million installs on Google Play. That's 20 times more on an individual basis than the Android downloads of Surfshark and PIA and 10 times more than NordVPN, CyberGhost, and TunnelBear.
This enviable figure may not be based all on merit, though.
It might sound crazy, but you should not take SuperVPN's exceptional statistics at face value.
Why?
That's what you're about to find out.
SuperVPN Features
This VPN does not deserve its name, for there is nothing super about its functionality. With that said, here is what you can expect from this software's Free and Pro versions:
Android Support
SuperVPN by SuperSoftTech is compatible with devices that run Android 4.1 or later only.
Unlike VuzeVPN's non-Windows products, there's no word on SuperVPN PC, Mac, and iPhone apps from SuperSoftTech under development.
Unlike the other VPN services we reviewed, this vendor has no real website.
On Google Play, you will find links to both supervpn.best and supervpnpro.app. Unfortunately, if you click either of them, you will be returned to the same download screen or page. So, Google Play is the only place to currently find these products.
If you are curious about installing SuperVPN on other platforms, you can find some guides from third-party sources. The SuperVPN Windows 10 and macOS setup instructions that I found often involve the use of the emulator BlueStacks.
On the Chrome Web Store, I came across a SuperVPN extension from another third party. I attempted to download this SuperVPN Chrome product but was unsuccessful.
There is also an app called Super VPN on the App Store. The listed developer of Super VPN iOS, iPadOS, and macOS is Qingdao Leyou Hudong Network Technology Co.
The logo of Super VPN for iPhone, iPad, iPod touch, and Mac has an uncanny resemblance to SuperVPN's.
Despite having different publishers, these VPNs are practically carbon copies of each other.
Unlimited Bandwidth
SuperVPN has no data cap. And even non-paying users can enjoy this privilege.
SuperSoftTech has an incentive not to impose any data usage restrictions. Both of its apps are ad-supported. So, the developer generates revenue from its products without collecting any subscription fees.
From my experience, SuperSoftTech interrupts the session of non-VIP subscribers after 60 minutes of connection. But this applies only to non-paying users that have completed their trial period. More on this later.
Nevertheless, you can just reconnect when the app disconnects you and enjoy the service again.
Unrestricted Speed
The SuperVPN app doesn't throttle the connection speed of its non-VIP users. But on paper, a premium subscriber should be able to access one VIP with hardware that is supposedly faster than the free version.
One Device Connection per License
Like nVPN, SuperVPN permits no more than one device connection for every premium subscription.
This limit is way below what even the least generous among the best VPN service providers allow. But it's not as bad as you might think.
The SuperVPN free Android app's features are no different from those of SuperVPN Pro. As such, you will not miss out on much if you are not a VIP user.
Auto Select
With SuperVPN, you can connect to a server with one click. This option is the only one that resembles the functionality of industry leaders.
Although Auto Select makes the connection convenient, it doesn't specify how it chooses where it sends your data. Other VPNs normally route your traffic to the nearest or the fastest server.
Smart Proxy
Smart Proxy is SuperVPN's version of split tunneling. It's a feature that lets you pick which apps would connect to the VPN. Likewise, the unchosen apps would directly connect to the internet when the service is on.
Smart Proxy is off by default. And its settings are adjustable once you enable it.
When activated, the feature automatically secures the most used mobile apps. As such, you will not have to manually select your favorite programs one at a time.
SuperVPN Advanced Features
SuperVPN for Android has no extraordinary functionalities. It's bare-bones at best and lacking at worst.
SuperVPN Servers and Locations
The exact size of SuperVPN's network is unclear. What's common knowledge is that it offers nine location options, namely:

Canada
France
Germany
Hong Kong (VIP)
Japan
Singapore
The Netherlands
The United Kingdom
The United States

Undoubtedly, this network coverage is unimpressive. The only worse coverage identified is Hideman VPN. Having said that, the location selection of the SuperVPN app should be good enough for most users.
It's also unclear whether this vendor uses virtual server locations. SuperSoftTech may be housing some, if not all of its servers in their corresponding jurisdictions as advertised.
This accusation is not baseless. When testing both apps, the IP (internet protocol) addresses received did not match the specified locations I chose on three occasions.
When I first connected to the UK SuperVPN computer, the app masked my public IP address with one from Finland. My intentions were for my IP address to be masked in the UK and not Finland, which wasn't even listed as an option.
When connected to regular SuperVPN and SuperVPN Pros' Hong Kong (VIP) locations, I received Canada and Netherlands IPs, respectively.
SuperVPN Speed
On a scale of 1 to 10, the speed loss I experienced with SuperVPN Pro was around 5. Have a look at the test results from Speedtest by Ookla below.
Base Speed
US Speed (download speed: -53.62%, upload speed: 0%, ping: 685.19%)
UK Speed (download speed: -42.38%, upload speed: 100%, ping: 822.22%)
Singapore Speed (download speed: -43.23%, upload speed: -7.69%, ping: 403.70%)
As mentioned, the sole VIP location of the premium SuperVPN client supposedly has the fastest servers.
And this seems to be a fact! My base download and upload speeds jumped when I connected with the VIP service.
Hong Kong Speed (download speed: 6.92%, upload speed: 169.23%, ping: 829.63%)
SuperVPN Privacy and Jurisdiction
Is SuperVPN safe?
SuperSoftTech claims that its headquarters is located at 15 Lower Kent Ridge Rd, Singapore 119077. But this location is part of the National University of Singapore.
On another SuperVPN listing page, SuperSoftTech's supposed HQ location is at BeiWaLu 3 HaoYuan, Haidan, Beijing, China 100024.
Moreover, a search against SuperSoftTech's email goanalyticsapp@gmail.com leads to a Chinese-language SuperVPN listing page that references Jinrong Zheng. This person's name appears in the URLs (Universal Resource Locators) of SuperVPN's pages on the Google Play site.
Zheng is known as an independent publisher of VPN and gaming apps. Trusted publications like TechRadar have implicated Zheng to LinkVPN and its Hong Kong-based developer FuryWeb Tech.
If SuperSoftTech and FuryWeb Tech are really Zheng's fronts, then SuperVPN would likely belong to a Chinese entity. If true, it wouldn't be a stretch to say that the Chinese Communist Party has access to its data.
I can neither confirm nor deny that SuperSoftTech's home base is in fact in Singapore or China. But the current evidence suggests that the company operates in at least one of these countries.
SuperVPN's Zero-Log Policy and the Fourteen Eyes Alliance
The prospect of SuperVPN being under mysterious Chinese ownership is concerning in and of itself. But wait until you learn about its zero-log traffic (or the lack thereof).
SuperVPN is the very reason why free VPNs are considered unsafe. It displays ads, so it's probably making money from collecting and selling user data to marketers.
Even worse, this vendor logs personally identifiable information like IP addresses.
According to its privacy policy, its third-party partners in different countries may independently process your personal data.
Judging by its list of locations, SuperVPN primarily has no presence in places with limitations on VPN use.
However, its non-VIP servers are not necessarily under VPN-friendly jurisdiction.
Suppose SuperSoftTech rents its hardware from service partners operating in countries covered by its network of servers. Its entire fleet could be in the backyard of the Fourteen Eyes Alliance and its collaborators.
As a result, your personal data could be easy pickings. And influential Western democracies could monitor your online activity with less difficulty.
SuperVPN Security and Protocols
Is SuperVPN secure?
SuperSoftTech encrypts traffic data but hasn't disclosed the tunneling protocol it uses. But a 2019 study by VPNpro has shown light on how SuperVPN "secures" data.
Acting as white-hat hackers, the researchers simulated a man-in-the-middle (MITM) attack.
They discovered that one of the SuperVPN hosts had sent a payload over unsafe HTTP. The package contains encrypted data along with the key that decrypts it.
Due to this vulnerability, any malicious party could intercept and decode the encrypted communications between SuperVPN and its users. A MITM attacker could also divert user traffic to dubious servers.
But that wasn't the first time SuperVPN was identified as extremely dangerous.
In 2016, CSIRO, Australia's national science organization, declared it as the most malware-infested free VPN app. In the list that includes premium services, it placed third overall.
Around the time of the CSIRO study, SuperVPN Free only had 10,000 downloads on Google Play. This number has since ballooned by 999900%.
So, how in the world did SuperVPN manage to grow so much and so fast after so much bad press?
SuperSoftTech has dominated Google Play using the app store equivalent of blackhat SEO (search engine optimization).
This vendor has used shady tricks like flooding the space with large volumes of bogus SuperVPN reviews. In addition, it has generated irrelevant backlinks to make it seem authoritative.
SuperVPN's Removal From and Return to Google Play
SuperSoftTech has gamed the system. But what has Google done after learning about SuperVPN's serious flaws?
Months after Google received SuperVPN pro's findings, the tech giant pulled the VPN app from the Play Store on April 7, 2020.
Imagine my shock when I discovered SuperVPN's Free and Pro versions available again for download on Google Play.
In February 2021, a SuperVPN data breach made the headlines. According to the story, 21 million users of SuperVPN (along with two Android apps) fell victim to identity theft.
How then, has SuperVPN been able to return to Google Play given all the security issues? At this time, there is no concrete conclusion, but financial gains may be a plausible reason.
The Android owner pockets 30% of app and in-app purchases on Google Play. Since SuperVPN ranks high organically and subsequently, revenue is high from the sale of this app; Google may be giving preference despite the evident security risks.
The tech titan even recommends SuperVPN for "VPN free" searches.
SuperVPN Leak Test Results
SuperVPN Pro isn't also very good at geo-spoofing, which is supposedly one of the basic benefits of using a VPN. It was able to obscure my real IP address when surfing the Web with the SuperVPN app in Singapore.
Here's my original IP and DNS (Domain Name System) addresses:
Here are the results of my IP and DNS leakage tests on AirVPN-powered IPLeak:
Will SuperVPN Pro stop regular browsers from revealing your public IP via WebRTC?
In my case, it did. I got the confirmation from ExpressVPN's WebRTC leak checker.
SuperVPN and Streaming Services
You will not find streaming-optimized servers on SuperVPN and SuperVPN Pro.
Despite this, the latter (at least) can unblock one of the leading video-on-demand (VOD) services today: Netflix. And I was able to access the US and UK content libraries with it.
Here's the evidence:
Is SuperVPN Good for Torrenting?
No, it isn't.
SuperVPN and SuperVPN Pro lack servers dedicated to P2P (peer-to-peer) traffic, an indication that none of them support file sharing.
Nevertheless, I checked whether it could at least hide my IP on BitTorrent with its hardware located in the Netherlands. I chose this host country due to its more torrent-friendly regulations as opposed to many other Western nations.
Here's what I discovered:
I couldn't show my public IP, but SuperVPN for Android wasn't able to keep it a secret on BitTorrent. This leaked piece of information forms part of my browser profile, so my real location was still traceable.
Can SuperVPN Bypass Geoblocks?
Yes, it can. Bypassing geo-restrictions is probably what SuperVPN Pro does best.
To prove it, I visited History Vault, a premium streaming service that's currently unavailable in the Philippines.
A&E Networks owns this VOD service, so I couldn't get past the screen on the left normally.
But with SuperVPN Pro's US server, I was able to land on the uncensored homepage.
Ease of Use
Setting up the SuperVPN app is quite painless. You can install it like an average Android app, which needs no root access. It should be up and running in less than a minute.
SuperVPN is highly intuitive too. Being one-dimensional helps simplify its design. If you've used a modern VPN, you shouldn't have any trouble navigating this app.
Registration isn't required, so you can use SuperVPN as a guest.
However, the Pro version may prompt you to log into your Gmail account every now and then. But you can easily log out and still use the VPN service.
Despite these basic conveniences, it does not take long to understand what makes this VPN highly inconvenient. This mostly stems from the excessive advertising and their pop-ups. Quite often you are required to watch complete ads prior to establishing a connection.
Additionally, you will need to disable battery optimization during use of the SuperVPN.
It gets worse!
Because SuperVPN doesn't display your original public IP address. And it doesn't show your masked IP once connected either; unless you don't check your IP first, you wouldn't know whether the SuperVPN client has properly hidden your identity. Essentially, nullifying the whole purpose of this app.
Lastly, it didn't perform error-free during my tests.
While this VPN is extremely easy to install and set-up; overall performance is less than desirable for its intended use.
Customer Support
Trying to get in touch with SuperSoftTech is like chasing a ghost.
This VPN vendor has no site, has inconsistent location details, and confusing ownership information.
Email is the only means to start a conversation with a SuperVPN developer. But in general, contact has been elusive for years. And I can personally attest to their unresponsiveness.
What's funny is that SuperSoftTech is almost certainly just avoiding contact on purpose to avoid the very questions I and others continue to pose.
After all, it has updated both of its products as recently as April 15, 2021. So, it has been active amid the pandemic.
SuperVPN Price
The uninterrupted version of the SuperVPN free Android app is available for 20 days. After this trial period, you can still use it for 60 straight minutes. Afterward, the session gets disconnected until you reconnect.
Apparently, SuperVPN Pro is reserved for VIP subscribers only. So, you must buy a VIP plan on the free version to unlock Hong Kong in the location list.
Nevertheless, I was able to use the Pro app as though it was the Free one. If you wonder how much the premium subscription would set you back, here are the plans:
SuperVPN Free: $0.00
1-Month SuperVPN Pro VIP: $5.00
3-Month SuperVPN Pro VIP: $3.75/month
Bonus: 1 month free

6-Month SuperVPN Pro VIP: $3.33/month
Bonus: 3 month free

1-Year VPN SuperVPN VIP: $2.86/month
Bonus: 9 month free

In terms of payment methods, it would depend on what Google Play accepts in your region.
When it comes to refunds, there's no guarantee that you'll get your money back.
If you want a refund within 48 hours from the date of purchase, you'll have to contact Google.
If you want to submit a request after 48 hours, you'll have to get in touch with SuperSoftTech.

SuperVPN Review - Verdict
I can understand SuperVPN's appeal.
It's free for life, but you can only connect to fast servers if you buy a VIP plan. With or without a premium subscription, you can benefit from its Netflix unblocking capabilities. Nobody would complain about its intuitive design either.
However, SuperVPN's upsides don't outnumber and outweigh its drawbacks.
This VPN contains malware, invites cyber attacks, and commits personal data logging. Its dangers are characteristic of an unscrupulous Chinese app. To make matters worse, its developer is stubbornly unapproachable.
I would advise against using SuperVPN, especially since there are so many safer Android VPNs on the market.
I took one for the team. And I'll be watching out for phishing emails because of it moving forward.
If you would still like to give it a go, download it at your own risk.
What is SuperVPN used for?
With SuperVPN, you can hide your online activity from snoopers and get around geo-restrictions using IP addresses from:

Canada
France
Germany
Hong Kong
Japan
Singapore
The Netherlands
The UK
The US

As an Android-only app, SuperVPN can be useful for mobile gaming. It's not ideal for torrenting, but it can unblock Netflix.
On Google Play, the listed developer of SuperVPN's Free and Pro versions is SuperSoftTech. But some evidence suggests that Jinrong Zheng is probably the person behind it.
Zheng is an independent publisher that has been linked to apps like LinkVPN by Hong Kong–based FuryWeb Tech.
Is SuperVPN a Chinese app?
SuperSoftTech claims to operate in Singapore on one hand and displays a Beijing address on another.
Furthermore, SuperSoftTech's email (goanalyticsapp@gmail.com) references Zheng's name on a Chinese-language SuperVPN listing.
If Zheng is the true developer of SuperVPN, then it would most likely be under the management of a Chinese national.
A HUGE NO.
Even before the 2021 SuperVPN breach occurred, this VPN had been exposed as malware-infested and susceptible to man-in-the-middle attacks.
To learn what it can do and why it's dangerous, read my in-depth SuperVPN review from the beginning.
Romj Amon
Romj is a veteran copywriter who used to be a Jack of all trades. Now, he's trying to be a master of one: technology. He jumps down the rabbit hole to size the latest innovations up. As a content contributor for TechJury, he hopes to help you keep up in our fast-paced world with his discoveries.
Leave your comment
Your email address will not be published.
You may also be interested in
.