ZenVPN Review
Best for: Casual browsing
Strengths
Advanced encryption
IP and DNS leak protection
Weekly subscription
Free version available
Weaknesses
Limited server network
No kill switch
Limited customer support
Slow connection speeds
ZenVPN is a virtual private network (VPN) owned and operated by RubyVector Ltd. The company has been around since 2015 and is headquartered in Limassol, Cyprus.
A VPN is a tool that provides an anonymous connection to secure servers, enabling your traffic to pass through undetected. VPNs aim to provide privacy for your online activities, protecting your data from actors looking to intercept, steal, or exploit it.
But not all VPN services are made equal.
ZenVPN shares many of the bold claims common to privacy providers. On the company's website, they boast that their service is "blazing fast" and "among the cheapest VPNs out there."
Many ZenVPN reviews on the Google Play Store (where it has more than 100,000 downloads), however, don't share these sentiments.
But don't worry. We did the hard work testing and verifying the service. Here's a rundown of what we found.
ZenVPN Features
ZenVPN's feature list, or the lack of it, leaves much to be desired. If you are expecting even basic functionality like a kill switch, then you're going to be disappointed.
Unlimited Server Switching
The variety of the content you can access differs from country to country. Through unlimited server switching, you can choose the location of the VPN servers, whenever you want to. No matter whether you are using the free trial or one of the premium plans, you can choose another location from the ZenVPN server list.
This is not a special feature — most premium VPNs will let you switch servers at will. Still, I'm glad it's included here, as a few VPN apps restrict users to a fixed monthly limit of switches.
Unlimited Bandwidth
With a ZenVPN subscription, you can forget about connection limits imposed on users by some VPN providers. You can enjoy online activities such as browsing, downloading, and binge-watching your favorite TV show without having to worry about capped data or throttled speeds.
Sadly, while the ZenVPN free trial version does allow limitless monthly server switching, it does not feature unlimited bandwidth.
ZenVPN Advanced Features
Obfuscated VPN servers, port forwarding, double VPN — are some of the capabilities you will not find on ZenVPN. This service simply offers no advanced features.
ZenVPN Servers and Locations
Currently, ZenVPN has servers in 19 countries around the world. Compared to some other premium services, this number is quite poor. For example, ExpressVPN has servers in more than 90 nations. HideMyAss completely blows ZenVPN out of the water with a massive network spread across 190 countries!
There is no information on the number of servers this VPN currently has. But it's easy to guess that it is not a large network, going by how many countries they are located in.
More servers mean better speeds as you can switch to servers with less load or closer by.
The company's website features a world map that is a graphic depiction of the ZenVPN server list.
Many of the server locations are clustered around Western Europe, but some are far-flung. This means you can use ZenVPN in Australia, for example, without having to worry about the distance of the connection.
ZenVPN Speed
Speed is one of the essential metrics to look for when picking a VPN provider. So I set out to identify how well ZenVPN performs using the Ookla speed test tool.
For reference purposes, I measured my base speed:
Next, I connected to a server located in the United States:
I did not expect ZenVPN to be very fast, but this outcome was highly disappointing nonetheless. My download speed immediately slowed down by a whopping 72%!
Then I connected to a United Kingdom server:
This time, there was an improvement — but only a slight one. The speed fell by a dismal 69%.
A ZenVPN Brazil server was up next:
Again, there was a modest increase in performance. The drop-off from my base speed was approximately 63%.
Overall, I found ZenVPN to be a disappointingly slow service. It is not optimal for tasks that are data-intensive, like online gaming and HD quality streaming.
The claims of a blazing fast service do not hold any water, after all.
ZenVPN Privacy and Jurisdiction
ZenVPN is based in Cyprus, a country outside of the Fourteen Eyes jurisdiction. This is a good thing. The member nations in those alliances have intelligence gathering and sharing pacts that are not privacy-friendly.
So does this mean ZenVPN is a safe option?
There are certainly enough reasons to pause for consideration. On its website, the provider boldly claims that it does not collect or store logs. A zero traffic logs policy is a must-have for any tool that offers internet privacy services.
However, further scrutiny makes it clear that its data retention rule is not so clear-cut — ZenVPN actually keeps several logs.
In its privacy policy, the company confesses to collecting and retaining these bits of information:
Email address

Device's unique identifier

Payment information

Daily bandwidth usage

Date and time of connection

Duration of connection

IP address
The last three are saved on ZenVPN's servers for six months. Appalling!
No privacy-focused tool should retain so much of its customers' information. It is especially ironic considering its privacy policy states that the company has a custom of keeping data collection to a minimum.
ZenVPN Security and Protocols
Like many premium VPN services, ZenVPN uses the highly advanced 256-bit AES encryption to protect users' data.
In terms of tunneling protocols, you get OpenVPN, the most secure option currently available. Apart from OpenVPN, ZenVPN also offers L2TP/IPSec and PPTP. I would recommend that you utilize the former. If you use ZenVPN for your PC, it is the only currently available protocol provided with Windows 10 anyway.
But there's a letdown.
There's no kill switch, an essential security feature. It makes sure that your traffic stays safe when there is an interruption in your VPN connection, automatically disconnecting your device from the internet. The lack of a kill switch is below current industry standards.
ZenVPN Leak Test Results
Considering ZenVPN's poor performance in terms of privacy, I did not have much confidence that the tool would pass any IP and DNS leak tests.
Nonetheless, with the ZenVPN PC client, I connected to a VPN server in Canada and hopped on this leak test tool. I was pleasantly surprised to find that ZenVPN protects users from IP and DNS leaks:

My IP address was not exposed. In the same vein, my ISP's DNS servers did not collect and store records of my DNS queries when using this VPN.
That's a relief. Regardless of the other privacy flaws, ZenVPN has these potential leak spots plugged.
ZenVPN and Streaming Services
Obviously, this review of ZenVPN would be incomplete without details related to its streaming capabilities.
On ZenVPN's page, the vendor claims that you can access content on Netflix, Hulu, and other geo-restricted websites from anywhere around the world.
Unconvinced, I set out to confirm how valid the claim is.
It fell flat right from the very start. Connected to a US server, I tried to unblock Netflix libraries restricted to that country. Unfortunately, the attempt was unsuccessful. The streaming service immediately detected that my attempt was powered by a VPN. ZenVPN performed just as poorly for Netflix in Germany and the UK.
I did not have any success unblocking Hulu, Prime Video, and Disney+ either. If you're an active user of video streaming services, you probably want to look for other options.
How Good Is ZenVPN for Torrenting?
ZenVPN does not restrict P2P sharing activities. Additionally, there are no dedicated servers for torrenting and as such, you can download and share on all of its servers.
However, I would not recommend ZenVPN for torrenting.
To begin with, speeds are abysmal. When using ZenVPN on Windows with a BitTorrent client, I found the snail-slow download pace extremely frustrating.
Additionally, the lack of a kill switch means that your activities would be exposed if there is a connection interruption. Torrent sites are notorious for privacy risks, so you need all the protection you can get and unfortunately ZenVPN is not up to the task.
Can ZenVPN Bypass Geoblocks?
ZenVPN does not do a good job bypassing restrictions set up by content providers, like Netflix. But what about circumventing geoblocks in countries with restrictive laws?
While VPNs are legal in most regions, they are frowned upon in others. China, Russia, Oman, and other countries with stringent internet freedom regulations use technology to stop their citizens from evading them.
For instance, ZenVPN is unable to bypass the Great Firewall of China. The lack of obfuscated servers means the provider is just as inefficient at overcoming the geoblocks of other countries.
Ease of Use
ZenVPN features a simple, minimalist design that some might even call rudimentary. It feels like the barest effort was put into the user interface.
On Windows, ZenVPN looks like this:
Like many smaller VPN services, the app icon moves to your notification tray after installation. Tapping on the icon brings up the panel. It is so basic that you cannot even adjust its position on your monitor.
The location of the server you are using is specified on a world map. Clicking on the dropdown arrow will allow you to select and switch to other available servers. Very basic and simple to use.
And that's all.
The app has no configurations; you cannot switch protocols, for instance. There is not even a Settings section.
The Android app is better in terms of tweaking options, but not by much. Here, a settings tab offers an autostart option, as well as the choice to show notifications on your tray.
You can see the various server locations on the company's website. This can come in handy, allowing you to switch locations right from the site.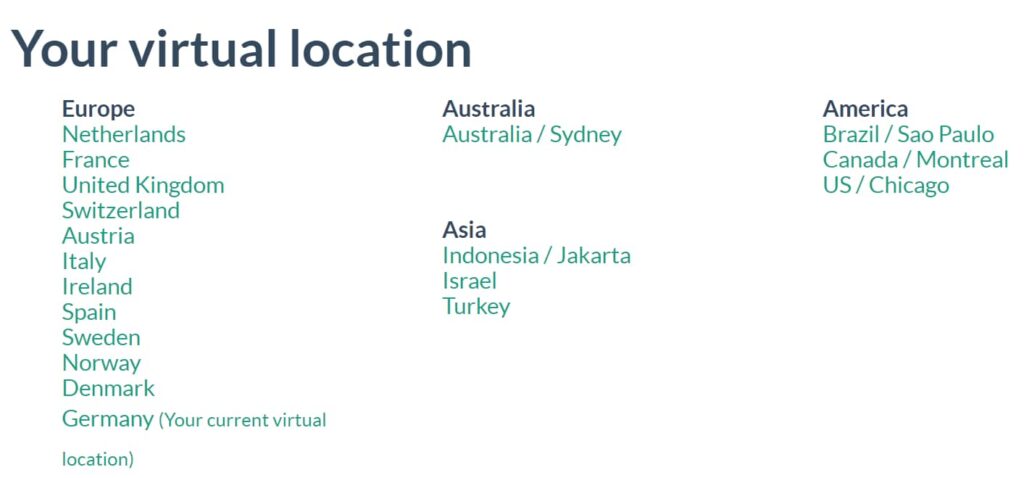 Apart from Windows and Android, ZenVPN is also available on macOS X, Linux, and iOS. There is no ZenVPN browser extension for Chrome or Firefox.
Customer Support
ZenVPN has very limited customer service. You can only reach out to the support through a ticketing channel on the website.
I did just that, requesting some information on the use of the tool. The provider promptly forwarded an automated email with an assurance that my inquiry would be reviewed and a personal response sent within 24 hours.
That was the only feedback from the ZenVPN support team — I never received a response.
As for available resources, the vendor offers a help center with a grand total of four topics. They cover OpenVPN and L2TP/IPSec setup instructions for ZenVPN for Linux and Windows.
ZenVPN Price
You can choose between two premium packages, each with its payment plan options. Standard plans have a 5 GB daily traffic limit. On the other hand, ZenVPN does offer Unlimited plans that have no bandwidth restrictions.
Standard plans
Weekly - $2.95/week
Monthly - $5.95/month
Yearly - $49.95/month
Unlimited plans
Weekly - $5.95/week
Monthly - $9.95/month
Yearly - $95.59/year
For the same value or even less, you can find better VPN services. For example, NordVPN's introductory annual plan costs $59, nearly 40% less than the corresponding ZenVPN plan.
Fortunately for those looking to have a free sneak peek at this appt, don't despair. ZenVPN offers a 24-hour free trial of its unlimited plan. The service also has a 30-day money-back guarantee for those interested in the annual plan. But there's a catch, you can only receive a refund if you used less than 5 GB of bandwidth within the first month.
Lastly, for those budget-driven individuals, there is a free ZenVPN version. This is limited to 250 MB of bandwidth daily and two VPN servers, located in France and the Netherlands. In addition, the provider confesses that maintaining good network capacity for subscribers is the priority.
Payments are made through these channels:
Visa

Mastercard

Maestro

American Express
In their privacy policy, Bitcoin is also stated as a means of payment. However, this is not reflected in reality when trying to pay.
ZenVPN Review - Verdict
Do I recommend ZenVPN?
I'm afraid I have to be brutal here, but it's an emphatic no from me.
Note that ZenVPN is not a complete disaster. The service has a few points in its favor, such as military-grade encryption and leak protection.
However, the cons far outweigh the pros, as evidenced by the many negative ZenVPN reviews. For one, the provider is a privacy and security concern, with its lack of a kill switch and data logging policy that is less than desirable when seeking anonymity.
Additionally, with a limited number of server locations; connection speeds are dreadful and streaming services are inaccessible due to its inability to effectively enable access to geo-restricted websites.
For a better alternative, I recommend that you check out our highest-rated VPN options instead.
ZenVPN has a free plan, but this version is severely limited. To enjoy its full range of services, you'd have to hop on one of the paid Standard or Unlimited plans. The 24-hour free trial offered by ZenVPN is just that, 24 hours of less than ideal VPN service. Far from meeting your daily needs!
ZenVPN will provide a secure tunnel for your online traffic, shielding it from potentially getting snooped on or intercepted. As this is the essential function of a VPN, ZenVPN does work, despite its constraints.
Not very safe, as this ZenVPN review has shown. While having advanced encryption and leak protection, this service stores too many logs to be considered secure. Also, it simply does not offer enough security features expected from a VPN provider.
Will a VPN slow down my internet connection?
Yes, every VPN will invariably slow down your connection. This is due to the extra layer of privacy the VPN provides for your internet connection. As such, it is important to consider which VPN has the least pronounced drop in connectivity speed.
Daniel Attoe
Daniel is an Economics grad who fell in love with tech. His love for books and reading pushed him into picking up the pen - and keyboard. Also a data analyst, he's taking that leap into data science and machine learning. When not writing or studying, chances are that you'll catch him watching football or face-deep in an epic fantasy novel.
Leave your comment
Your email address will not be published.
You may also be interested in
.