Hideman VPN Review
Strengths
Free version
No speed and bandwidth limit
Built-in malware protection
Native anti-DPI capability
Weaknesses
Leaky DNS servers
Clunky apps
Few locations
Unresponsive support
Hideman VPN is the virtual private network of Hideman Ltd., which has been around since 2012. It's older than some of 2021's most sought-after VPN services for Windows and Android - like Surfshark.
Wait a minute!
How come a VPN of such longevity rarely comes up in conversation?
You'd think that Hideman VPN (with over 13.6 million installs under its belt) would dominate the market by now.
But there's a reason why it's not as relevant today as some of its contemporaries, like TunnelBear.
According to 4,100+ Hideman VPN reviews on Google Play, Android users have rated it 3.1 out of 5.
On the Chrome Web Store, it has only scored an average of 3.9 stars.
So, I set out to find out what went wrong and figure out whether it's still worth downloading.
Hideman VPN Features
Hideman VPN has never been the most feature-packed product. But few of the functionalities it used to have reminded me of NordVPN to some extent. "Used to have" is the operative phrase. More on this later.
First things first, let me talk about Hideman VPN's basic qualities.
Cross-Platform Compatibility
This VPN has native solutions for:

Windows
macOS
iOS
Android
Moreover, you can download Hideman configuration files too. If you want to install it on other platforms and set up certain tunneling protocols, they can come in useful.
The manual configuration guides you have at your disposal are as follows:
OpenVPN

or

L2TP/IPSec

(Layer 2 Tunneling Protocol over Internet Protocol Security) for

Windows 8
OpenVPN via TunnelBlick

or

L2TP/IPSec

for

macOS
L2TP/IPSec

for

Windows Phone 8
OpenVPN via OpenVPN Connect

for

iOS
L2TP/IPSec PSK

for

Android
OpenVPN

for

GNU/Linux (Ubuntu)
Hideman VPN does not support routers. So, there's no way to protect your smart TV and/or gaming console's traffic with it.
Nevertheless, this VPN is quite versatile. It is, however, notoriously outdated. Its desktop and mobile clients as well as its browser extension haven't seen an update in years.
In fact, the company released the latest versions of its Chrome, macOS, iOS, and Android APK products in 2016. Even worse, the Windows app hasn't had an enhancement since 2015.
Having said that, Hideman Free, an Android app on Google Play, was slightly different.
It's relatively new, for its latest iteration hit the market in 2018. It uses the same logo as the other Hideman products, but in green instead of blue.
Interestingly, Hideman Free's listed developer is Zurich-based ETsoft.
The dealings of this VPN's still-active owner with other organizations were unclear. But I did some digging to unearth the possible connection between Hideman Ltd and ETsoft.
Apparently, "ETsoft" was quite a common company name. I found two entities that go by it. One was a computer software firm headquartered in Hulst, Netherlands. And the other was a software development consultancy in the UK.
Unlimited Bandwidth
Hideman VPN has no data cap. Even its free version has no counter that would constantly remind you of your bandwidth usage.
Unfortunately, the same can't be said about the Hideman VPN app for Windows. There, Hideman VPN's free mode is limited to six hours. It'll begin at the time of your initial connection, but won't even if you disconnect or shut down your PC.
This six-hour free access limit may refresh weekly.
Unlimited Speed
This VPN imposes no speed restriction only if you're a paying subscriber. To minimize the load on its servers, the company might drive down your connection speed to 512kbit/s.
Four Simultaneous Connections
You can use one premium Hideman VPN license on up to four devices at the same time. I've reviewed dozens of VPNs, and I can attest that this limit is on the lower side. Even the Windows-only VuzeVPN offers more.
Connection Control
Not a single Hideman VPN app has a kill switch. But PC users can use Connection Control to safeguard traffic when this VPN service fails.
When enabled, you can apply this feature to:

Ethernet
Local Area Connection 1
Local Area Connection 2
Ethernet 2
Wi-Fi
Bluetooth

Private DNS
If you turn on Hideman VPN, you'll be able to use its own DNS servers.
Private nameservers can help hide your DNS requests from your ISP (internet service providers). In layman's terms, they can stop your online activity from getting leaked to third parties.
Autoconnect/Autorun
This VPN can launch when your PC powers up and establish a secure tunnel on startup. They can help ensure that Hideman VPN can protect 100% of your bandwidth.
Hideman VPN Advanced Features
Here are the things this VPN vendor can do that many others can't.
Malware Protection
The Hideman free VPN apps I tested use a DNS filter to block dubious sites and protect you from malware.
You can turn it off on Windows and Android. DNS filtering, however, can significantly reduce your chances of falling victim to ransomware attackers and identity thieves.
Anti-DPI
DPI (Deep Packet Inspection) is a technology used for busting VPN-encrypted data. Some of the countries with extreme VPN restrictions already implement it.
But if you switch to Anti-DPI mode, the app can trick government censors and ultimately circumvent state-controlled firewalls.
Port Forwarding
With this option, you can open up ports for external access to your PC or Android phone, or tablet. Intended for power users, port forwarding is particularly useful for torrenting and gaming.
Most VPNs don't support this capability, for cybersecurity vulnerabilities may arise when used incorrectly. PIA is one of the few.
Tor and I2P Support
With no extra configuration, Hideman VPN can help you access resources through Tor (The Onion Router) and I2P (Invisible Internet Project). Either anonymous network can effectively increase your internet privacy and bypass geo-restrictions.
Network Status
On its site, the company has a dedicated page showing the availability of servers in different locations. It can give you more insight into the load its network experiences in real-time. As a result, you can easily see and choose the fastest free servers.
Perfect Privacy, CyberGhost, and RUSVPN are some of the other notable VPN service providers that provide comparative information.
Using Hideman VPN's network status updates, I was able to confirm that its location list had been shorter than before.
Hideman VPN Servers and Locations
The app used to offer IP (internet protocol) addresses from 22 locations. Also, its number of servers was just as many.
Now, there were only three: Germany, Finland, and Russia.
Getting to choose from such a few options was already bad. But the server in Moscow was out of service the whole time I was doing this Hideman VPN review.
And there's more.
The company's Helsinki server underwent maintenance in the middle of my testing.
In the end, I was left with the hardware housed in Berlin.
To be fair, Hideman Ltd. does let site visitors submit a request for a country they want to connect to. This task requires account registration, however, which is not feasible at this point.
Hideman VPN Speed
Before the Helsinki server went the way of its Moscow counterpart, I was able to determine how fast it was.
As usual, I used Speedtest by Ookla to measure the speed loss of the free version.
The results are as follows:
Base Speed
Berlin Speed (download speed: -88.21%, upload speed: -84.62%, ping: 1,034.61%)
Helsinki Speed (download speed: -98.91%, upload speed: -73.08%, ping: 1,084.61%)
Hideman VPN Privacy and Jurisdiction
In terms of jurisdiction, Hideman VPN is deep into the territory of the Fourteen Eyes alliance. It's a vast network of Western democracies accused of intelligence sharing.
The company operates in the UK. And it physically hosts its servers in the countries available on its apps, one of which is Germany.
These 2 (along with 12 others) have been exposed for invading people's privacy by monitoring their citizens' online activity. Plus, both countries are members of the Fourteen Eyes alliance.
Say the British or the German government requires it to share its database. Will your privacy be in danger?
Probably.
Hideman Ltd. applies its zero-logs policy to its paying subscribers only.
If you want to use a Hideman VPN app at no cost, you won't just have to put up with in-app ads. You must also permit the company to collect data about your activity history.
Here are the types of data Hideman VPN saves in a dedicated, offshore server:
Account used
Destination IP address
Time of initial transfer of data
Volume of data transferred
Make no mistake, Hideman VPN only collects personally identifiable information from registered users. Account registration isn't a requirement to use this service.
Moreover, the company may share its connection logs with law enforcers to help investigate certain crimes. For example, child pornography distribution.
Hideman VPN Security and Protocols
All Hideman free VPN clients use 256-bit AES encryption. It's the industry standard, for it's resistant to brute force.
When it comes to tunneling protocols, it supports:
OpenVPN
PPTP

(

Point-to-Point Tunneling Protocol

)

L2TP

(Layer 2 Tunneling Protocol)
The apps I tested provide no option to use PPTP and L2TP. But I presume that they use OpenVPN in TCP (Transmission Control Protocol) mode by default. And you can switch to UDP (User Datagram Protocol) mode to increase speed in exchange for fewer data verifications.
Hideman VPN Leak Test Results
Are the Hideman free VPN apps really good at hiding online activity?
To find out, I used Ipleak.net by AirVPN. On my PC, I checked whether the Helsinki server could mask my IP and obscure my DNS queries.
Here's my original IP and DNS addresses:
Here are the test results:
Despite its claim of using its own DNS servers, it clearly leaked my requests to my ISP's hardware.
How about on Android?
Well, I was pleased to know that Hideman Free was able to make up for the Windows app's slip.
The above positive results indicated that only the Windows client was leaky.
To determine Hideman VPN's WebRTC IP leak protection capability, I ran a test on ExpressVPN's own checker.
Here's how the Windows app did:
I found no leakage, which indicated that this VPN does IP masking properly on PC.
Hideman VPN and Streaming Services
Hideman VPN still claims that it can unblock major streaming services in the United States, the UK, and Canada. But at the time of writing this Hideman VPN review, it would be an impossible proposition.
The Germany and Finland IP addresses were the only accessible ones. So, I could watch those countries' Netflix content libraries.
Here are the screenshots:
If you want to stream Spotify on Kodi, think twice before you download Hideman VPN. But it's usable if you just need to access Netflix and other regional streaming subscriptions like Zattoo while you're overseas.
How Good Is Hideman VPN for Torrenting?
As confirmed by older Hideman VPN reviews, the company supports P2P (peer-to-peer) file sharing. And it's gracious enough to list the countries that don't permit torrenting.
The Berlin server (the last one standing), however, is in a country that disallows P2P clients. Nevertheless, I was able to verify that it could hide my IP on BitTorrent when Helsinki was still accessible.
Here, have a look:
Can Hideman VPN Bypass Geoblocks?
After running several tests, I saw no reason to doubt this vendor's ability to spoof my physical location.
And it didn't let me down when I pretended to be in Germany to unlock Zattoo's account registration page.
Here's the evidence.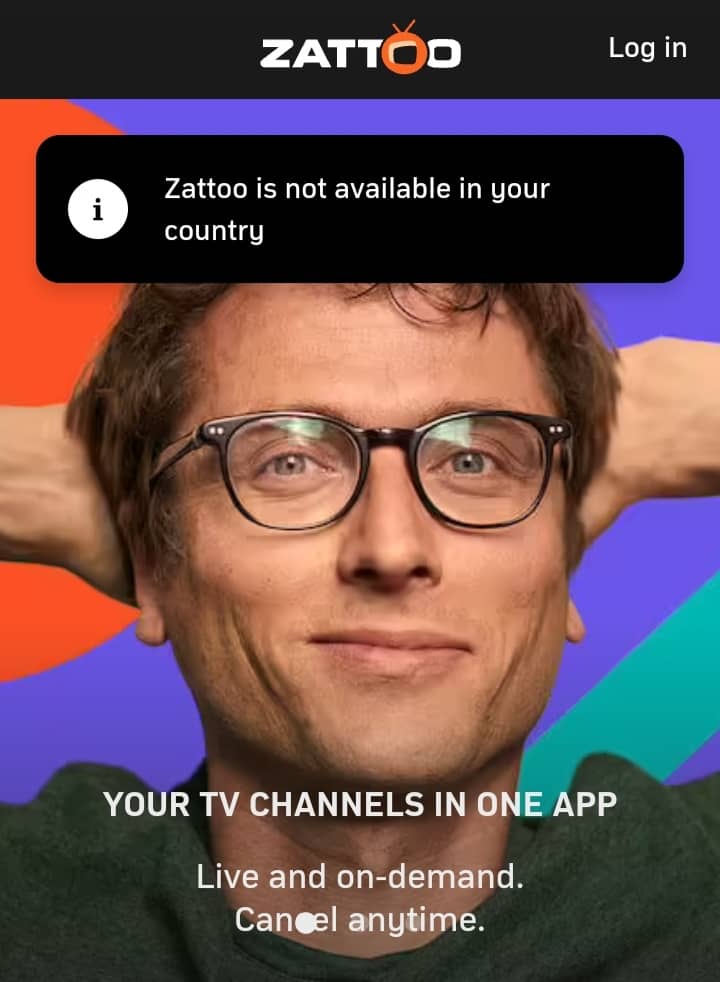 Ease of Use
If you download Hideman clients, expect bugs. They've had no development support for years, so don't be surprised if they're sluggish or nonresponsive.
When Hideman VPN for Windows, Android, and Chrome are working, they're easy to use. You'd need some technical knowledge to push the boundaries of what they could do. But most of the settings were not complicated.
In terms of setup, I had mixed feelings.
On one hand, its installation was simple and required no email registration. The company automatically generated unique usernames when I downloaded the tool on Windows and Android.
On the other hand, I was forced to reinstall both apps a couple of times. Then again, many Hideman VPN user reviews mention this issue, so I was prepared.
Visually, the Windows client was more crowded than the Android one. It was small in size and displayed more data like the remaining free access time.
Hideman Free was the exact opposite. Its user interface barely showed any information, not even the VPN server's IP address.
Customer Support
Hideman VPN has decent FAQ sections. But it was the only good thing. Its other support options were useless.
In theory, you could get in touch with the company's tech support agents in various ways. In reality, you may not get a response.
The closest thing I got to a reply was automated correspondence. So, at least Hideman Ltd. still uses an email autoresponder.
I received no standard email confirmation message, however, when I created an account. Because of this, I couldn't log into the Hideman VPN's site. But at the same time, I was able to successfully register my masked email address from Blur.
The situation was weird and also understandable. It all made complete sense to me when I learned that Hideman Ltd. pulled the plug on its premium subscription service.
Hideman VPN Price
Hideman VPN's site was live, and its native apps were downloadable. But it has been down in the past.
If you try to make an in-app purchase, you'll get an alert that Hidepay.net is unsafe.
The form on the company's checkout page isn't secure either.
These red flags tell you that Hideman Ltd. doesn't want to sell VPN subscriptions anymore. Strangely, it hasn't ceased to advertise some plans with a five-day money-back guarantee.
Here are the subscriptions it allegedly offers:

Mobile
1 month:

$2.90

1 year:

$2.07/month
Ultimate
1 month:

$9

2 months:

$7.50/month

1 year:

$5.75/month

Despite offering lots of payment methods, there's no encouraging way to buy this VPN service's premium version these days.
But you can still download Hideman VPN products. The Android client was the only one worth using, though.
It's totally free, but it has ads. That's why its safety is questionable, to say the least. Other free services like Urban VPN may pose greater concerns. But they don't necessarily make Hideman for Android more trustworthy.
Verdict
Most of my complaints about this VPN service stemmed from the fact that its owner simply gave up on it.
Hideman Ltd.'s apps were clunky due to years of lack of maintenance. There's no support, for it probably no longer has reps on staff. The leakage proved that the company doesn't have sufficient infrastructure to honor its private DNS claim.
The only thing I liked was the Android app.
Sadly, its malware protection and anti-DPI features were virtually useless with its minuscule server network.
Only users who need access to geo-restricted German content will see value in its unlimited speed and bandwidth.
All I can say after the tests for this Hideman VPN review is - try it at your own risk.
Romj Amon
Romj is a veteran copywriter who used to be a Jack of all trades. Now, he's trying to be a master of one: technology. He jumps down the rabbit hole to size the latest innovations up. As a content contributor for TechJury, he hopes to help you keep up in our fast-paced world with his discoveries.
Leave your comment
Your email address will not be published.
You may also be interested in
.