iTop VPN Review
Strengths
Free versions
Fast speed
Extra internet privacy and security features
Streaming, gaming, social, and torrenting servers
Weaknesses
Small network
No chat support
Limited compatibility
Contradictory privacy claims
iTop VPN: What Is It?
Developed by the Hong Kong–based Orange View Limited, iTop VPN is a relatively new virtual private network service. It entered the scene in 2016, but it can already rival the industry's best for gaming, streaming, and torrenting.
iTop VPN is totally unrelated to iTOP, which is a French configuration management database software brand.
In 2022, more than 20 million people are using it. On Google Play alone, iTop's Android client recorded no less than five million installs within nine months after its rollout.
According to nearly 55,000 reviews by Android users, this VPN is rated 4.3 out of 5 stars.
Based on 147 testimonials, the average iTop VPN rating on the App Store is 4.7 stars.
On Trustpilot, 83% of the 155 iTop VPN reviews have declared it "excellent."
How has this service earned such overwhelming positive feedback from tens of thousands of users?
For this iTop VPN review, I tested its Windows and Android clients to discover the secret of this market darling.
iTop VPN Features
Here's what makes up iTop's primary feature set.
Desktop and Mobile Apps
This VPN works on Windows, Android, and iOS only. Its operating system requirements are as follows:

Windows 7

or later

Android 5.0

or later

iOS 12.0

or later



macOS
On the downside, there aren't any iTop VPN extensions available. This service isn't compatible with routers either.
If you want VPN protection for your smart TV, digital media player, and/or gaming console, look elsewhere.
iTop has no native apps for said pieces of technology. It generates no configuration files for manual third-party app setups either.
Unlimited Bandwidth
As a premium account holder, you'll be able to use this service with no data usage restriction.
But if you go with the free iTop VPN download for PC, prepare to deal with a 700MB data limit per day. The Windows client displays a meter when disconnected so that you can track your remaining daily bandwidth allowance.
Many vendors impose data caps on non-paying users. Windscribe, Avira Phantom VPN, and Urban VPN, and Speedify, are some of them. But iTop VPN is among the most generous.
Unlimited Speed
Premium subscribers can enjoy connection speeds that can be 10 times as fast as those given to free account holders.
Like ZenMate and Hideman VPN, iTop VPN throttles the bandwidth of non-paying users to avoid network congestion.
Five Simultaneous Connections
An iTop VPN premium account entitles you to five logins at the same time.
Due to this VPN's compatibility limitations, there's no workaround to increase the utility of its VIP (premium) license. You would've been able to protect more devices if this VPN supported at least the most popular routers.
Even worse, this vendor hasn't copied KeepSolid's strategy of selling extra slots à la carte. For the time being, you have to buy another subscription to get around this five-device limit.
Smart Location
Available in iTop VPN Windows and Android apps, it instantly connects you to the fastest and most stable server.
This feature is useful only if iTop's choice of virtual IP (internet protocol) address to mask your location doesn't matter.
In all likelihood, iTop VPN will likely reroute your traffic data to one nearest to you for minimal speed loss.
Speed Bar
Each server option comes with this icon, illustrating one's performance at the time of connection. It's color-coded, so you should be able to tell speedy and sluggish servers apart at a glance.
Kill Switch
The arsenal of the Windows app includes a kill switch.
In a nutshell, this feature cuts your PC's internet connection whenever the iTop VPN service drops.
If your device stays offline until your VPN comes back, you won't accidentally leak your location and online activity.
Split Tunneling
This iTop VPN Android feature lets you specify which mobile apps to protect and which ones to leave alone.
Considering the dangers of leaving your traffic data exposed, activate split tunneling only when connected to a safe network. Otherwise, make no exceptions and let iTop VPN encrypt 100% of your device's bandwidth.
Technically, this functionality comes with the ad-supported Android version.
But the iTop VPN trial for split tunneling is only 24-hour long.
Auto-Launch/Auto-Connect
If you wish, you can set this VPN to run as your PC comes on. Likewise, you can make it automatically connect in order to safeguard your online activity right off the bat.
Battery Optimization
On Android, you can whitelist this app from your Battery Optimization settings. This way, it can run in the background. The vendor recommends this to deliver stable, fast speed.
iTop VPN Advanced Features
The tool's extraordinary functionalities can put the VPNs backed by antivirus brands (like Secureline and AVG VPN) to shame.
iTop VPN Mini
When activated, this widget enables you to secure your traffic without launching the iTop VPN's Windows app. It's inconspicuous, so it wouldn't jump off the screen to where you place it.
Browser Privacy
With the iTop VPN premium account, the Windows app can function like CCleaner. Other than web trackers, you can also delete the following:

internet cache
browsing history
download history
cookies
saved form information
saved passwords
session
compact databases

You can use it on major browsers like:

Firefox
Edge
Internet Explorer
Opera

You don't have to delete your entire browsing history. If you want, you can spare the sites you visited the past month.
Moreover, you can set it to automatically erase data after your browser closes or at a scheduled time.
Security Reinforce
iTop VPN for Windows can increase your PC's defense against hacking and protect your identity from thieves. It can spot vulnerabilities, recommend solutions to address them, and implement fixes immediately.
Ads Block
When enabled, this VIP feature can neutralize malicious ads to help insulate your PC from ransomware and other malware types.
To specify which sites can display ads, you can configure the blocker.
DNS Protection
When activated, it renders your DNS (Domain Name Server) settings immune to modification due to PC malware infection.
iTop VPN gives you the option to keep your current DNS settings or to use trusted DNS providers. Google, Verizon, OpenDNS, Comodo are some of its recommendations.
If you want to use specific DNS addresses, you can manually set your preferred and alternate ones too.
IP Checker
As do RUSVPN and AzireVPN, iTop VPN has a web-based IP address checker. Thanks to it, you can verify how effective a VPN service is.
This free tool can come in useful when testing any tool's IP masking capabilities.
iTop VPN Servers and Locations
iTop VPN has a fleet of more than rented 1,800 servers.
Currently, its network size doesn't compare to those of 99% of the top VPNs for Windows, macOS, Android, and Kodi. But it's much larger than the global footprint of Perfect Privacy.
Further, this VPN service provider claims to offer over 100 locations. I can't attest to this, though. I counted just 24 country options across all available servers in the Windows and Android apps.
In fact, the US was the only country option offering IP addresses from multiple cities.
iTop VPN's network of gaming and streaming servers is strategically spread out in various jurisdictions. But its dedicated social servers are generally in the States.
The good thing about this vendor is that it doesn't deprive its free account holders. Its Windows and Android apps don't have an even server selection. Nevertheless, either provide adequate choice.
You'll see the list of iTop VPN servers for streaming later. But here's the breakdown of free and VIP servers for gaming and social media:
Free and VIP Gaming Servers

BGMI

Free IN server for Android

VIP IN server for Android

COD Warzone

VIP FR, IN, and SG servers for Windows

Free Fire

BR at no cost, SG, and US servers for Android

Free Fire Max

VN and MY servers for Android at no cost




LOL: Wild Rift

Free BR, JP, SG, and US servers for Android

Mobile Legends

Free BR, IS, US, and SG servers for Android

VIP SG server for Android

PUBG

VIP CA, SG, and US servers for Windows

PUBG Lite

Free SG server for Android

PUBG Mobile

Free CA, EG, KR, SG, US, and TR servers for Android

PUBG New State

Free SG server for Android

Roblox

Free DE, JP, and SG servers for Android

VIP DE, JP, and SG servers for Windows
VIP Social Servers

Binance

(UK server)

Skype

Telegram

VK (Russia server)

WhatsApp



iTop VPN Speed
I've written dozens of VPN reviews here on TechJury. And I must say that the iTop VPN's performance on Android was the fastest I've witnessed, bar none.
The worst download speed loss that I experienced with it was less than a quarter of my unprotected bandwidth.
In one instance, my iTop VPN speed exceeded my normal connection. My upload speed consistently improved too.
Check out the results of the performance tests of iTop VPN's regular servers I ran on Speedtest by Ookla below.
Base Speed
Chicago Speed (download speed: -22.64%, upload speed: 15.71%, ping: 711.54%)
London Speed (download speed: 5.66%, upload speed: 15.71%, ping: 838.46%)
Sydney Speed (download speed: -1.89%, upload speed: 17.14%, ping: 461.54%)
iTop VPN Privacy and Jurisdiction
The developer of iTop VPN iOS, Windows, and Android apps is headquartered in Hong Kong.
This autonomous Chinese territory is (geographically and politically) oceans away from the nearest member of the Fourteen Eyes Alliance.
The Fourteen Eyes Alliance is a coalition of Western democracies that have been caught practicing mass surveillance and intelligence sharing. In short, they snoop into the private business of their citizens and compare notes with one another.
What's more, four other states, namely Japan, South Korea, Singapore, and Israel, cooperate with Fourteen Eyes countries to some degree.
Choosing a VPN vendor whose HQ is outside this alliance's jurisdiction matters in order to preserve your internet privacy.
Having said that, I wouldn't dare say that Hong Kong is the safest place for VPN service providers. It might have been the beacon of capitalism in Asia, but it's still under the control of the Chinese Communist Party.
As time goes by, Hong Kong is becoming more of modern-day China and less of its old self.
Because of the infamous Hong Kong National Security Law, many VPN vendors have shut down their hardware in the territory. IPVanish, PIA, and TunnelBear were some of the prominent ones that left.
iTop VPN: Is It Safe?
The eroding internet privacy in Hong Kong begs the question: iTop VPN, is it safe?
Maybe.
Currently, this vendor's privacy policy says that it records no activity data. Aside from browsing history, bandwidth usage, and session duration, the company doesn't store IP addresses either.
The same document discloses that iTop VPN does collect non-personal data, however, including IP addresses.
Not only does it somewhat contradict the "no data logging" claim above. It also makes it sound as though an IP isn't an online identifier.
But even the European Union acknowledges that an IP address may personally identify and profile an individual.
If you'd think about it, obscuring your IP is precisely why you'd want to use a VPN, to begin with. Doing so can spoof your location online and ultimately hide your real identity.
Moreover, every iTop VPN app offers nothing but virtual server locations, similar to what NordVPN does. This means this vendor provides access to IP addresses from different countries without having to physically keep servers there.
The ethics are debatable. But knowing that iTop VPN does it helped allay my apprehensions. Its infrastructure lets it offer IPs from Vietnam, Egypt, Turkey, and Russia without dealing with their restrictive governments.
iTop VPN Security and Protocols
This vendor offers three protocols: TCP, UDP, and HTTPS. The first two are available on desktop and on mobile, but the third is absent on iTop VPN Android.
Contrary to what many users presume, the company's TCP and UDP protocols are not OpenVPN. Its support team confirmed it.
TCP offers high-level privacy while UDP offers faster connection speed. HTTPS can circumvent more restrictions, especially those imposed by school networks. Plus, HTTPS can deliver double encryption.
Unlike all of the VPN services I've encountered, iTop VPN doesn't use AES-256. Rather, it supports Salsa20 (ChaCha20).
iTop VPN Leak Test Results
Using Ipleak.net by AirVPN, I tested iTop's credibility when it comes to IP and DNS leak protection.
Here's my geographical location:
And here's what I saw after connecting to one of this VPN's Los Angeles servers: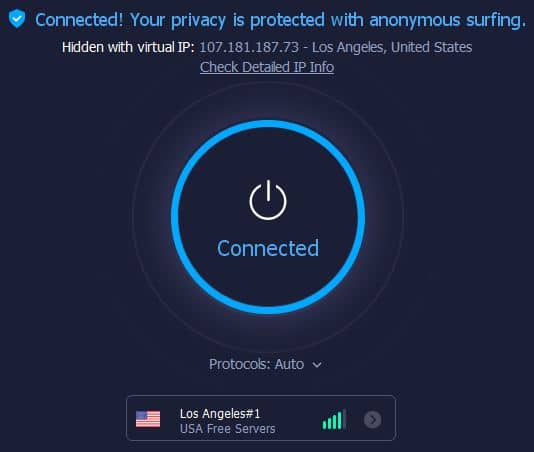 The result shows that you could rely on its IP masking capability. Even its own IP checker would agree.
How about WebRTC IP leakage? Is iTop VPN good at neutralizing this potential internet privacy and cybersecurity vulnerability on a browser?
I switched to its London server before testing this VPN for any trace of IP leak using ExpressVPN's tool.
The above screenshot proves this VPN service can stop Chrome from broadcasting your location when surfing the Web.
iTop VPN and Streaming Services
With iTop VPN, a huge array of optimized servers for streaming are at your disposal. CyberGhost offers more variety, but this vendor is up there.
Have a look at its free and VIP streaming servers below.
Free Streaming Servers

2021 Formula One

(Windows and Android)

Formula One on RTS

Switzerland server

NFL Game Pass

(Windows and Android)

The Good Doctor

(Windows and Android)

HBO Max

(Android)

Hulu

(Android)

Paramount+

(Android)

Peacock

(Android)



VIP Streaming Servers

19 adult streaming sites AU, FR, UK, and US

(Windows and Android)

Amazon Prime Video UK and US

(Windows and Android)

BBC iPlayer

(Windows and Android)

Crunchyroll

(Windows and Android)

Disney+ LA and NY

(Windows and Android)

HBO Max

(Windows)

Hotstar

(Android)

Hulu

(Windows)

Netflix US and KR

(Windows and Android)

Paramount+

(Windows)

Peacock

(Windows)



How credible are the iTop VPN Netflix unblocking capabilities?
To find out, I tested both iTop VPN Netflix server options designed for accessing exclusive shows in the US and South Korea.
Success!
Here's the evidence:
Furthermore, you'd be delighted to hear that you don't need optimized hardware to binge on regional content. In my experience, this VPN's regular London server did the trick.
How Good Is iTop VPN for Torrenting?
In older iTop VPN reviews, much has been said about this service's lack of torrenting support. Nowadays, however, it has optimized hardware for P2P (peer-to-peer) traffic.
This Windows-only specialty server is tied to an Amsterdam IP. Choosing the Netherlands makes sense since it has been tolerant of file sharing.
I tried this P2P-friendly hardware, and it was able to hide my original IP on BitTorrent.
Here's the proof:
For the record, I was able to mask my IP address with a regular Sydney iTop VPN server on BitTorrent.
But I recommend that you stick to the P2P-optimized one. Using it is particularly important if you live in Germany, the UK, or the US.
Can iTop VPN Bypass Geoblocks?
To test iTop VPN's ability to bypass geo-restrictions, I tried a non-streaming US virtual server to unblock Crackle.
Was I able to access a streaming service blocked in my region without using a specialty server?
Yes.
Ease of Use
For the most part, this tool is stress-free to use.
Every iTop VPN app is easy to download and install. Each one's setup is simple. And since you can use this VPN's free license as a guest, signup isn't a requirement.
The interfaces of its Windows and Android clients don't share the same design due to differences in dimensions and features. But either is well thought out.
iTop VPN supports multiple languages. You can choose from 20 options on Windows and 12 on Android.
If you're a PC user, you can use iTop VPN with no ads without buying a subscription. On Android, annoying pop-up advertisements are left and right.
Whatever account you use, expect all functionalities to be visible and properly labeled. The hamburger icon at the corner hides Sign In, Settings, Feedback, and other options to keep the main screen neat.
Using the standard one-click connect button, you can secure your traffic right out of the gate. If you want to pick a specific server, navigating different server categories is fairly easy to do.
On PC, Quick Access organizes server options by use or activity. The slew of extra features of iTop VPN for Windows is tucked away in Privacy & Security.
On mobile, the Android app conveniently displays all server categories on the main screen so they're quickly accessible.
I did have some connection issues.
At times, I noticed that a server option would disappear (and appear).
But overall, iTop VPN gave me no headaches.
Customer Support
If you want a VPN service with 24/7 chat support, you'll be disappointed with this one.
To speak to a representative, the best way is to send a message via the in-app feedback tool. Either the iTop VPN Windows or the Android app has it.
Submitting a ticket through the site also works, but you may have to wait 24 to 48 hours. Using the feedback tool may elicit a faster response. Once you get a reply, you can just email the iTop VPN support team directly.
I contacted them a couple of times through the app. And I got an answer within 24 hours on average. The company's reps gave no-nonsense answers every single time.
In one instance, two agents replied to one of my questions separately, which was counterproductive. But at least the answer was consistent.
In terms of self-service options, the company doesn't have the traditional knowledge base yet. But it does maintain a blog with a decent amount of articles.
When it comes to FAQ, it has an entire on-site page for that. But you'll find shorter versions of it on other pages too.
On social media, you can drop this vendor a message on Facebook and Twitter.
iTop VPN Price
This VPN is available free and VIP versions.
The iTop VPN free app for Windows is ad-free. Its Android counterpart is ad-supported but comes with an iTop VPN free trial for three days.
Facilitated by Google Play, the iTop VPN trial for Android gives you access to the software's full functionality. But the caveat is that it requires payment information upfront.
If you choose to proceed, you will get billed only if you don't cancel the subscription before the free period is up.
Other than the iTop VPN free trial, you may enjoy some bonus VIP time on Android out of the blue.
So, what's the difference between free and VIP accounts?
Here's the lowdown on their features:
As you can see, the cost will go down if you go with a longer subscription. But if you have an iTop VPN discount code on hand, you may enjoy more savings.
When you're ready to buy, you can make a purchase using your credit or debit card or PayPal. This vendor accepts bank transfers too.
Upon checkout, the company's payment partner will automatically convert the price from the US dollar into your local currency. But you're free to change it and choose from 28 fiat currencies.
iTop VPN Refund Policy
If you change your mind, you can apply for a full refund. The company offers a 7-day money-back guarantee for the monthly subscription and a 15-day one for the other plans.
If you no longer need the product after the money-back guarantee period, you may get a partial refund. You can enjoy this privilege if you buy a 6-month or a 1-year subscription.
To calculate the refundable amount, the company converts a plan's discounted price into the regular monthly iTop VPN cost. Then, it returns the unused portion of the subscription.
If a technical problem compelled you to request a partial refund, the subscription conversion will no longer apply.
Verdict
iTop VPN is a well-rounded VPN service. But for my money, it's most useful for gaming.
This vendor has everything that would entice Android gamers - from free access to lots of game-optimized servers to unnoticeable speed loss.
Its bonus privacy and security features are thoughtful additions to the Windows app too.
I won't gloss over its limited compatibility and relatively small network, though. It needs to work on these weaknesses. Its much-requested chat support should also be high on its agenda.
But despite the technical limitations and the questionable privacy practices, I mentioned in this iTop VPN review, its performance was impressive. And I bet that it can win you over too.
Romj Amon
Romj is a veteran copywriter who used to be a Jack of all trades. Now, he's trying to be a master of one: technology. He jumps down the rabbit hole to size the latest innovations up. As a content contributor for TechJury, he hopes to help you keep up in our fast-paced world with his discoveries.
Leave your comment
Your email address will not be published.
You may also be interested in
.