Speedify VPN Review
Best for: Best for downloading
Strengths
Static IP addresses
Built-in speed test tool
Dedicated VPN servers
Channel bonding technology
Weaknesses
High CPU usage
Limited free plan
Records some activity logs
Poor streaming capabilities
We all love a fast internet connection. But once you hook a VPN, you almost always experience drops. Speedify, however, is out to change this by using channel bonding.
You can boost performance by using up to ten connections simultaneously. Furthermore, you can control bandwidth usage across each for the best outcome.
That's just the tip of the iceberg.
In this Speedify VPN review, I will take an in-depth look at its:
Features

Performance

Security

Pricing

Customer support
So, what is Speedify?
What Is Speedify VPN?
Speedify is a virtual private network by Connectify. The company first introduced it as a channel bonding toolkit back in 2014. Two years later, it added VPN features.
Since then, it has developed to have a network of over 500 servers globally. That's to ensure customers enjoy faster and reliable internet connectivity.
Apart from that, it offers a wide range of tools for enhancing performance. These include optimizations for video calls, streaming, and torrenting.
Speedify plans cost cheaper than most providers on the market. Prices start at $4.99/month for the individual trier. While there's no trial, you get a monthly 2GB tier for free.
But that's not all.
Speedify VPN Features
Speedify offers the following features:
Kill Switch
Let's start with the kill switch. The safety feature shields your DNS from leaking when the VPN's connection drops. It blocks all outgoing traffic until it reconnects.
You can find this tool on the free and premium versions of Speedify VPN. All you need to do is turn it on before jumping online. You will have to search for it in the settings menu, though.
It does an excellent job of securing your device. It proactively monitors the internet to prevent your data from accidental exposure.
So, is Speedify safe?
Definitely.
Channel Bonding
This VPN offers channel bonding for accelerating internet speeds. You can take advantage of it to combine and use multiple connections. Examples include Wi-Fi, Ethernet, mobile tethering, cellular, etc.
So how does this Speedify feature work?
Simple!
It splits your traffic and delivers it via the available data channels. The outcome - faster and consistent speeds. Furthermore, it prevents IP exposure by maximizing service availability.
Multi-platform Support
Speedify VPN first came into the market with apps for Windows, macOS, iOS, and Android. And now, it provides support for Linux devices as well.
While that's good, it doesn't have extensions for web browsers. That's unfortunate, considering that its desktop applications are resource hungry. When active, it uses around 15% of the CPU and 150MB RAM.
That ranks among the highest of all VPNs that I have tested. But you don't have to worry if you're on a mobile device. It consumes around 1% battery for every two hours of usage.
Good news:
Speedify VPN has dedicated pages where you can download the apps. Each provides valuable information on what to expect. So, you can jump on board and start using the service with confidence.
Data Manager
There are frequent mentions of the data manager in Speedify user reviews. You can use it to track your bandwidth over time. For example, you can view the monthly usage patterns. Others on that list include daily, weekly, and all-time usage.
Such an option is a must-have if you're in a metered connection. You can set bandwidth caps to control your internet bills. Should you exceed usage, a warning pops.
The widget displays your average download and upload speeds. You can demand more if your ISP is giving you a raw deal. Best of all, the feature is also available on the free version of Speedify VPN.
Speed Test Tool
Of course, I had to try the speed test tool for Speedify review. You can use it to check for server performance. Unlike UFO VPN, you'll need to connect to any location before using it.
It doesn't, however, measure the network latency. The good thing is you can use third-party services such as Speedtest.net. I will revisit this later in this Speedify VPN review.
Speedify VPN Advanced Features
Now let's take things up a notch.
Third-party DNS Support
Speedify VPN has a free custom DNS service for enhancing your security. On auto mode, your traffic passes through the company's network. There are, however, other options for routing your connectivity.
First is the 9.9.9.9 by Quad9 that safeguards you from malicious online activities. These include malware, spam, spyware, phishing, and botnet attacks.
Next on the line is 1.1.1.1 by Cloudflare. It touts it as an ultrafast military-grade DNS service. It's worth noting that the company behind it has the world's fastest CDN.
There's also OpenDNS that provides the same benefits as Quad9. If you wish to block online ads, however, you better go with AdGuard. It ensures you have an uninterrupted experience when browsing the web.
Speedify VPN has an addon for integrating a custom DNS as well. You can get one for cheap from web hosting providers. Likewise, experts can create custom configurations for use on the VPN.
Transport Mode
Speedify offers four transport modes for connecting to its VPN servers. It's on auto by default to pick an ideal channel for you.
If your ISP is slow, you may have to use UDP. It's also ideal for managing low latency tasks like gaming. Either way, you can go for the TCP variants if your internet is fast.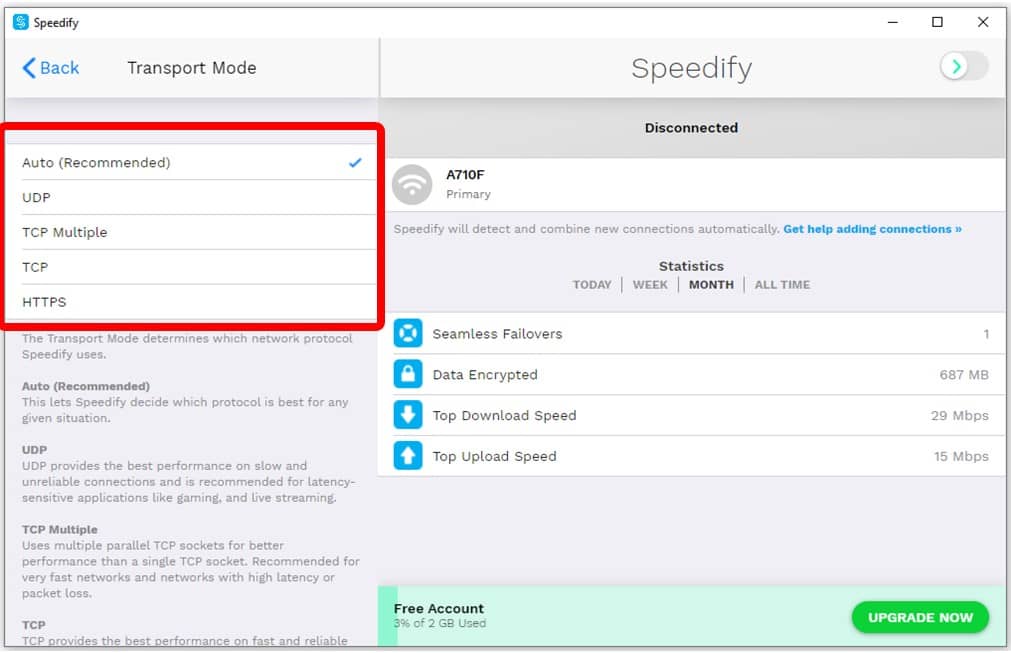 But that's not all.
The application has HTTPS for encrypting your data. That, however, slows down your browsing experience. But it's hardly noticeable unless you're doing heavy downloads.
Bonding Mode
Bonding mode is another great feature of the Speedify app. You can use it to optimize your VPN's speeds when online. Think streaming for video calls, live streams, and watching movies.
Speed utilizes all the available connections for faster downloads. Alternatively, use redundant for better reliability and low battery usage on portable devices. It's for these reasons that users praise this feature in their Speedify VPN reviews.
Speedify VPN Servers and Locations
Speedify VPN has a network of over 500 servers globally. These are available in 35+ countries across the Americas, Europe, Asia, Africa, and Oceania.
The United States has the widest coverage with around 14 data centers. Meanwhile, Australia, India, Italy, Germany, Belgium, Canada, and Austria have two each.
Once you select a location, Speedify VPN will save it on your server list. This gives you quick access to regions that you frequently use. You can also leave it on recommended for auto-selection of the fastest channel available.
How about performance?
Speedify VPN Speed
Of course, I tested the speeds myself for this Speedify VPN review.
The image below shows my base result.
Here's how it performs when I connect the VPN to the USA.
Then I switched to Germany in Europe.
And who doesn't love Australia?
I'm sure you won't forgive me if I exclude channel bonding from this Speedify review. Here's how things change when you use two or more internet connections:
Let's start with the USA once more.
Next are the results for Germany.
And again, Australia!
Now.
The summary of these Speedify VPN server tests.
You should expect speeds to drop by 50%. That happens because servers are not the same. While that's okay, I'm not so sure about the channel bonding's capabilities.
Only the US saw a bump in downloads and uploads. Germany, however, seems to work better when this feature is deactivated. As for Australia, the outcome is...well, meh.
Speedify VPN Privacy and Jurisdiction
Connectify, the company behind Speedify VPN, is based in the United States. The country is part of the greater Five Eyes alliance that also includes:
New Zealand

Australia

United Kingdom

Canada
The above countries are known for spying and sharing intelligence information about their citizens.
Here's the scary part:
Speedify VPN claims it has a zero-log policy to safeguard. That means it doesn't collect any information that can expose you.
Here's what I managed to find in the activity logs, however:
My user account

Original IP address

Operating system

The timestamps
It's for this reason that Speedify customer reviews list privacy as a major concern. The good news is there are other VPNs with better zero-log policies.
Speedify VPN Security and Protocols
Speedify VPN offers safe channel bonding. It uses the DTLS 1.2 framework with 256-bit encryption. Other services that use this protocol are Facebook and Gmail.
The vendor also employs ChaCha for older devices that lack AES acceleration. It provides total obfuscation of your data when using the service.
Speedify VPN Leak Test Results
This tool comes with a built-in IP and DNS leak protection. And I couldn't wait to cover both in this Speedify review.
Here's my location before the test.
There are no noticeable leaks when the VPN is active.
You, however, risk leaking your DNS when you set protection off. Check the outcome from the image below:
That means you better have IP/DNS protection active when using the VPN.
Speedify VPN and Streaming Services
So, is Speedify good for streaming?
The service doesn't offer dedicated servers for that purpose. You can use auto mode for the best experience, though. Sadly, I was only able to unblock Netflix.
Here's the list of platforms that you can't unlock with this VPN:
Amazon Prime Video

Hulu

HBO

Peacock

BBC iPlayer
There's a bypass tool for users in countries that can access the above services. You can use it to view your favorite movies uninterrupted.
Speedify VPN keeps your connection safe when visiting other websites.
How Good Is Speedify VPN for Torrenting?
You can use Speedify VPN to share torrent files.
But. Look at this:
This vendor only allows P2P sharing on select servers. You will have to use the torrent-friendly option to strike it lucky.
And yes, I did!
The speeds and ping are mind-blowing. In fact, the outcome also makes it a perfect choice for gaming.
Can Speedify VPN Bypass Geoblocks?
Speedify isn't great for Netflix and other platforms alike.
But it can bypass geoblocks to access informational websites. Streaming, as you've seen earlier, still remains a challenge.
Speedify VPN user reviews also mention that it can't break through China's Great Firewall. Again, my best advice is to go for other VPN alternatives on the market.
Ease of Use
Speedify for PC and mobile devices are almost similar. But you'll get to enjoy a wider screen of view on computers. This makes it easy for you to navigate around and access the hidden tools.
All the features are accessible from the main menu. On the downside, it requires a bit of learning to get around.
You can configure dark mode as you take time to familiarize yourself with the application.
Customer Support
You can contact the company via email round the clock. Even though live chat is better, the agents are swift to respond.
It takes around 160 minutes to get a reply. What I love about the company's staff is the friendly tone. When I contacted them for this Speedify review, they went out of their way to help me.
The knowledge base is also great. It has 200+ articles for troubleshooting common problems.
Speedify VPN Price
One of the questions surrounding this VPN provider is "Is Speedify free?
It is. To an extent.
But as mentioned earlier, it has a zero-cost 2GB monthly plan. That's 3GB less than what it used to offer back in the day. Still, it provides a great way to test the service without spending anything.
Unlike most vendors, this one gives you access to all servers. You can also try the automatic mode for the best experience. It auto-selects a random location that has the fastest speeds.
There's channel bonding for supercharging your internet. Unfortunately, the 2GB bandwidth limitation is a huge downside. But you can upgrade to any plan to use it without restrictions.
You don't need to register. That means you remain anonymous when using the VPN.
Speedify pricing plans cost as follows:
Free – $0
Individuals – From $4.99/month
Families – From $7.50/month
Teams – From $7.49/month
At the time of writing of this Speedify VPN review, the provider is offering discounts of up to 70%. The tiers, apart from Free and Individuals, support up to five simultaneous devices and unlimited usage.
The Team plans additionally have optional private servers. The prices start from $75/month. They have the following dedicated resources:
Unique IP address

1Gbit/s port speeds

3TB monthly bandwidth
You'll also get a 30-day money-back guarantee if you choose to upgrade.
Speedify VPN Review – Verdict
After all is said and done, is Speedify legit?
It is.
The VPN service has lots of features to protect your online activity. These include IP/DNS protection, kill switch, and 256-bit data encryption.
Test results show that it has fast servers across Europe. Its channel bonding also boosts speeds for regions within the United States.
But as you've read in this Speedify review, it has weak unblocking capabilities. The service also logs user activity, which makes its zero-log policy questionable.
Overall, it's a reliable VPN service for torrenting.
If you're still not sure, give the free plan a spin. That's the easiest way to see if this is the right tool for you.
Yes, Speedify VPN has a free plan. The company offers a free 2GB monthly tier, but that's all you're getting.
The rest of its pricing plans are as follows:
Individuals – From $4.99/month
Families – From $7.50/month
Teams – From $7.49/month
Does Speedify work with VPN?
Well, it's now a fully-featured VPN. It previously worked as a channel bonding tool for connecting multiple internet connections. But in 2016, its developer tossed in virtual private network capabilities.
Yes, it is. It mostly passed my tests. You can find more about it in this Speedify review above.
What is the use of Speedify VPN?
Speedify is a top-notch VPN. It has a network of 500+ servers. In addition, it supports the use of up to ten internet connections at once. This ensures that you enjoy a fast, secure, and reliable connection.
Daniel Wabuge
Daniel is a curious thinker that loves everything about tech. If he spots something interesting, rest assured that he'll reverse-engineer it. Apart from being an internet addict, he loves building web servers from scratch. Well, it's not his profession per se. But it's a passion he picked up after a series of unfortunate events involving terrible hosts. He's the "hosting guy".
Leave your comment
Your email address will not be published.
You may also be interested in
.