UFO VPN Review
Best for: Casual VPN users
Strengths
Free version
Global server availability
Dedicated streaming servers
No sign-up required
Weaknesses
Poor data encryption standards
Terrible customer support
Advertising on the free version
High latency servers
Over 30 percent of internet users worldwide use virtual private networks (VPNs). To most people, this technology helps protect their privacy online. And to others, it provides the only way of bypassing geo-restrictions and firewalls.
Hong Kong-based UFO VPN is one of the premium solutions on the market. While it's not feature-rich, it has handy tools for accelerating your online experience. This includes global server coverage, fast download speeds, and multi-user support.
The company has affordable pricing plans starting with the free tier. Even though it's ad-supported, you'll get to experience excellent performance with the UFO VPN free version. But it will cost you from $2.91/month to upgrade.
UFO VPN deems its security as bank-grade. Yet, in 2020, it publicly exposed data of over 20 million users. Despite the breach, the company still claims to have a strict zero-log policy.
Can this be true?
Let's find out!
UFO VPN Features
UFO VPN comes with the following features:
Free version
UFO VPN has a free plan that offers basic features. For a start, it doesn't provide you with the freedom of selecting regions. In its place is the smart location that auto-selects the servers.
It takes around three seconds to establish a connection. Switching territories is a bit cumbersome, though. You need to sign out from the service for at least 15 minutes before reconnecting.
But as the saying goes, everything comes with a price. The free UFO VPN version is ads-supported to sustain the service. This only affects customers using mobile phones. As for PC users, the vendor will nag you to upgrade.
The good news is you don't have to sign up to use it. But to enjoy premium features, you need to register an account.
Kill switch
Anything that's man-made fails to work at times. That's why this service has a proactive kill switch. It disconnects your device from the internet when the VPN connection drops.
UFO VPN doubles up as a firewall when this feature is active. In this mode, it blocks outgoing traffic when you experience network downtimes. This prevents your IP and DNS from exposure.
While this feature is worth appreciating, it lacks flexibility. For example, you can prioritize the apps to kill on Hola VPN. But you're better off with something that works than none at all.
Simultaneous users
The UFO VPN premium version supports up to five simultaneous devices per account. And like most of us do with Netflix, you can share. Be it friends, family, or colleagues – you're always in control.
In addition to that, the vendor has an app for all major platforms. These include Windows, macOS, iOS, and Android. Sadly, there's no UFO VPN extension for Google Chrome and Firefox.
Unlimited bandwidth
Unlimited bandwidth is a feature that frequently appears in UFO VPN customer reviews. You can take advantage of it to stream and download without limits. What's more, there are no restrictions to users sharing an account.
But you know what else?
You can enjoy the same benefit on the UFO VPN free version. Of course, you'll still have to deal with the ads. Still, it's the only way to use the service without paying a cent.
Multiple languages
UFO VPN for PC only supports English. But the smartphone application offers Portuguese, Spanish, Chinese, and others.
Also, if you're keen to use UFO VPN in your native language and it's not on the list, you can volunteer to translate the application. All you have to do is submit your request and wait for the company's response.
UFO VPN Advanced Features
UFO VPN for Mac, Windows, and mobile also supports the following advanced features.
Smart routing
UFO VPN uses smart routing to establish server connections. The technology helps to discover routes across the network with less congestion. Some of the characteristics it monitors include:
Ping

Real-time traffic data

Service availability

Nearby servers
The feature is handy for connecting you to low latency regions. This ensures that you experience fast services with minimal interruptions.
Smart location
Smart location is another option that you'll love to use. It allows you to connect to the fastest server that's nearby. Such an option is especially useful for downloads and streaming services.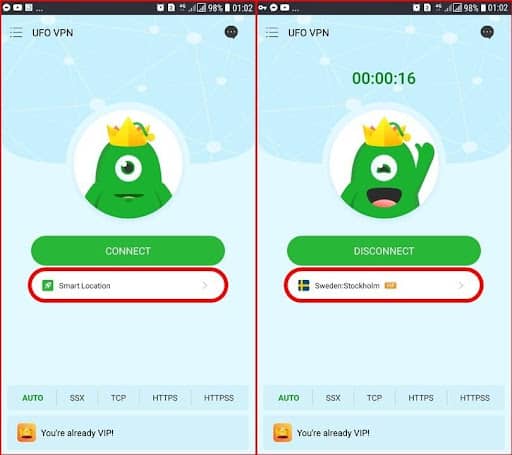 Currently, it's not possible to choose a region yourself. For example, it would be great to select a continent as a whole. The service should then hook you to the perfect route within that zone. Hopefully, UFO VPN is working on a safe way of integrating this option.
Built-in speed test
I came across the built-in speed test while preparing this UFO VPN review. What I found is that it performs a quick scan to discover regions with low latency servers. Once complete, it highlights results using green and orange. This is an indicator of faster or slower locations.
The results showed that most countries in Europe and Asia have better latency. But I was unimpressed with the snail speeds for US regions. You will also find the same outcome with the streaming servers.
On the downside, the feature doesn't check for internet speeds. That means you will need to connect to the server first before testing. But more about this later.
UFO VPN Servers and Locations
UFO VPN has over 2000 servers spread across 50 countries. It also includes a pool of over 200 IP addresses for maximizing privacy.
Europe has the widest coverage in terms of regions. Next is the US, with almost 25% of its states appearing on the server list.
But that's not all.
South Africa and Egypt are the only African nations available. Although it's a drop in the ocean, most VPNs offer none.
Other surprises include Iraq, Iran, and Pakistan. These are locations that have some of the toughest internet censorship regulations. Going by UFO user reviews, its availability in these territories is a blessing.
UFO VPN Speed
I couldn't wait to test the speeds when preparing this UFO VPN review. My base averaged around 12 Mbps down and 4 Mbps up.
With the VPN, the download speeds slightly drop by about 30%. The upload is the biggest gainer with a 40% increase. Before I forget, the results below are for a server in the US.
I chose a random location in the UK for the second test. The results for download tanked by a huge 81%. The upload, however, remained intact.
This UFO speed test shows servers have different outcomes. Even though uploads are excellent, downloads may vary depending on the location. The farther you're, the longer it will take to access online content.
UFO VPN Privacy and Jurisdiction
UFO VPN is a subsidiary of Dreamfii HK, whose headquarters are in Hong Kong. The territory is part of China that's infamous for violating people's privacy.
Be warned:
Authorities can now take control of any company's servers within that country. It's for this reason that PIA and Tunnel Bear left Hong Kong's market.
Here's the scary part.
UFO VPN says it offers bank-grade security and privacy on its VPN service. In addition, its website shows it has a strict zero-log policy. But a data leak in mid-2020 found this to be untrue.
Security experts accused the company of exposing the details of over 20 million customers. The information included activity logs, user locations, real IPs, account names, and passwords.
At first, UFO VPN denied these allegations by claiming it doesn't collect any personal information. Days later, it shifted the blame to the sudden change of personnel due to Covid-19.
I have only scratched the surface.
The researchers also found UFO VPN sharing servers with other white-label vendors. As a result, Google kicked out its application from Play Store. Android users now have to download the UFO VPN app directly from the company's website.
UFO VPN Security and Protocols
UFO VPN uses a point-to-point tunneling protocol (PPTP) to safeguard your online activity. This technology that dates back to 1999 has security flaws, though.
For example, government spy agencies like the NSA can hack it. To make matters worse, most security researchers suggest it hardly encrypts data.
This vendor has other proprietary integrations such as SSX and HTTPS. It, however, doesn't provide much information about these protocols. Here's the breakdown of the VPN modes on UFO VPN:
Auto –

This option automatically selects the best choice for using the internet. It's ideal for casual browsing and unblocking websites.

SSX (Mode A) –

This mode provides faster speeds for downloading large files.

TCP (Smartphones) –

TCP optimizes your mobile connection for use on WhatsApp, Skype, WeChat, and others.

HTTPS (Mode C) –

You can directly add a domain to hide your identity when visiting it.

HTTPSS (Mode D) –

HTTPSS provides you with double the

encryption

of HTTPS.
UFO VPN Leak Test Results
We already know that this vendor casually handles the privacy of customers.
The question is, does its service leak your DNS?
It turns out UFO VPN is safe in that area. The outcome of the leak test reveals the service doesn't expose your ISP.
UFO VPN and Streaming Services
The speed test results in this UFO VPN review suggest it's great for streaming. But it takes some time to connect due to the high latency.
At present, UFO VPN only provides dedicated servers for Netflix and gaming. Other services you can access using this service include:
HBO

BBC iPlayer

YouTube Premium
Amazon Prime Video and Hulu, however, can detect it. Bypassing their firewall was impossible regardless of the server I tried. But alternatives like ExpressVPN, HMA, and Ivacy can help you unlock such platforms.
How Good Is UFO VPN for Torrenting?
UFO works superbly well when downloading torrents. Of course, the fast speeds give it an upper edge at all times. But I can't advise you to use it for such tasks.
Here's why:
The company's DMCA policy says it has to protect other people's content. And it will collaborate with copyright holders to report you for piracy. However, there are good alternatives out there that care about your privacy.
Can UFO VPN Bypass Geoblocks?
UFO VPN user reviews tell that most travelers use it to bypass geoblocks. While that sounds good, it's illegal to use VPNs in some countries.
So before boarding that plane, make sure to double-check the laws. You don't want to end up behind bars in a foreign nation.
Other than that, you can comfortably use this service to open geoblocked websites.
Ease of Use
The UFO VPN mobile and desktop applications have the same interface. This gives you seamless flexibility when switching devices.
All the app settings are accessible under the sidebar menu. Here, you can manage your subscriptions, protocols, and test for speeds. Another thing you can configure is the kill switch and launch on startup.
You can click on the connect button to secure your internet session. This way, it automatically pings you to a nearby server. Alternatively, click on the smart location to access the UFO VPN server list.
Sometimes when you try to connect, you may find some servers busy. That's as a result of network congestion. You should select a different region when this happens.
For now, there are no UFO VPN Chrome and Firefox browser extensions. Either way, the PC and mobile applications are lightweight.
Customer Support
Evaluation of customer support for this UFO VPN review was a must. I wanted to know how responsive the vendor is when problems occur.
The company's website mentions that it offers help round the clock. You can contact the agents via email or straight from the UFO VPN app.
As usual, I sent out a few questions using both channels. And then the long wait began. Long story short, I have never received a response.
Luckily, UFO VPN for desktop and mobile has a built-in knowledge base. It offers quick access articles for fixing common problems. Best of all, you can use it even without an internet connection.
UFO VPN Price
UFO offers the same subscription prices across all devices. The plans are as follows:
UFO VPN Free – $0
Weekly plan – $7.99/Week
Monthly plan – $11.99/Month
Yearly plan – $4.17/Month
UFO VPN 2 Years subscription – $2.91/Month
The prices above include up to a 76% discount at the time of writing. You can choose to get started using the free plan. Should you upgrade, you'll have a 30-day risk-free money-back guarantee.
UFO VPN Review – Verdict
So is UFO VPN a good VPN?
It's a great choice if you're into web browsing, downloading, and streaming. It also has dedicated servers for Netflix and gaming.
The vendor supports a wide variety of devices, including Android, iOS, macOS, and Windows. But I hope there'll soon be a UFO VPN extension for Firefox and Chrome.
On a sad note, the company has serious security issues. Its jurisdiction also poses a threat to people that need total privacy. The vendor's DCMA policy is a turn-off to torrent lovers as well.
Overall, I hope that this UFO VPN review helps you make an informed decision. You can get started on the free plan if you're still not convinced. One thing is for sure – its speeds will blow your mind away.
Daniel Wabuge
Daniel is a curious thinker that loves everything about tech. If he spots something interesting, rest assured that he'll reverse-engineer it. Apart from being an internet addict, he loves building web servers from scratch. Well, it's not his profession per se. But it's a passion he picked up after a series of unfortunate events involving terrible hosts. He's the "hosting guy".
Leave your comment
Your email address will not be published.
You may also be interested in
.