Thunder VPN Review
Best for: Quickly accessing geo-blocked content on Android
Strengths
Free
No bandwidth cap
Easy to use
Works with YouTube US and Amazon Prime Video
Weaknesses
Invasive logging policy
No kill switch
Old encryption protocol
No real customer support
Thunder VPN is only available on Android devices.
It's entirely free. I had to start with this as it's this app's biggest selling point. There's also the VIP plan, but you don't have to get it.
So, it's clear that the service can't match anything top-paid providers offer. Free options have a place on the market, but they never offer the same quality features as the industry leaders.
Judging from user-written Thunder VPN reviews, that's not the only problem with this service. When testing the app, I found a few other things that may impose a big risk.
So, is Thunder VPN a good VPN to use?
Let's take a better look at it.
Thunder VPN Features
Thunder VPN doesn't offer as many features as some paid services do. But the ones available can really come in handy.
Free Forever
Thunder VPN is free. If you don't want to, you never have to switch to the VIP membership the provider offers.
If you do, however, you get access to extra servers, a faster connection, and an ad-free experience.
In case you choose to stick to the Thunder VPN free version, ads will pop up every time you connect or disconnect from a server.
Unlimited Bandwidth
Another thing I like about Thunder VPN is that it offers unlimited free bandwidth.
As long as you follow the terms and conditions, there are no limitations to what you can access and how much you can download.
No Registration Required
Once you've installed the Thunder VPN app, you don't even have to register. You just select the server you want and press the "connect" button.
Therefore, the whole process doesn't take more than a minute.
No-Log Policy
Now we get to a more controversial part of this Thunder VPN review. The provider states it offers a no-log policy. It's listed in the features section.
If you dive deeper, however, you'll see that the company does collect your personal information.
In fact, when you agree to its privacy policy, you give Thunder VPN rights to log your information. This includes:
OS Version

App Identifier

Times when connected to the service

Total amount of data transferred per day

Internet service provider (ISP)

Choice of server location
This is a lot, especially compared to some other VPNs out there with real no-logging policies.
Thunder VPN Advanced Features
Auto Select
If you don't know how to use Thunder VPN or you're not sure which server to connect to, the app can give you a hand. The Auto Select function can choose the best location based on where in the world you are.
So, you'll be assigned the server that'll provide the best connection and the highest speed.
Thunder VPN Servers and Locations
The service is available in eight countries. There were nine before, but Japan has recently been excluded. This is probably the best since the VPN always shows a different address when you connect to it.
You can choose between 10 Thunder VPN servers, three of which are located in the US.
You can choose from:
France

Germany

Luxemburg

Netherlands

United Kingdom

Singapore

United States (US East)

United States (US West)

United States (US South)

Canada
Thunder VPN Speed
I connected to several servers to test Thunder VPN for Android. It performed differently based on the location.
Before we check out what speeds this VPN produced, let's look at my base connection.
After that, I connected to the web using a Germany-based server. The drop in speed was barely visible.
While the test I mentioned above didn't show drastic results, the next one did. When connected to the Singapore server, the change in speed was way bigger.
The final test I ran included hopping onto the US East server, another distant location. The speed didn't change much compared to the Singapore one.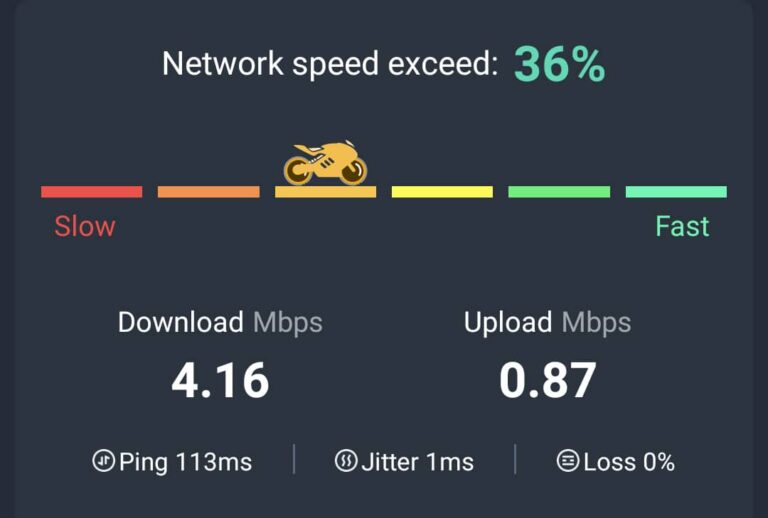 Overall, I wouldn't say the speed is as bad as some users claim in their Thunder VPN reviews. That is, as long as you connect to a nearby server.
Jumping on a distant server decreases the speed significantly, but then again, that's the case with the most free VPNs.
So, if you want a specific location, a paid VPN might be a better solution.
Thunder VPN Privacy and Jurisdiction
Now we get to another controversial part - the company's location.
If you look at the company's website, you'll see Thunder VPN is based in Arkansas. So, it's under the Five Eyes surveillance. However, it states that the address is only for payment purposes.
But if you do some research online, you'll find posts that say the company is actually based in Hong Kong.
I can't confirm or deny this, but some sites I find trustworthy have this info listed.
Also, a few places mention the zip code Thunder VPN has listed is based in California, not Arkansas.
So, whether or not Thunder VPN is safe is somewhat questionable. The information the company provides doesn't seem to be accurate.
Thunder VPN Security and Protocols
The provider doesn't offer plenty of information on security and protocols.
The app uses the SSL encryption protocol for data transmissions. This isn't the industry standard as it has quite a few downsides when compared to what other VPN vendors use.
The most common protocols in the sector are OpenVPN and IPSec/IKEv2, both of which offer faster connections. SSL is also more susceptible to attacks.
So, I'm not that high on the Thunder VPN security.
But that's not the only reason why I think the app is not safe.
You need your data protected even if your VPN drops out. So, you'll want a kill switch, which most premium apps have.
Unfortunately, this isn't the case with Thunder VPN. This only makes security an even bigger issue.
If you use it to browse the web or download something and lose connection to a Thunder VPN server, your data will be left exposed. In other words, someone out there will be able to track down your actual IP address.
Ads are also an issue.
Since there's no Thunder VPN PC version, you can only set it up on your Android device. When you do so, you have to watch at least five seconds of ads. That's the last thing you want to do when connecting and disconnecting from a server on the go.
Thunder VPN Leak Test Results
Thunder VPN performed well in the leak test I ran.
While connected to a server in Germany, I checked whether my new IP address would show when checking it online.
It did.
My IP address, as well as DNS addresses, were in Germany.
Since there's no Thunder VPN for Windows, the screenshot is from my Android device.
No matter what you plan to use the app for, having your new IP show is good news. But remember that there are still some issues like security and protocols to keep in mind.
Thunder VPN and Streaming Services
If you're looking to stream content from the internet when traveling, you might need help from a VPN. There's no Thunder VPN for PC, so if you plan on using it, you can only play it on your Android device.
But even then, can this app unblock the content you want to watch?
I tried all options for this Thunder VPN review.
Here's the thing:
Most paid VPNs help you access media from all major streaming services. Free services - not so much.
So, as you can expect, Thunder VPN isn't the best app for unblocking content on your mobile device. It only works with two services - YouTube US and Amazon Prime Video.
Also, when streaming, you'll notice a drop in speed which might be a problem depending on how fast your base connection is. Issues like lag and buffering may also be present if your internet is slow.
There's no cap on VPN bandwidth, however, which is good when streaming from the abovementioned services.
How Good Is Thunder VPN for Torrenting?
Next, I've run a Thunder VPN torrent check.
Torrenting on your phone isn't as easy as on PC, but it's still doable. And in some cases, you need a VPN to do it.
Thunder VPN works when downloading something from P2P sharing clients. Whether or not using it is safe, however, is up for discussion.
First, there's the copyrighted content policy you probably won't like. The provider claims that anyone downloading or uploading protected content will see their account suspended.
But there's more. Due to this shady log policy, you may expose your data like personal data like email and IP address when torrenting.
So, is Thunder VPN safe for torrenting enthusiasts?
Not so much.
It's a better idea to use one of the legit VPNs for torrenting.
Can Thunder VPN Bypass Geoblocks?
Services that can beat sophisticated censorship regimes have obfuscated VPN servers.
This isn't the case with Thunder VPN.
As a result, there's very little chance that the app would be effective in countries like China, UAE, Russia, or Turkey. That's exactly what many users mention in their Thunder VPN reviews.
If you're traveling to a country with a strict internet policy, using a free app isn't a good idea. You're much better off with some of the top VPN services on the market. Most of them are also available on mobile.
Ease of Use
While I wasn't that happy with some aspects of the Thunder VPN, I quite liked the design.
The app is functional and easy to use. You'll have no trouble doing it.
The Thunder VPN mobile app is also pleasing to the eye. It has been designed with the company's color scheme in mind and some funny graphics. For example, the main page features an adolescent Thor. And when you connect to a server, he suddenly jumps into action.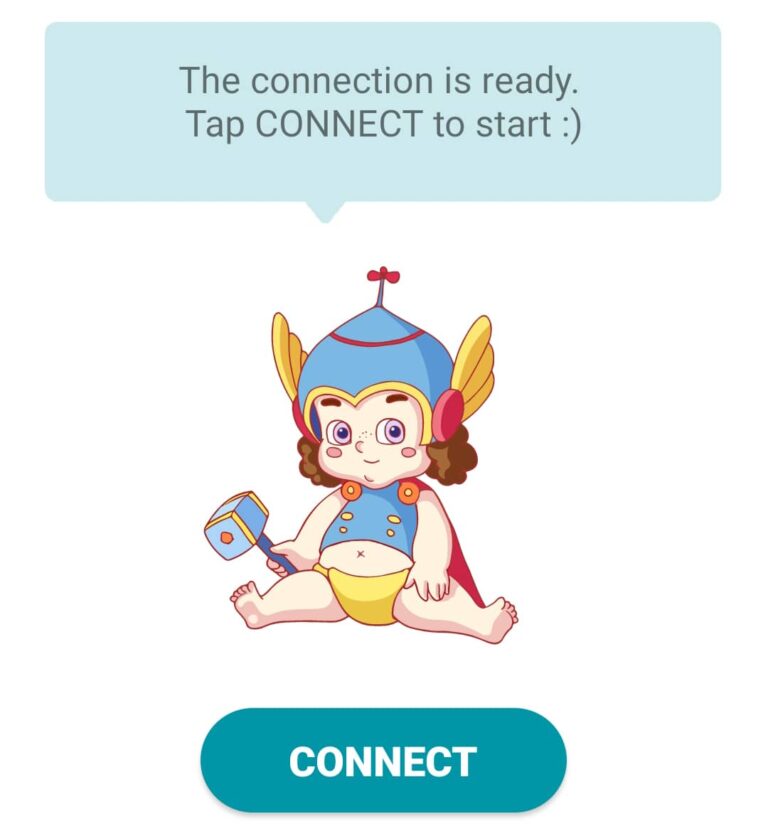 Things like this are nice to see, especially considering how some VPN services fail to get creative with their graphics.
While it may not be enough for the app to earn redemption for some other shortcomings, the design is indeed great.
The only thing about the app you'll hate are the ads that pop up every time you connect or disconnect from a server. Of course, the provider has to make money somehow, but it can get annoying.
Usually, you can stop the ad after watching it for five seconds.
Customer Support
When writing this Thunder VPN review, I also looked into the company's customer support.
If you run into a problem, there's not much you can do except deal with it yourself.
The company's website only includes less than 70 words and no information on how you can reach out to its agents.
When you run the app on your Android device, there's a very brief FAQ section. It includes only five explanations you'll find helpful.
And that's pretty much it.
In case it doesn't solve your issue (and it's likely it won't), there's a way to contact the team behind Thunder VPN. You can tick the "other problems" box for choices that the FAQ section doesn't cover and tie your email address to generate a ticket.
Don't count on hearing from them, though.
I sent them an email and received no response. According to user-written Thunder VPN reviews, other people had the same problem.
Also, the contact address is a Gmail one, which is as unprofessional as it gets.
Thunder VPN Price
The whole point of using Thunder VPN is that you don't have to pay anything for it.
With the Thunder VPN free version, you have access to 10 servers. When you upgrade to VIP, you get more.
If you don't want VIP access, however, you can stick to the free plan for as long as you want.
The website doesn't offer any information on the pricing plans for VIP members. But you can check them out when you install the app and click on the upgrade button.
Plans available are:
Weekly Plan

-

€6.49/Week
Monthly Plan

-

€10.99/Month
Annual Plan

-

€64.99/Year
The free Thunder VPN app is only okay, and VIP members simply don't get enough for such hefty prices.
There are services in a similar price range with better security, more features, and an actual no-logging policy.
Also, you can't give the VIP plan a run before buying as there's no Thunder VPN trial version.
I found no mentions of a money-back policy both on the website and inside the app.
Thunder VPN Review - Verdict
Concluding my Thunder VPN review, I have to say that among VPNs we've reviewed, this app ranks very low.
It's just that there are so many things about it that leave a bitter taste.
Like, is the company really based in Arkansas?
Why list a no-logging policy under features if users' data is still being kept?
Also, what happens to your privacy if the connection with the VPN server breaks?
And where's the company's customer support?
I know it's a free VPN, and you can't expect all this from it.
But even then, the free version just isn't worth the hassle. There are better free services out there. And as I already mentioned in this Thunder VPN review, getting a paid VPN is a better idea if you want a real deal.
However, if you're looking to quickly access geo-blocked content on your Android device, and you don't care much about privacy, try Thunder VPN. That's where the app should perform the best. Even then, it'll only work in countries without a strict internet policy.
Dejan Cvetnarevic
Dejan is a techie at heart who always dreamed of turning his fascination with gaming into a career. He finds working for TechJury a perfect opportunity to express his views of all kinds of different software. Being an avid reader, particularly of fantasy and sci-fi, Dejan pursued a degree in English Language and Literature. When not at his computer, he's watching sports or playing tabletop games.
Leave your comment
Your email address will not be published.
You may also be interested in
.