Atlas VPN Review
Best for: Free IP address changing
Strengths
Free plan
No-logs policy
Minimal speed reduction
Simultaneous connections on multiple devices
Weaknesses
Free plan bad for streaming
Customer support
Could use more servers
Atlas VPN is owned and operated by Peakstar Technologies Inc., which is based in Delaware, US.
It's a relatively new name in the Virtual Private Network (VPN) industry. It arrived in January 2020 with the goal of bringing a reliable free service to the market. The idea was to offer a VPN anyone can use regardless of their budget and tech-savviness.
You can choose between free and premium versions of the program.
It's one of the very few free VPNs that are entirely transparent about their operations. On top of that, it doesn't impose any bandwidth restrictions.
The free Atlas VPN version has a no-log policy, which isn't something all vendors provide on their lowest plans.
Let's take a better look at everything this app offers.
Atlas VPN Features
Atlas VPN offers some great features. That's the case with both free and premium versions.
Kill Switch
This function helps keep your IP and DNS private in case the connection becomes unstable. The kill switch feature immediately disconnects your device from the internet and keeps it that way until the connection is reestablished.
Not all VPNs offer this function on mobile, but it's right there on the Atlas VPN mobile app. To enable it, you have to choose Always-on VPN and Block Connections Without VPN on your device.
No-Logs Policy
It's somewhat a surprise to see the Atlas VPN app offer a no-logs policy since it has free plans. Most providers who don't charge for the service are known to collect user data.
Although there's a no-logs policy, it's not the best one can find. The company keeps some info to improve its service and make a Premium plan available to you.
Also, every user is assigned a token issued to the device. According to the Privacy Policy page, the technical data in it can be viewed as personal information. The provider, however, ensures everything it collects is treated as stated in the contract between you and Atlas VPN.
Tracker Blocker
Unfortunately, VPNs alone can't protect you from trackers. That's why the app has a specifically designed feature just for that.
It prevents third-party trackers from keeping an eye on your online behavior. So, when you connect to an Atlas VPN server, you have even more control over your digital privacy.
This feature is easy to set up. All you have to do is enable it under the shield icon in the app.
SafeSwap
Atlas VPN lets you access the internet from several IP addresses at a time. This bolsters your anonymity online even further.
With rotating addresses, you don't have to worry about advertisers, authorities, snoopers, or someone else spying on your activity.
The SafeSwap function has been introduced only recently, and it's guaranteed to help Atlas VPN make some noise.
Best Location Detector
If you don't know how to use Atlas VPN, finding the best server to connect to can be tough. But the app can do it for you. The Best Location Detector function hand-picks the ideal virtual location for you.
It takes into account everything from distance to download speed to identify it. All you have to do is click the connect button, and voila!
Unlimited Simultaneous Connections
While some VPNs started raising the number of simultaneous connections they allow, some removed the cap altogether. Atlas VPN is one of the services without any restrictions.
Theoretically, you can stream from various platforms and download torrents on as many devices as you want, all at the same time.
Atlas VPN Advanced Features
The app also offers some more advanced functions. They include:
Advanced Leak Protection
Atlas VPN performs well on the security front. It keeps both IPv4 and IPv6 connections safe.
You can browse the Web without worrying about having their IP address and personal info get leaked.
Seamless Streaming
To ensure the ultimate experience, Atlas VPN has a seamless streaming feature.
All of its premium servers are optimized for playing media from the internet without getting interrupted. This means no lag, buffering, and similar issues when using Atlas VPN for Netflix or any other streaming service.
Safe and Sound P2P
P2P sharing continues to grow. Whether you use BitTorrent or another program, you can share stuff safely via Atlas VPN.
The provider hasn't set any restrictions regarding sharing files with large groups of people.
Atlas VPN Servers and Locations
Atlas VPN has over 700 servers in 30 countries. They're scattered all across the globe, from Europe to Australia.
The US has several locations:
New York

Los Angeles

Miami

Dallas

New Jersey

Phoenix

Las Vegas
Some vendors offer more servers and locations. But remember - this company is still fairly new and has room to grow.
Atlas VPN Speed
Free VPNs are generally pretty slow. That isn't the case with this app.
As you can imagine, there's a difference in speeds between free Atlas VPN and the VPN premium versions. But the former performs much better than other options you can get if you're not looking to spend any money.
When using Atlas VPN for free, you can expect a minor drop in speed.
Here's how it performed in my tests:
Results without using a VPN:
Results with the Amsterdam server:
Results with the New York server:
Results with the Los Angeles server:
You'll see from the test for this Atlas VPN review that the drop in speed is low even when connected to the furthest server available. This is close to what you get with some premium VPNs and definitely more than other free VPNs offer.
Keep in mind that the paid plan provides even more speed along with some additional features.
Atlas VPN Privacy and Jurisdiction
Free VPNs need to make money somehow. That's why most of them bombard you with ads or store your data.
Nobody wants to have their browsing history recorded and traced back to them. That's why free VPNs have a bad reputation.
This program has to find a way to make money, but it does so differently. Atlas VPN puts security first. That's why it has a no-log policy.
Rather than keeping track of what you're doing when browsing the Web, Atlas VPN also offers a premium version. So, if you want more features, you can switch to a paid plan.
As mentioned earlier, the company is based in Delaware, US. Obviously, since the country is a part of the Fourteen Eyes, there are some rules Atlas VPN has to abide by.
Before using the service, make sure you check the Terms and Conditions and Privacy Policy pages.
Atlas VPN Security and Protocols
When writing this Atlas VPN review, I went through the company's website in detail. I looked for more information on the security protocols the program uses.
In the FAQ section, the provider mentions Atlas VPN uses AES-256 bit encryption. That's the same standard the National Security Agency (NSA) uses.
This means Atlas VPN is safe, and no one can get their hands on your information.
In terms of tunneling protocols, Atlas VPN offers IPSec/IKEv2.
The only thing that left us disappointed is the absence of the OpenVPN protocol. IKEv2 is secure, but it can't compete with how safe you are with OpenVPN.
Still, IKEv2 is better for streaming content from the Web.
Atlas VPN Leak Test Results
Looking at leak test results is the best way to assess how good a vendor is. And that's exactly what I did for this Atlas VPN review.
From the Atlas server list for free users, I chose Amsterdam and checked how the app performed.
Nothing sketchy showed up.
Atlas VPN and Streaming Services
Another thing free VPNs don't excel at is hiding your real IP from streaming services. Even some premium programs struggle to get past their geoblocks.
So, how does Atlas VPN perform when it comes to streaming?
Unfortunately, not that good.
I didn't find a pattern in which the free version works. Sometimes, when you try streaming Netflix with Atlas VPN, you might have to switch to another server to get the video running. Other times, none of the three free servers will grant you access to the media you want to play.
Things are a bit different with the paid version. All VPN servers available to Premium users can access have been optimized for streaming.
The list of services it can effectively unblock includes:
Netflix

Hulu

HBO Max

HBO Go

YouTube
Not only does Atlas VPN can bypass all of their geo-restrictions, but it also provides some great speeds when streaming content from the Web. In fact, it performs on par with some more expensive services.
Still, the software can't unblock services out there. I found that Atlas VPN for PC can't get past BBC iPlayer and Amazon Prime Video blockers.
Overall, it is a good option for streaming. But it's a shame the free version doesn't perform better.
It's often considered one of the best free VPNs out there, but this isn't that much better than the rest of them.
How Good Is Atlas VPN for Torrenting
Free VPNs generally aren't effective when it comes to downloading from torrent sites.
In some parts of the world, torrenting is illegal, and if it's within your plans, you have to arm yourself with a strong VPN. Only then should you download copyrighted content.
You can use Atlas VPN for torrent sites. In fact, it's one of the best free services for doing so.
It has a safe and sound P2P file sharing feature that allows you to download stuff without imposing data caps.
Here's how it performed in the torrent speed tests I ran. I used a copyrighted content-free torrent website to download a file. Just keep in mind that my download speed also fluctuated between 1 Mbps and 1.4 Mbps when Atlas VPN wasn't on.
As you can see, the app gets the job done even when you're using the free version. Many Atlas VPN reviews left by users suggest the same.
But there's more.
Another thing that makes Atlas VPN a good option for torrenting enthusiasts is its no-logging policy.
The provider doesn't keep any data, so you don't have to worry about your download history falling into someone else's hands.
The privacy policy reiterates copyright laws, however, but other VPNs do the same. It's a good idea to check out both Privacy Policy and Terms and Conditions pages before you start torrenting.
If you plan to download torrents with Atlas VPN, getting the paid version is a good idea. While the feature is available with the free plan, you'll get the maximum speeds with the premium.
Can Atlas VPN Bypass Geoblocks
Geoblocks can be a real pain when trying to access something on the Web.
Some countries have strict internet policies, and the only way to get around them is to use a VPN.
So, is Atlas VPN a good VPN for geoblocks?
Yes, it is.
There's a long blog post on the provider's website on geo-restrictions in China and how you need a VPN to bypass the Great Firewall.
The article mentions that Atlas VPN can help you break all barriers and enjoy the freedom you want when going online.
As I am on the other side of the planet, however, means I didn't get a chance to test this.
Major VPNs use obfuscated VPN techniques because governments often try to block them. Being relatively new in the industry, Atlas VPN doesn't have to do it
just yet.
Ease of Use
The app is known for its sleek and easy-to-use interface.
The Atlas VPN desktop version comes with very few customization options. In short, you can connect to a server that suits your needs and disconnect once you're finished.
If you're using the free version, you don't even have to log in before switching your IP address. And even once you upgrade, you'll find the entire process to be a breeze.
For mobile, the app is available on Android and iOS.
I tested Atlas VPN for Android.
When it comes to ease of use, things are pretty much the same as with the desktop version.
There are only a few options available, and you can find them at the bottom of the screen. There's also the button that lets you switch to the premium account in a few seconds.
The home page includes the "Get Optimal Location button." This makes masking your actual location on mobile even easier.
Under settings, there's also the option to turn push notifications on and off.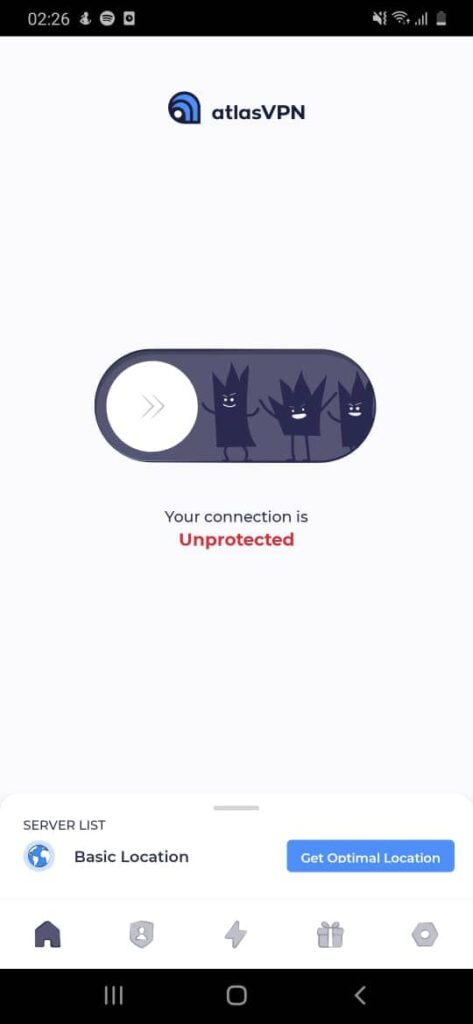 There's no Atlas VPN Chrome or Firefox browser extension you can download.
Customer Support
As part of my Atlas VPN review, I also contacted the support team.
Unfortunately, the provider doesn't perform as well as the competition.
You can only reach out to the Atlas VPN agents via email. I shot them a message and got a response about four hours later. The email was detailed, and it included all the info I needed.
One quicker option to ask for help is using a ticketing system. You still have to check your email to read the response, though.
According to the majority of user-written Atlas VPN reviews, other people found the agents to be helpful as well.
Still, adding a 24/7 live chat option might be a good idea. Most other VPN options in the same price range have it.
You can also find the FAQ section both in the app or on the company's site. It doesn't include as much information as some other services do, but it's a nice introduction.
Atlas VPN Price
Like most services, Atlas VPN offers relatively simple payment plans. There's one price in case you need the program for just one month. And if you're ready to commit for longer, the fee decreases.
So, you can choose between the following plans:
1 Month - $9.99 (Billed $9.99 every month)
1 Year - $2.49 (Billed $29.88 every year)
3 Years - $1.39 (Billed $50.04 every three years)
Each plan includes a 30-day guarantee.
What stands out a lot is the Atlas VPN free version. It's often referred to as one of the best freemium apps out there. With this program, you can change your digital location even before еntering your credit card info.
To set up Atlas VPN for free, all you have to do is download the app from the provider's website.
When you do that, you get limited access to its servers. Only three servers are available before you buy the full version. Their locations are:
Amsterdam

New York

Los Angeles
At the time of writing this review, there's no Atlas VPN trial available. Of course, you can always test the app using the free version.
Atlas VPN Review - Verdict
There's no doubt Atlas VPN is an interesting option.
It's one of the very few services that offer a free plan. While this version of the program works great, it still has some limitations.
The premium version, on the other hand, works great. It's even better than some more costly options on the market. Many users praise it in their Atlas VPN reviews.
Just remember that this app is still relatively new, and it will take some more time until it catches up with its competition. Hopefully, we'll see improvements in customer support, and free servers performance.
Overall, as a conclusion to my Atlas VPN review, I can say that this app is definitely worth checking out.
Dejan Cvetnarevic
Dejan is a techie at heart who always dreamed of turning his fascination with gaming into a career. He finds working for TechJury a perfect opportunity to express his views of all kinds of different software. Being an avid reader, particularly of fantasy and sci-fi, Dejan pursued a degree in English Language and Literature. When not at his computer, he's watching sports or playing tabletop games.
Leave your comment
Your email address will not be published.
You may also be interested in
.