Wavve Review
Best for: Social media influencers
Strengths
Easy to use
Plenty of supported formats
Stylish templates
Affordable
Weaknesses
Monthly video length limit
Inflexible editor
Files get deleted after a while
What Is Wavve?
If you're a content creator, social media is the key to building an audience.
But how can you most effectively get new eyes on your content, especially if you're a podcaster or a musician?
By making your posts look outstanding.
And that's what Wavve is for. This service aims to provide musicians and podcasters with tools to turn their audio clips into eye-catching video clips. The Wavve app launched in 2019, and since then has been adopted by many content creators.
How does it work?
It's simple:
You upload your audio, and then you can add whatever visual elements you like. Things like waveforms, images, text, or even captions are available. When you're done, you can export the video clip and upload it to social media.
Wavve Features
So what can you do with your Wavve video?
The software gives you plenty of different features to make use of. What's more, it's easy to create a video that is eye-catching. Let's run down some of these aspects:
Video Creator
The main purpose of the software is to create video clips.
They are perfect for posting music or podcast snippets on your social media, and creating one is very easy.
If you click on My Videos and then Create a Video, you will see the video creation screen. Here, you have several options for uploading audio.
One is uploading straight from your computer files. The supported formats are:
You can also link an RSS feed URL, or record audio on the spot. This is ideal if you're using Wavve for your podcast.
Then, you have to choose a design for your video. You can either create your own or select it from a list of templates. We will touch more on these shortly.
Finally, all you have to do is select the audio snippet you want to have for your video. You'll have to be clever with this since the software restricts you to a set number of minutes per month. On a free account, you can only have two minutes of video monthly.
Paid plans give allowed more, but they still have their limits.
So, don't expect to upload full podcast episodes to Wavve. You should use it only for short snippets, several minutes long at best.
Design Editor
After you upload your Wavve audio, you will have the option of creating your own design for the video.
This is where the magic happens.
The design editor is reminiscent of graphic design programs like Photoshop, although much simpler and much easier to use.
What can you do with it?
Basically, here is where you create your video.
You can add images, text, or waveforms that complement the audio. Progress bars are also an option, displaying how much of the video is left. You can even change the aspect ratio, depending on which devices your video is meant for. They are as follows:
Portrait

Landscape

Square

5:4

4:5
Sadly, the Wavve app doesn't support custom aspect ratios.
Templates
Now if you don't feel like starting from scratch, no worries! You can use one of the pre-made templates and tweak it to your preference.
Here is how it works:
First, select the template that's right for your type of content. There are five available options, each of which represents a different kind of media. From interviews to music.
Then, you can upload your own images.
So, for instance, you can have your album cover be shown in your Wavve video. The cool thing is, if you have a podcast, you can have the tool pull data directly from your RSS feed. It will automatically populate your podcast's name and cover.
Wavve Link
This feature is super handy for podcasters.
It aggregates all the useful info for your podcast in one easy-to-read page. That page includes stuff like your show's description, RSS feed link, and which platforms you can be found on.
If you have a premium Wavve subscription, you can even add a mailing list and analytics to your page. The end result looks something like this:
You can then pass this page to your audience, and they will easily know where to find your content.
If you have a premium plan, you can add a custom URL domain.
Analytics
Although exclusive to paid plans, the analytics page provides useful audience engagement statistics for your podcast page.
More specifically:
Your Wavve Link dashboard will contain how many people visit your page, and which buttons are clicked on the most. You'll even have stats on which episodes of your show are the most popular.
That way you'll know which aspects of your Wavve audio content are successful and which don't work. You'll know what drives engagement metrics up. Everything you need will be available in clear, easy-to-read charts in your Analytics tab.
You can even export the data onto your computer in SVG, PNG, or CSV formats.
Affiliate Program
Wavve's affiliate program means you get to strike a business partnership with the company.
Your role is to share the software with those you know. If someone signs up for a monthly subscription through your link, you get monthly payments. The amount you receive depends on how much money your link generates.
With each purchase, you get 25% recurring commission. So for each new month they stay signed up, you get paid.
That's not all:
As an affiliate, you get access to a specialized dashboard through which you can manage your account.
Wavve Ease of Use and Interface
A focal point of many Wavve reviews out there is just how easy it is to use the service.
And it's true, basically anyone can make videos.
When you want to start a new project, the software walks you through all the steps you have to take. From uploading your audio to rendering the final result, everything is designed very clearly.
It helps that the service itself is fairly focused, so you won't get drowned in an ocean of menus and features.
Templates are incredibly easy to modify. You basically just fill out a menu and upload your work's cover art. That's it! No messing around in design editors.
The only issue I faced is oftentimes the images would fail to upload, citing a network error.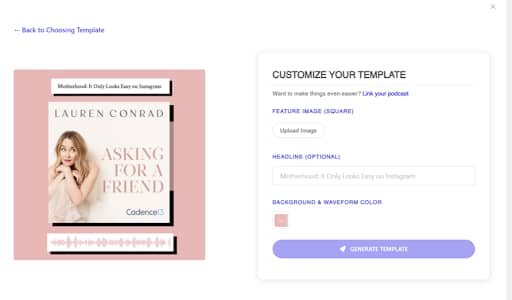 Of course, there is also the design editor.
You can customize virtually every element of your Wavve audiogram video, or start from scratch. And the interface is quite easy to get the hang of. All you need to do is drag an element from the menu and drop it onto the canvas.
On the canvas, you can upload your own pictures and type your own text. Then you can add things like waveforms and progress bars. You can rotate and resize all elements.
Like with the rest of the program, everything is simple and intuitive.
Using Wavve Link is even easier.
All you have to do is link your RSS feed, and the program will automatically get the necessary data. Then, you can link your social media profiles and anything else you want on the page. The whole process takes around five minutes.
Overall, this program is made to be as less intimidating as possible. Even if you have zero experience with design, you will have no trouble making videos that stand out.
Wavve Pricing
Now let's talk about cost.
Depending on how much content you're planning to put out, the price will vary. The major deciding factor is the time limit. Each plan has a limited length of videos you can create on a monthly basis.
There is a free plan available, and although its functionality is restricted, it's sufficient if you're just starting out. However, the last few seconds of your video will be watermarked unless you purchase a premium subscription.
Here is the full list of pricing plans:
Each Wavve pricing plan can be canceled anytime from your profile or by contacting customer support.
Are there refunds?
Sadly, no. You'll have to make use of the free plan to make a decision whether Wavve is for you.
Your videos will also not be held back in terms of quality, regardless of your plan. Every video is at 1080p HD resolution, and you have unlimited access to the design editor.
Wavve Review - Verdict
Is Wavve perfect?
No.
It has its fair share of limitations. But one major thing it has going for it is its accessibility. Practically anyone can sign up and quickly make professional-looking videos, either through templates or from scratch.
As for whether this service is right for you?
If you're a small-scale creator looking to publish your work on social media, you won't have to spend much money.
Is it ideal for large businesses with larger teams of artists?
Probably not. Bigger companies will likely have way better means of creating content.
Thanks to its wide support of podcasts and social media, you're unlikely to find any negative Wavve reviews out there.
Wavve is software used to turn audio files into short video clips intended for social media. The service is meant mostly for musicians and podcasters, although pretty much anyone can make use of it.
Yes, Wavve has a free version. However, this plan is limited to two minutes of video per month, and has a watermark. Aside from that though, the free version has all the same features of the paid subscriptions.
As detailed in this Wavve review, using the program to make waveform videos is very easy and accessible. All you have to do is upload your audio file and then select a design. You can either start off with a blank canvas or tweak one of the templates. The choice is yours.
Georgi Karaivanov
My fascination with technology began from quite an early age thanks to computers and video games. Nowadays, I love anything related to music production and astronomy. Coincidentally (or is it?), both of those have a great deal to do with tech. Honestly, most of the stuff that can be accomplished with modern electronics kind of seems like magic to me. This is why I feel this strong need to constantly learn more about it and talk about it, almost to the detriment of others.
Leave your comment
Your email address will not be published.
You may also be interested in
.