Annke Crater Cam Review - A Cheap Cam That is Worth it?
Best for: Basic home surveillance
Strengths
Wi-Fi connectivity
Smartphone app
Affordable cloud storage plans
Ceiling mount bracket
Weaknesses
Indoor use only
Monochrome night vision
Lacks inbuilt storage memory
Home security cameras enable you to keep an eye on your property day and night. In the past, the majority of them were pretty expensive and complex to configure, featuring clunky controls.
But not anymore.
ANNKE is among the fewer companies that develop compact-sized and budget-friendly CCTVs. Established in 2014, it offers a wide range of solutions for safeguarding homes and businesses.
ANNKE's top products include IP, Wi-Fi, PoE, and LTE security cameras. Additionally, it develops digital video recording surveillance systems for large-scale operations.
This US-based company currently has a five million strong customer base. Additionally, it boasts over 30,000 positive reviews from consumers using its products and services worldwide.
The Annke Crater Cam is among its flagship devices—one that packs exceptional features for its size. These comprise night vision, pan-and-tilt, two-way communication, etc.
This compact CCTV has smart capabilities for taking complete control of your security. It includes a smartphone app, motion detection, and even compatibility with Alexa for your convenience.
The mention of its sub-$25 price is hardly unnoticeable in Annke Crater Cam user reviews.
So is it worth your money?
Let's find out!
What's in the Box
The Annke Crater Cam comes well-packaged in a box without cushioning against external shock. However, every item inside is covered in fabric-like plastic bags to prevent accidental scratches.
Other than that, here's what you'll find:
Wi-Fi camera

USB power cable

AC to DC Power adapter

Ceiling bracket and screws
There's a user manual in English. Depending on the country you order from, it may come with an extra one in your local language.
Annke Crater Cam Specifications
As we mentioned earlier, the Crater Cam packs incredible specs for a surveillance camera of its size. The breakdown is as follows:
2 Megapixel sensor

70° wide viewing angle

Up to 128GB memory card storage (sold separately)

H264+ video encoding (MP4)

ADPCM audio compression

330° pan left and right

90° tilt up and down

Six infrared lights
The plastic body is glossy, high-quality, and durable.
Unfortunately, the lack of waterproofing restricts it to indoor use only.
Features
We spent a month testing the camera for this Annke Crater Cam review. The below features are the ones that stood out:
Full HD Recording
This home security camera captures videos at full high-definition resolution (1920 x 1080 pixels). The images are reasonably clear and have low noise due to post-processing.
The colors may appear washed out under low lighting conditions. Further, the presence of oversharpening causes some objects to appear partially blurry.
That said, the 2-megapixel sensor does an excellent job of capturing important details.
Night Vision
On board are six infrared lights for illuminating distances of up to eight meters (26 feet). Though invisible to the naked eyes, they enable the camera to see in the dark.
The output of the images is in monochrome. So, while they're not near daytime shots, you can see activities without struggle.
Smartphone App
ANNKE provides an app for tweaking the settings using customizable configurations. It's easy to navigate, locate controls, and subscribe to plans.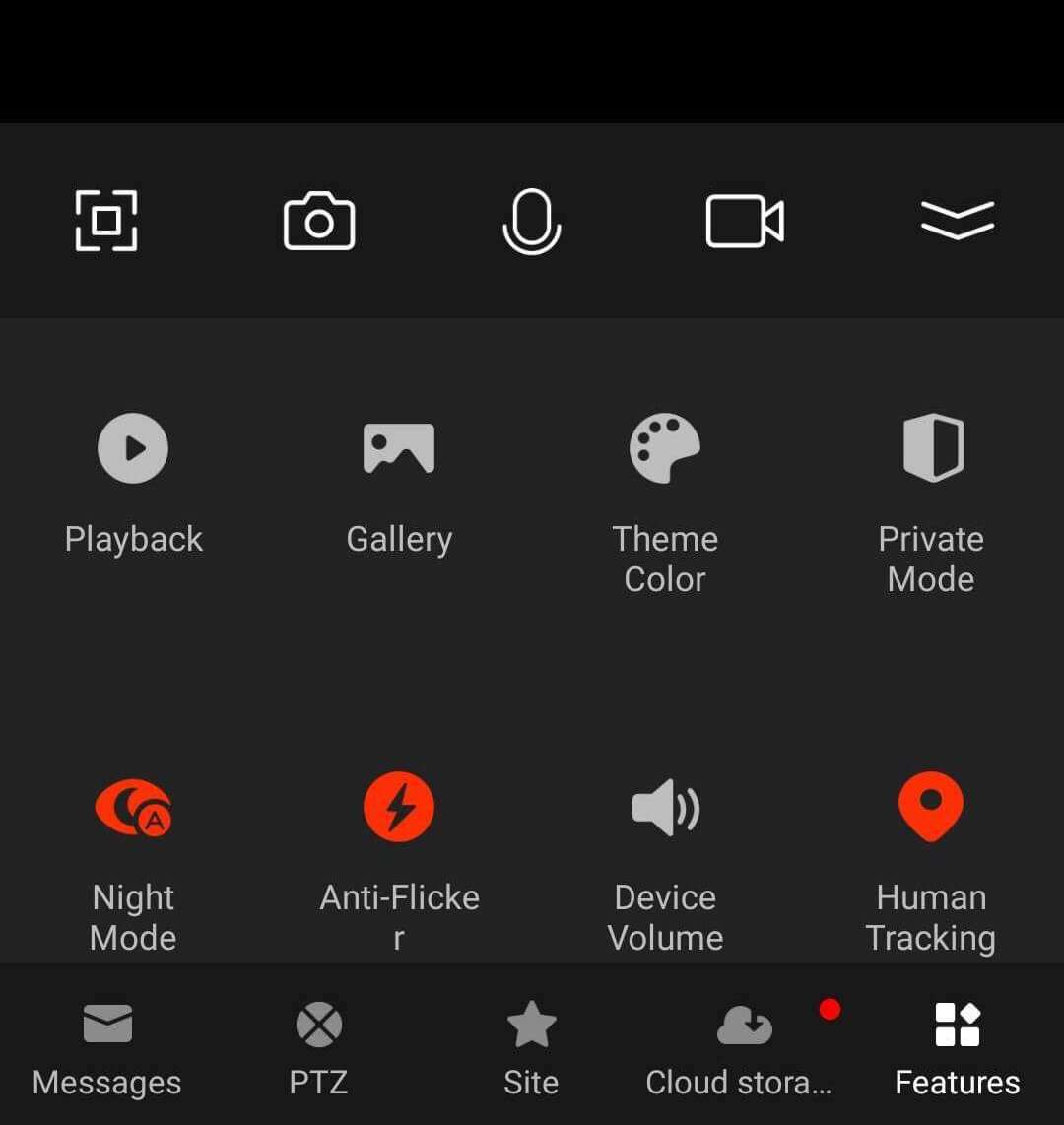 Real-time live streaming is worthy of your attention. The quality of the feed is pretty good but with some noticeable lag. Still, you can access a list of pre-recorded events from the gallery.
The good news, it's available for users on Android and iOS. Though, a web app for accessing the security camera from the computer would've been a plus.
Cloud Storage
You can save your videos to the cloud for extended durations of time. Data transfer is via a secure connection that safeguards your privacy.
Alternatively, there's a microSD card slot on the back of the device for local content recording. It supports a maximum capacity of 128GB, which saves up to 20 days of footage.
Motion Detection/Tracker
The Crater Cam can detect human movements thanks to artificial intelligence (AI). Moreover, its smart tracker lets the camera follow anyone around to record their actions.
It's customizable to raise the alarm whenever it picks up any motion. Better yet, you can configure it to send instant notifications to your phone.
Two-way Audio
This feature allows you to hold one-on-one conversations through the camera. The audio is loud, but the quality is comparable to ordinary GSM phone calls.
One-touch Alarm
The siren is ideal for unleashing a loud alarm to scare away burglars. Its loudness of around 58 decibels (dB) is adequate for an average-sized American home.
Integrations
You can connect and control your Annke Crater Cam using Amazon Alexa. Sadly, it lacks support for Google Assistant and Siri at this time.
Wi-Fi Connectivity
The CCTV connects to your devices via Wi-Fi. Examples include your smartphone, home network, and Alexa.
Privacy Mode
Use this feature if you want to cover your camera lens and prevent it from recording any activity. It's ideal for enjoying some private moments at home.
Pricing
The $24.99 pricing for the Annke Crater Cam is a huge bargain, to say the least. It offers free shipping to any destination across North America, except for Alaska.
Customers get a two-year warranty out of the box. Moreover, you can extend it by one more year if you register your device within a month of receiving it.
ANNKE has a 30-day refund policy to return the product and get your money back. It also provides exchanges for defective products under this time frame.
Cloud storage options start at $2.49 for seven days of video history. However, the $6.99/month is the best deal if you prefer to keep Crater Cam running 24/7.
The company also provides a 7-day trial to test the service with confidence.
Annke Crater Cam Review—Verdict
Annke Crater Cam is the ultimate solution for protecting your home on a budget. It offers high-definition video recording, AI motion tracking, and real-time notifications to your device.
Its one-touch alarm is a nifty feature for scaring away intruders. Likewise, you can use two-way voice integration to interact remotely with your loved ones.
Controlling this device is super easy, thanks to the smartphone app. As you've read in this Annke Crater Cam review, it's available for Android and iOS.
Overall, the $24.99 price tag is definitely worth it for such a handy home security camera. Moreover, it includes free shipping and a two-year warranty for your peace of mind.
Daniel Wabuge
Daniel is a curious thinker that loves everything about tech. If he spots something interesting, rest assured that he'll reverse-engineer it. Apart from being an internet addict, he loves building web servers from scratch. Well, it's not his profession per se. But it's a passion he picked up after a series of unfortunate events involving terrible hosts. He's the "hosting guy".
Leave your comment
Your email address will not be published.
You may also be interested in: