Treblab HD77 Review
Strengths
Affordable
Wide and rich soundstage
Amazing portability
Long battery life
Weaknesses
No visual indicator for power level
No speaker app
Distorted audio at max volume
Quiet built-in mic
Treblab is well known for its budget-friendly wireless speakers and headphones. The HD77 is one of the most popular products in its lineup—well deservedly so!
It's a fun-sized Bluetooth speaker that could be a perfect companion for a hiking trip or an outdoor get-together. What's more, it's splashproof and equipped with a clip and carrying strap. The sound is also surprisingly decent for such a tiny fellow. And to top it all, it's reasonably priced at $89.97.
Let's take a closer look, shall we?
Features, Accessories, and Quality
For this Treblab HD77 review, we've taken a deep dive into its functionality. So, expect a lot of nitpicking, okay?
Here we go!
Build Quality
Despite its low price, the HD77 doesn't have that cheap plasticky feel. You'll immediately notice how sturdy it is. The rubberized controls are solid and responsive.
It's mostly covered in a black cloth grille with thick plastic at the ends. It also has plastic rear flaps for protection.
Packaging
The packaging is rather simple. In the box, you'll find the following:
Treblab HD77

Carabiner clip

Carrying strap

3.5mm AUX cable

Micro-USB to USB-A charging cable

User manual

Sticker

Giveaway card

Product upgrade info
Design
This Treblab Bluetooth speaker has a rounded, tubular shape that instantly brings to mind JBL's Flip model. You can get it in shades of black, gray, and blue.
It also has two LED rings at the ends.
They're static, so don't expect any fancy effects that will dance to the beat. Most of the time, the rings are blue. They turn red while the HD77 is charging and green when it's full. Unfortunately, you can't turn them off while the speaker is active.
Additionally, four multifunction buttons on the side that let you:
Control power

Pair devices

Play and pause

Answer and end calls

Turn the volume up and down

Switch between tracks
Finally, these Treblab speakers also have handy panels at the bottom that cover the micro-USB and AUX inputs.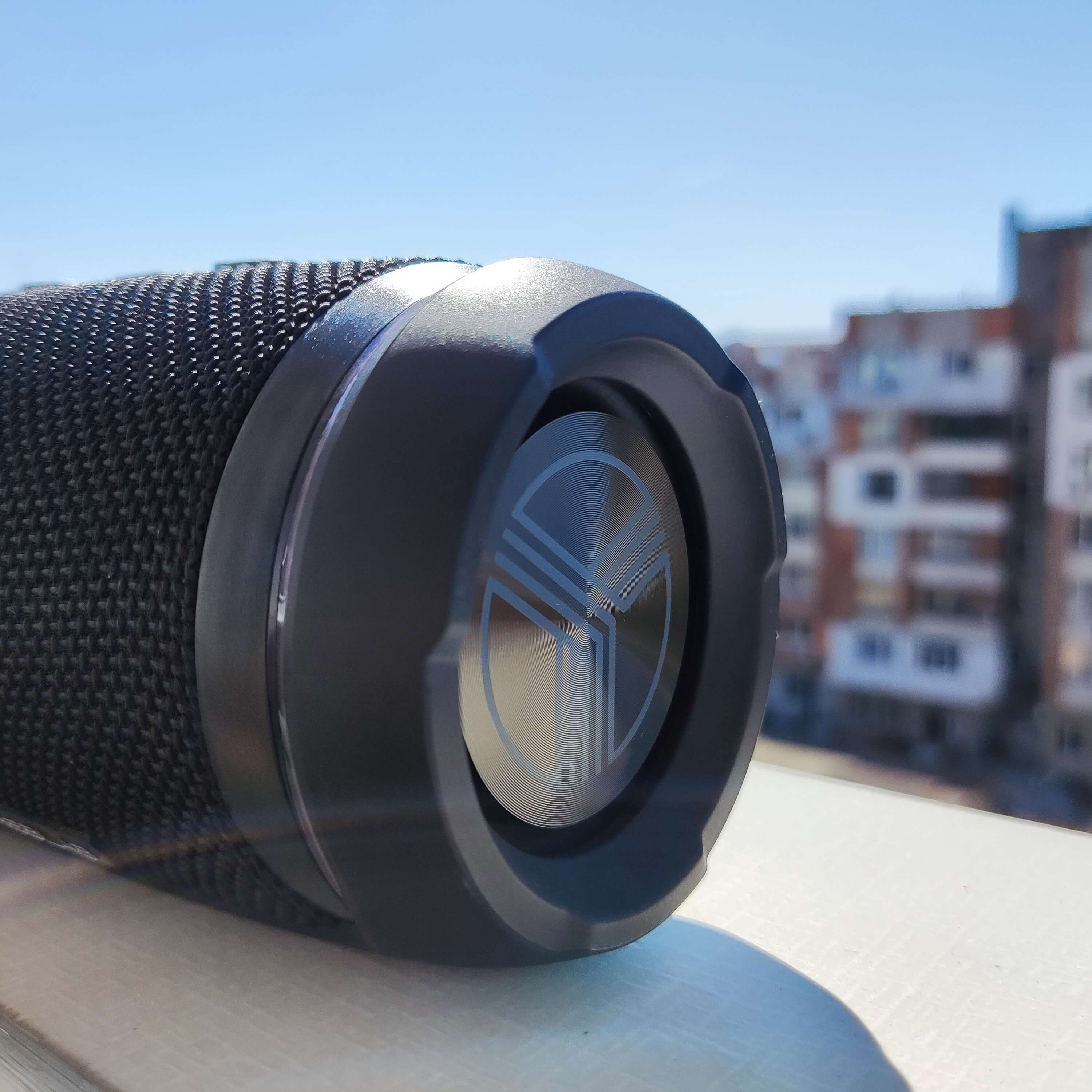 Connectivity
The HD77 supports Bluetooth 5.0. It has the standard range of 33 ft, which should fit most situations.
You can easily pair it with your phone or computer. Just hold down the power button until you hear a chime. The speaker will flash blue when it's connected.
And, of course, you can connect it to another to create a stereo pair. We didn't have the chance to test this ourselves. But, according to other users and their Treblab HD77 reviews, it's a finicky process.
The latency could also be better. It's relatively high at 234ms for iOS and 293ms for Android.
Battery
This model is equipped with a 5200mAh battery. According to the product specs, it's meant to last 20 hours on low volume, 12 on moderate, and 9 at high levels.
In reality, it's pretty close!
We got slightly over 11 hours of playtime at medium levels. It lasts shorter if you crank the volume up, but it's still great for long listening sessions.
It takes 4 hours for a full charge. There's no quick charge option or visual indicator of the remaining power level. The Treblab HD77 Bluetooth speaker will periodically chime when the battery is low, but that's it.
On the brighter side, there's a nifty power-saving mode. It automatically turns the device off when it's idle for 10 minutes.
Portability and Water Resistance
Measuring 7.3 x 3 x 3 inches, the HD77 is very much made for carrying around. It's also lightweight—at 1.3lbs. On top of that, it comes with a removable carrying strap and carabiner clip. You can attach it to your backpack, car, bike, camel, whatever.
And it's splashproof!
The speaker's rated IPX6, which means it can withstand strong water jets but not submerging.
Here it is in action:
Audio Specs
The Treblab HD77 Bluetooth speaker is powered with dual 12.5W drivers, totaling 25W. The passive radiators on both ends give it some extra punch.
Furthermore, it has a frequency response of 80Hz–16kHz, which is a satisfying range.
Performance
So, what does the HD77 sound like?
Its cylindrical, 360-degree design has excellent directivity. That also means it has a surprisingly spacious soundstage. Other users were also praising this feature in their Treblab HD77 reviews.
As for the sound profile, it's pretty neutral. The mids and treble can sometimes seem slightly subdued and unfocused, but it's nothing distracting. However, the highs get distorted when you bump the volume to max.
If you prefer a bit of extra bass, this Treblab Bluetooth speaker has got you covered. It's vibrant and well-rounded, even at the highest volume settings.
But don't expect a party-worthy, thumping low bass. After all, size matters when it comes to speakers. It directly impacts the loudness and the lower register. Still, this little guy does the best with what it has.
We're not through yet:
The built-in mic is strangely muted. It makes you sound like you're far away when talking.
And we really wish there was an accompanying app! It would be great to have some equalizer options.
Verdict
If you're looking for the best wireless speakers to bring along on your outdoor adventures, this one is a worthy contender.
It's light, easily attachable, and unaffected by rain. You can count on up to twenty hours of playtime. You'll also be able to hear every detail, thanks to the wide soundstage. And best of all, it's only $89.97.
It's not without its flaws, though.
This Treblab HD77 review wouldn't be honest otherwise!
First of all, the audio gets noticeably crunchy at top volumes. The mic is also too quiet, which can be frustrating. And there's no visual indicator for the current power level! You don't want to second-guess how much battery you have left, do you? Finally, an app for the speakers would add some variety.
Overall, the HD77 is a bit rough around the edges. But it will keep you entertained for hours out in the wild.
Selma Citakovic
Selma is a content writer with a love for all things nerdy by day and an internet archaeologist that likes to dig up obscurities by night. Mostly she's trying to balance between many obsessions. Right now, it's bass playing and reading hard sci-fi about vampires in outer space - next week, who knows.
Leave your comment
Your email address will not be published.
You may also be interested in: