Nexar Pro Dashcam Review - How Good Is It? [2022]
Best for: Professional drivers
Strengths
Easy setup
Free unlimited Cloud backup
Exterior and interior footage
AI insurance report
Weaknesses
It doesn't show MPH
No screen on the device
No photo capture
Connection exhausts phone battery quickly
The Nexar Pro dash cam was developed by an American company founded in 2015 by Eran Shir and Bruno Fernandez-Ruiz. Its main purpose is to make driving safer through technology.
This app-connected dash cam system provides exterior and interior cameras as well as an internal microphone and GPS. It also comes with an SD card to store your videos. The device doesn't have a screen, but you can connect it to the Nexar app to control its features. There's also an option to live stream your videos through the app, which is compatible with iOS and Android.
And that's not everything! After reading a couple of Nexar Pro dash cam reviews, I decided to test the camera firsthand and share with you all its features.
First things first:
What's in the Box?
The box contains:
Exterior camera

Interior camera

Suction cup mount for the exterior camera

Adhesive mount for the interior camera

Cigarette lighter socket

power adapter

USB

power cable

Adhesive pads and clips for the

USB

cable

Installation tool

Pamphlets with instructions for the setup

A pair of stickers to put on your car to warn that it has a camera system
One thing that made an impression is the cigarette lighter power adapter. The Nexar smart dash cam's adapter has a sharp tip to help you break a window in an emergency.
The pamphlets will help you set up your device quickly and easily. It should take you no more than 10 minutes to install and connect the camera. However, if you decide to hide the cables, it will take you a little more time. But overall, it's a quick process.
We recommend placing the camera beneath your rear-view mirror to get the best view of the road and the inside of the car.
Specifications
Let's take a look at the main features the Nexar Dual dash cam offers.
Camera
The road cam can record videos in a 1080p full HD resolution at 30 frames per second. It also has a 2MP 1/2.9" GC2053 (CMOS) sensor, contributing to good image reproduction.
The viewing angle is 135°. It has a bit of a fisheye effect, but the videos are still satisfying.
There isn't an option to take photos with the camera. However, you can pause the video and make a screenshot instead.
The cabin camera records in 720p HD at 25 frames per second. It also has infrared night vision, making the image clear even in low light. Its field of view is 115°. It comes with a 1/4'' CMOS sensor.
Overall, the Nexar Pro interior camera offers satisfying video quality during both day and night.
Here's what the videos look like:
GPS
You can access the GPS when you open the app. It allows the device to track your vehicle and give you directions.
If you're in an accident, the GPS data will help you prove your exact location at that time.
Sound Quality
This Nexar smart dash cam has a built-in microphone. It provides AAC audio encoding and an 8 kHz sampling rate. The audio has excellent quality, and every sound on the recorded videos is clear.
You have the option to record audio or turn it off from the application. However, I was unpleasantly surprised to find that there was sound in every video, no matter which mode I chose. I had to mute the videos above via a third-party app.
Connectivity
The camera has 2.4 and 5 GHz Wi-Fi connectivity. It allows your device to connect to the app and send videos to your phone and the Cloud quickly. Another way to transfer videos is via the Bluetooth low energy 4.2 technology.
Memory
The Nexar Pro comes with a 32 GB micro SD card that can store up to four hours of footage. When you purchase your camera, you can buy additional storage.
You can choose from:
64 GB (six-hour back-up)

128 GB (12-hour back-up)

256 GB (24-hour back-up)
Each option makes the device slightly more expensive.
Another way to save your videos is on your smartphone, but make sure to free up enough space on your device first.
Important incident clips are uploaded automatically to your Cloud and saved permanently without taking up your memory. Your Cloud storage is unlimited and free, so you never have to worry about running out of space.
Features
The Nexar dual dash cam also offers a lot of handy features.
G-Sensor
The G-sensor is a measuring tool for acceleration changes. It detects the movement of your vehicle through three axes—up and down, left and right, and forward and backward.
Through this sensor, the camera can spot any unusual or sudden movements. When that happens, it produces an accident report complete with video footage and GPS data. The data from the camera can be used as a piece of evidence.
Motion Detection
The Nexar Pro dual dash cam has a 3.7V (200mAh) built-in battery, allowing it to detect motion even when your car is parked. If it senses even the slightest impact, it starts filming immediately.
Collision Detection
The dashcam detects critical situations on the road and instantly creates a detailed record. The data is automatically backed up on your Cloud account.
One-Click Report
In case of an accident, the app can create a detailed report with a step-by-step analysis powered by AI.
Emergency SOS
If you're in an accident or get pulled over by the police, the app can send an SMS alert to your emergency contacts. It will send them your location and a link to your dash cam live stream.
Parking Mode
The Nexar dash cam parking mode allows the camera to stay alert even while your vehicle is off. Thanks to its motion detection, the device will start recording as soon as it senses an irregularity. If someone hits or scratches your vehicle, the camera will send an alert to your phone and let you access your dash cam live stream immediately.
It can also help you find your parked car. This feature can be particularly helpful if you're looking for your car in a large and crowded parking lot. You can access it through the Nexar app on your phone.
Pricing
The Nexar Pro Dual dash cam costs $159.95 on the official website.
If you purchase two or more from the official website, each would cost $129.98. There's also the option to buy a renewed camera for $119.95.
The company provides a one-year warranty. If your device has manufacturer defects, Nexar will repair it or replace it for free.
There's a 30-day money-back guarantee as well as a free return policy. You can return the item via USPS.
Nexar's official store ships worldwide. Your order should arrive within three to 10 business days. You'll receive a tracking number to check the progress of your delivery.
Nexar Pro Mobile App
Of course, it wouldn't be a complete Nexar Pro dash cam review if I hadn't tested the mobile app.
This free application is available for both Apple and Android. It has a user-friendly interface, allowing you to easily pair it with the camera through Bluetooth and Wi-Fi.
You can live stream your videos while you're recording. There's an option to switch between the two cameras. You don't have to remove the SD card to watch the videos.
You can also access your real-time location and GPS navigation through the app, as well as any accident reports it has prepared. When you finish your drive, you can go through your videos and watch, trim, or share them.
Here's what the app looks like: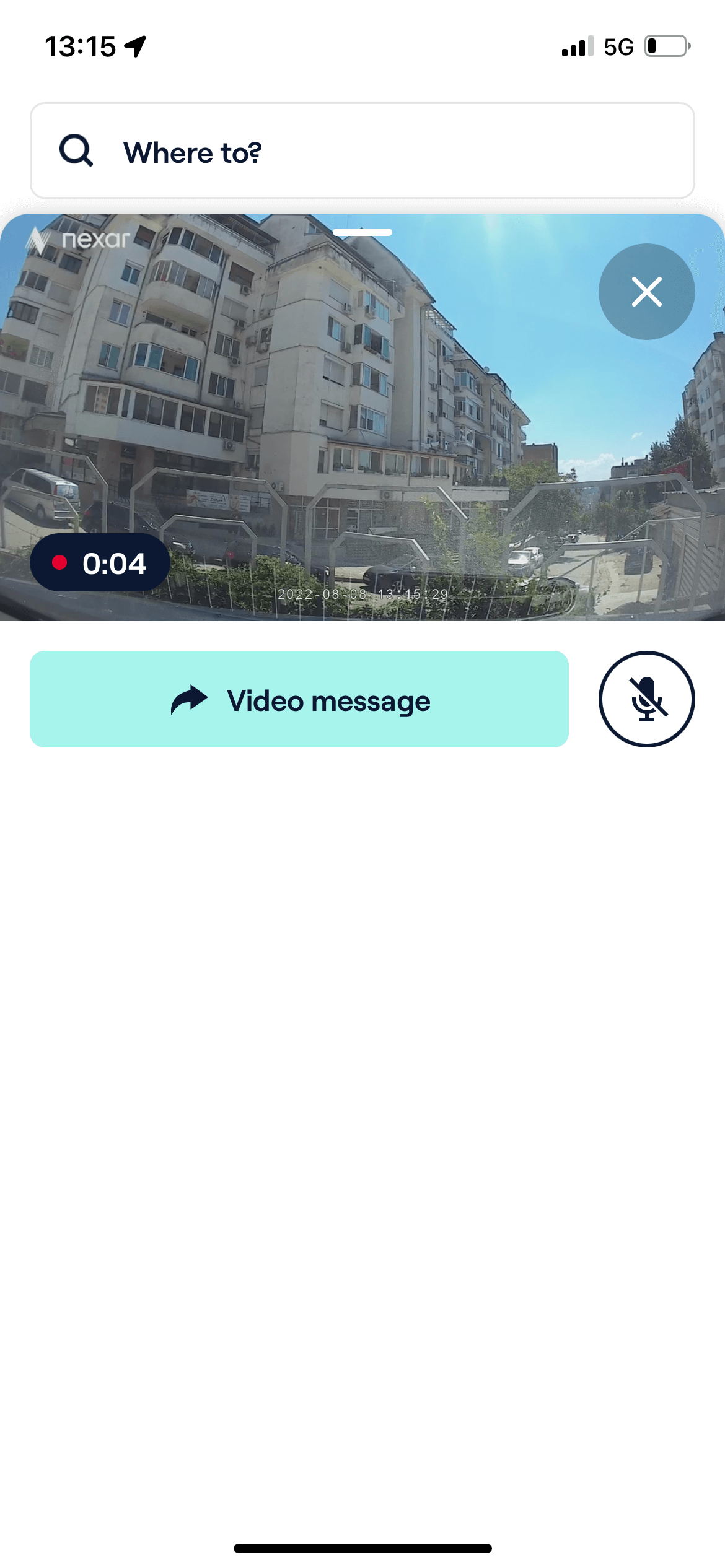 Nexar Pro Dash Cam Review—Verdict
Overall, it is a good investment.
I went through a lot of Nexar Pro dash cam reviews, and most users praise the G-sensor, Motion and Collision detection, One-Click report, and Parking mode.
On the downside, there isn't an option to capture photos. However, you can pause the video and screenshot the vital part.
So, do I recommend it?
Yes, definitely give it a try. It can save you a lot of headaches. And considering its valuable features and reasonable price, this is one of the best dash cam systems you can get.
Simona Yaramova
Simona's desire to be a content writer came pretty randomly. But now, she's dedicated to learning everything about technology and becoming the best at her job. Her favorite gadget is her iPhone, so she has all the know-how about it. She's currently pursuing a Bachelor's degree in English Philology. She is a dog person and dreams of having a Corgi (don't we all?). She likes to cook, read books, and spend time with her family and friends.
Leave your comment
Your email address will not be published.
You may also be interested in: