Gravastar Venus Review - Small Speaker that Packs a Punch
Best for: Users looking for a stylish and energetic portable speaker
Strengths
Beautiful design
Durable and well-made
Excellent bass
Fair price
Weaknesses
No quick charge option
Battery life could be better
Can't turn off the LED ring
GravaStar is known for its otherwordly speakers and earbuds. The first one, the GravaStar Mars, was launched in 2019. Its sibling, Venus, came out a year later.
Compared to the audiophile-level Mars, Venus is a more modest and accessible model — evidenced by its price tag. However, it still has GravaStar's top-notch build quality, sound, and epic design. Additionally, it's made with portability in mind. You can take this little speaker on a space trip if you want to.
But will it suit your needs?
Well, that's what this GravaStar Venus review intends to find out.
Features, Accessories, and Quality
As impressive as this speaker looks, you can't judge a book on its cover. So, let's go through its specs and features together and see what it's made of.
Packaging
Venus comes in a fancy magnetic foldout box. The illustrated interior is a nice touch!
You get a type C cable and a user manual along with the speaker. Additionally, you can buy a charging base and storage bag, which are sold separately.
Overall, the packaging gets you properly excited about the product. I also like that the charging cable is braided. That bodes well for durability.
Design
The GravaStar Venus is not your typical blocky, boring speaker. It's got charm through the roof!
The spherical shape is supported by three legs and adorned with gadgety details. It reminds me a lot of the robot companion you get in Fallout New Vegas.
You can choose from different color combos:
Shadow Black

Flare Red

Aurora Green

Dawn White.
I've received the Shadow Black model, the most subdued of the bunch. Still, the central RGB ring is undoubtedly eye-catching. You can switch between four colors:
Be aware the light is static and without flashy animations. But you can't turn it off, which is not ideal for power saving.
I was also surprised by how small this Venus speaker is: 2.8'' H x 2.4''L x 3.2''W. However, at 1.0lbs, it's relatively heavy.
Furthermore, it has four buttons in total. The big one with a dot on the left is for power, while the right one is for pairing. The two buttons at the very top are for volume and lighting.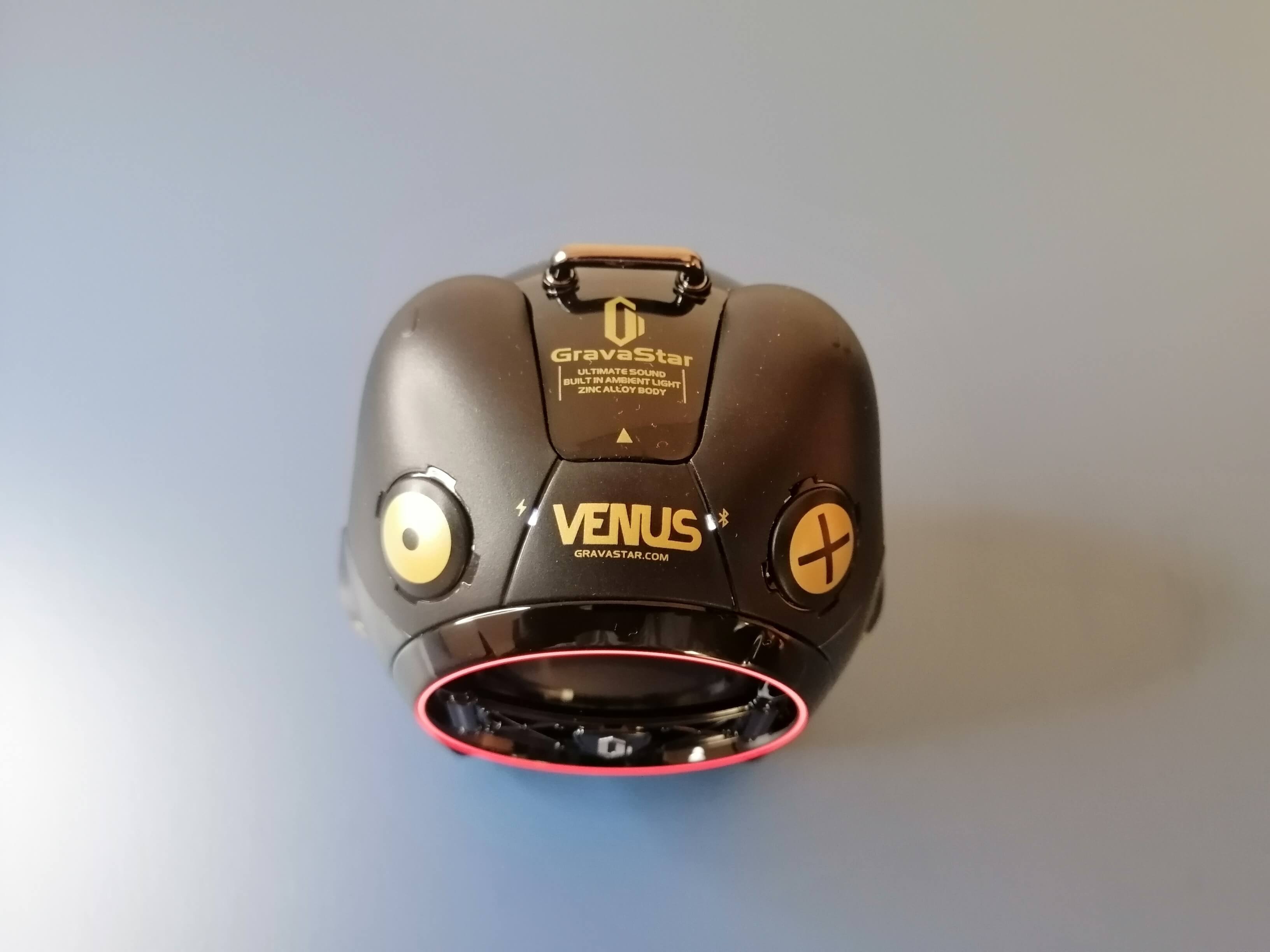 Build Quality
The model is so hefty because of its materials.
Most of the shell is zinc-alloy, except the buttons, which are plastic. It feels solid and robust, which is great. The only downside is that this material attracts fingerprints like crazy.
You'll also notice that the Venus speaker has a small metal handle at the top. It's strong and well-attached to the shell.
And don't worry about breaking off the legs:
They are extra sturdy. They also have rubberized feet for a better grip.
Connectivity
Connecting to your devices is pretty straightforward.
You'll need to press the large pairing button (don't hold it!). Once you hear "Ready to pair," look for Venus on your list. Finally, it will signal that your connection is successful.
Venus supports Bluetooth 5.0. It has the standard 10m transmission range. In addition, the latency is 60ms, making it an excellent pick for gaming.
One more thing:
You can pair two speakers for True Wireless Stereo. I didn't get a chance to test this, but I imagine it sounds awesome.
Battery
This GravaStar model sports a 1500mAh battery. It can last up to ten hours, which is decent enough. But if you're looking for a portable speaker you can rely on for a long time, this day-to-day model isn't going to cut it.
Generally, it takes two hours for a full charge. Sadly there's no quick charge option if you're in a hurry.
On the brighter side, the Venus Bluetooth speaker turns off automatically after half an hour of inactivity.
One more thing:
You can find the charging port (USB-C) at the very bottom. Because of the angle, you can only charge it upright with the included cable or charging base. Otherwise, if you want to use a standard C-type cable, you'll have to lay down the speaker horizontally.
Portability and Water Resistance
Evidently, Venus is meant to be carried around. You can clip a carabiner to it and attach it to whatever you want.
However, despite its hardy zinc-alloy constitution, you can't bring the GravaStar Venus along on every adventure. You should keep it away from water.
I've had to dig for its IP rating since it's not disclosed on the website or in the user manual. But, according to its Indiegogo campaign, the speaker is splashproof. It can take steam and water drops but don't submerge it.
Audio Specs
Let's talk about specs for a second.
This model is equipped with a 1.75-inch 10W full-range speaker. That means can reproduce all audible audio frequencies (20Hz-20kHz) on its own.
It's powered by a 44mm subwoofer driver and paired with a passive radiator in the back.
It will pulse in beat with your music. That makes the bass extra lively!
Performance
Of course, in order to deliver a good GravaStar Venus speaker review, I had to test its performance.
Don't let its size fool you — this little orb can make a lot of noise. The 10W output also might not seem like much, especially compared to the beefier Mars. But surprisingly, Venus makes it work! It delivers a full sound that doesn't differ much from its sibling.
On top of that, the audio quality is even. It doesn't get distorted at higher levels, even when playing extreme metal (you can ask my neighbors, I've tried). It's also clear and defined when it's turned down.
Regarding the overall sound, the Venus Bluetooth speaker will please casual listeners — but probably not the critical ones.
Let me explain:
It has that characteristic, popular sound that's bassy and punchy. So, the bass is the main focus point, and it slightly overshadows the mids and treble. They are still decently accurate, just more subdued. The soundstage sounds a bit crowded, though.
And I can't complain about that too much, considering this model isn't meant for audiophiles.
What about movies, though?
For this GravaStar Venus speaker review, I've sat down and tested it with something fitting — Alien. I was pleasantly surprised by the performance. The audio was detailed and immersive.
Of course, it wasn't a complete surround-sound experience since it's a simple directional model. But it's pretty good — and certainly better than your phone.
Finally, the price is also fair and balanced. You can get this whimsical speaker for $85.45.
Verdict
The GravaStar Venus Bluetooth speaker proves that great design, functionality, and pricing can coexist.
One of this model's winning points is its style, but there's much more to like. It's well-made and compact. Nothing about it feels flimsy. Moreover, it delivers crystal-clear sound at all levels. The bass is especially satisfying, and I loved watching the membrane dance in beat to it.
Naturally, it's not without its flaws.
The biggest one is the battery life. Ten hours isn't much for a portable model. A quick charge feature would also be appreciated. And this is a minor complaint, but I wish you had the option to turn the LED ring off.
In truth, I had a blast testing the product and writing this GravaStar Venus review. I can recommend it to anyone looking for wireless speakers with a fun and unique twist.
Selma Citakovic
Selma is a content writer with a love for all things nerdy by day and an internet archaeologist that likes to dig up obscurities by night. Mostly she's trying to balance between many obsessions. Right now, it's bass playing and reading hard sci-fi about vampires in outer space - next week, who knows.
Leave your comment
Your email address will not be published.
You may also be interested in: