Jarvis Desk Converter Review
Best for: Multi-monitor users
Strengths
Great stability
Wide workspace
Large keyboard tray
Easy to operate
Weaknesses
Slight noise when lifting
Not portable
Keyboard tray doesn't tilt
Tired of sitting all day at work? The Fully Cooper standing desk converter can transform your table into a flexible work desk.
It's a product developed by Fully.com – a company that makes sustainable office furniture. The brand is B Corp-certified, so it certainly walks the talk. It also offers a wide selection of work gear such as desk shelves, chairs, monitor arms, laptop stands, and more.
One of those gems is the famous Jarvis electric standing desk. After its success, the company has introduced its sleek and affordable brother – the Cooper office furniture. This adjustable desk lets you sit, stand, lean, or stretch without ever leaving your station.
But, you might be wondering:
What Is a Standing Desk Converter?
Also known as a desk riser, it's a tool that enables you to shift your movement at work. With a lifting mechanism, you can easily elevate your desk to your preferred height. That way, you'll be able to shift between sitting and standing at work.
Now, is Fully's version good enough to do that?
Time to take a deep dive into our Cooper Standing Desk Converter review for the answers.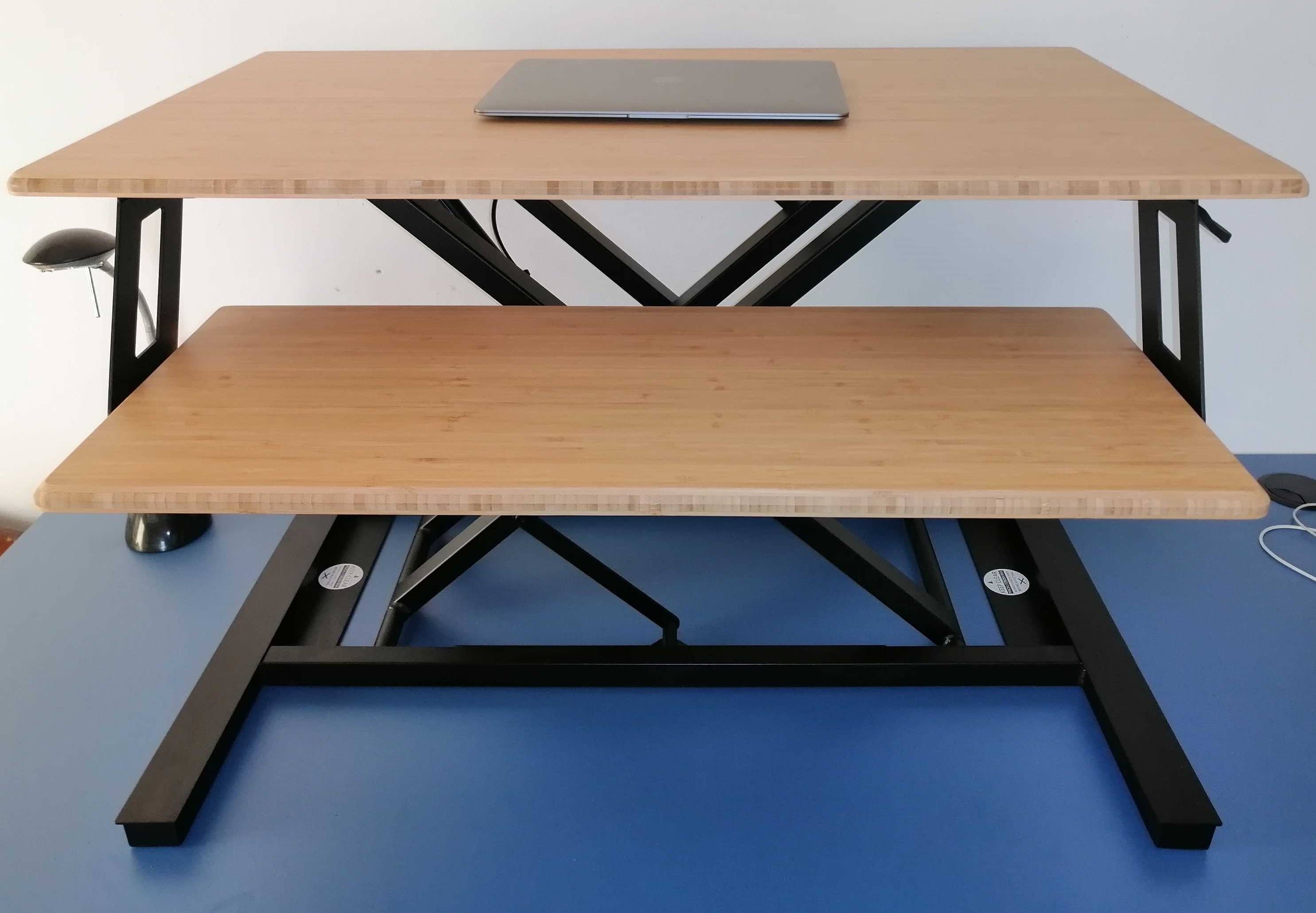 Jarvis Desk Converter Full Specifications
First, let's take a closer look into the build:
Details and Dimensions
The bamboo standing desk converter can sit on top of any table or desk, which is great for home offices!
It has an adjustable tension adjustment, offering a straight upward and downward movement. The body is divided into two tiers – the monitor platform and the keyboard tray. It features an X-lift mechanism with infinite position lock.
Here are the specs:
Desk converter top dimensions: 52.6 x 90 cm

Keyboard platform dimensions: 30 x 73.4 cm; recessed 12 cm under work surface

Weight: 25.4 kg (Bamboo); 29.5 kg (MDF)

Max weight capacity for top: 12.7 kg

Max weight capacity keyboard platform: 2.3 kg
And don't worry about assembly – the unit comes fully-assembled when you receive it.
Materials and Build Quality
The company fully prides itself on being eco-friendly. And with this wooden standing desk converter, it shows. Obviously, bamboo tops are always a greener option. But, the fact that it's made from sustainably grown and harvested one makes it even better for the environment.
The black powdercoat medium density fibreboard (MDF) tops are also a great choice compared to plastics. They are scratch-resistant, plus they are smoother and harder to crack.
In terms of durability, the metal x-base is thick and heavy enough to hold the body. Plus, it adds to the overall premium look!
Design
Speaking of looks, this standing desk converter is a breath of fresh air – literally. That's because bamboos produce 35% more oxygen than most trees. It looks warm and refreshing, which is great for home office setups.
Additionally, the black MDF tops are also a departure from the usual industrial desks. It offers a greener vibe while still maintaining that classic office look.
Stability
As we've mentioned, the heavy metal base offers great support for the whole body. It's a bit wider than the work surface, which locks in solid stability for your setup.
However, we've read from a few Cooper Standing Desk Converter Reviews that it wobbles when they move it from front to back, or vice versa. So, if the unit is pushed with force, expect a little wobble. Other than that, the body is rock hard.
Lifting Mechanism
Like most desk risers, this one's a highly adjustable standing desk converter. You can lift it from 6.25 inches to 22 inches, which is a pretty good range for all users.
To raise or lower your setup, just press the handle underneath the platform to unlock movement. Hold it down until you reach your desired position, then lock it in place. Easy!
Now, it uses an X-lift mechanism for movement, which has both green and red flags.
X-lifts are naturally smoother and easier to maneuver. After running some tests for our Jarvis Desk Converter review, it does work flawlessly. It takes seconds to transform your station.
Now, the downside to it is that it produces a slight noise when adjusting the handle. It's not an ear-shattering sound, but the faint sound may be annoying for some users.
Working Space
What sets the Cooper apart from other risers is its super-wide working space. It has no cut-outs, so you can just lay your dual monitors or tablets without overcrowding the area. Needless to say, the Fully Jarvis keyboard tray is just as spacious.
The main platform hovers over the tray, which is great for design and usability purposes. This way, you have a clean and wide surface that can house all your work and gaming accessories.
Ergonomics
While the unit offers great adjustability, the Cooper is quite lacking in the ergonomics department. It's not a dual ergonomic desk. You won't be able to tilt the keyboard tray either. So, you might get stuck with a viewing angle you're not comfortable with.
Moreover, the platform's extra elevation may be a little too high for petite users. That's probably why in most Jarvis Desk Converter reviews we've encountered, this unit is often recommended for tall people.
Wire Management System
Getting caught up in wires and cables can be a real problem for desk converters. Luckily, that's not the case for this one. There's a small clip underneath the main workspace. It should be enough to hold the wirings from your keyboard to your computer. It's completely fumble-free!
Portability
The unit is highly durable, which also means it's less portable. The base is heavy and the frame is quite bulky. It may be harder to transport the whole thing when you're office-hopping. So if you're looking for a light and portable desk converter, this might not be a suitable option.
Jarvis Desk Converter Pricing
The Cooper retails for $299, which is a relatively cheap standing desk converter. Compared to its older brother, the Jarvis standing desk, this would be a good option if you're on a budget. Even better if you have a smaller space to fill!
Shipping
Fully ships their products to everywhere in the United States and Europe. It offers free shipping in most areas, while in some, additional import fees or tariffs may apply. You can find the list of these areas on their website.
Now, if you're ordering outside those locations, you may use a freight forwarder to get your order.
Warranty
The company offers a five-year warranty period for the whole desktop standing desk converter. It's a good upgrade from the previous offering, which only spanned two years. Another good thing is, the warranty covers all parts – zero exclusions!
Return Policy
Fully allows you to return your item within 30 days. You can get a full refund as long as the unit is in great condition with the original packaging. Upon receipt, it will take about five business days for the company to process your return request.
Unfortunately, the company doesn't accept returns for items shipped to a freight forwarder.
Verdict
Nobody wants body pains and strains from long hours of work.
The quickest solution? A standing desktop conversion unit like this one!
It's a helpful office tool you can use to avoid stiffness at work. It's adjustable, durable, and easy to operate. It's also way more practical than getting a separate table. If you lack the budget to get the Jarvis standing desk, this small converter is the best alternative.
Plus, it's good for the environment! The use of bamboo and MDF material is, indeed, a sustainable choice.
Aside from being an eco-friendly and solid bamboo desk, it also provides the ultimate office essential. That is, an ultra-wide platform for your station. If you have multiple screens and accessories, there's enough room for all your work gear!
And if you're off-duty, it's great for reading, writing, and streaming, too.
So, based on our Jarvis desk converter review, we totally recommend this unit for any work setup.
It's a bit bulky, though, so portability can be an issue. It would fit better in large offices, or better yet, home offices. If you're a mobile worker, you might have a hard time transporting it from one office to another.
But if that's not your concern and you simply want a functional, space-saving desk converter, go for the Cooper!
Deyan Georgiev
Deyan has been fascinated by technology his whole life. From the first Tetris game all the way to Falcon Heavy. Working for TechJury is like a dream come true, combining both his passions – writing and technology. In his free time (which is pretty scarce, thanks to his three kids), Deyan enjoys traveling and exploring new places. Always with a few chargers and a couple of gadgets in the backpack. He makes mean dizzying Island Paradise cocktails too.
Leave your comment
Your email address will not be published.
You may also be interested in
.